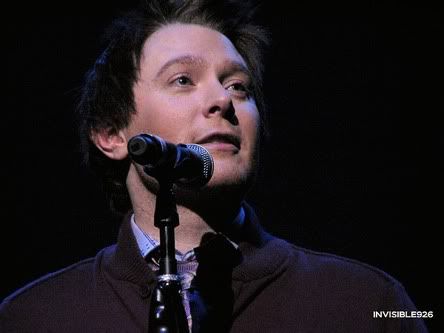 TRIED & TRUE Tour bus heads north. - Photo by Invisible926 expands.
Pittsburgh, Cleveland Interviews
Clay Previews Upcoming Shows
Every concert on Clay Aiken's current Tried & True Tour inspires audience accolades topping previous performances, and Knoxville was no different.

Paired with video recaps from Thursday night's performance at the Bijou Theatre in East Tennessee are outstanding interviews of the singer by media personnel along the tour route.

An excellent example is Dee Perry's Around Noon radio conversation in conjunction with Saturday's show in the PlayhouseSquare Palace Theatre in Cleveland.


Cleveland 'Around Noon' interview with Dee Perry.
For tonight's concert in Pittsburgh, Patricia Sheridan interviewed Clay on radio and made the dialogue available as a
podcast
and in print version with the

Post-Gazette

:
Patricia Sheridan's Breakfast ... with Clay Aiken
. Here is a
Sendspace
download of the podcast.
The

Pittsburgh Tribune Review

also published an interesting preview for the concert:
Clay Aiken believes the music should be about the singer
.
Below are this weekend's T&T Concerts:
2.18.11 Pittsburgh, PA
Carnegie Music Hall
, 8 pm
2.19.11 Cleveland, OH
Playhouse Square
, 7:30 pm
2.20.11 Waterbury, CT
Palace Theater
, 7:30 pm
Thanks to the clack gatherers, previous concerts are just a click away. Not only do they render/upload videos after a performance, many process the latest while waiting to catch flights home or to the next concert.

Below are three styles of "Who's Sorry Now" from the Knoxville Concert as suggested by the audience: bossa nova, disco, and Cajun.

Clay & Co. perform 'Who's Sorry Now' bossa nova style.
View Knoxville video by Scarlett full screen at YouTube.

Quiana sings WSN with Clay as backup in this version.
View video by Scarlett full screen at YouTube.

Clay and Quiana sing WSN Cajun/Zydeco style.
View Knoxville video by Scarlett full screen at YouTube.
Have a great weekend, Clay Nation! See you after Pittsburgh!
Caro