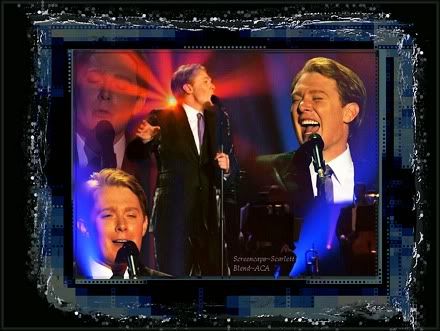 ANOTHER OPENING - The curtain rises on the opening show of Clay Aiken's Tried & True Tour in Miami tonight. Graphic AmazingCA, screen caps by Scarlett.
'Another Op'nin', Another Show'
Tried & True Sets Miami Opening

The overture is about to start,
You cross your fingers and hold your heart,
It's curtain time and away we go,
Another op'nin', another show!
Cole Porter's lyrics from

Kiss Me Kate

depict the heightened excitement among Clay Aiken fans everywhere as the curtain call approaches for the opening of the singer's Tried & True Tour at 7:30 p.m. tonight in Miami's Arsht Center
.
The much-anticipated 22-city tour begins with a three-fer in Florida, proceeding to Houston for a special Valentine's performance before winding its way to East Coast, Midwest, and western dates.

In support of the Clay's latest release with Decca Records, the Tried & True Tour will feature songs from the album, as well as favorites from previous CD's and the singer's entertaining penchant for bantering with audiences.

Since 2003, Clay has released six albums with RCA and Decca. His national tours have hit double digits, many of which are captured in this graphic by

Fountaindawg

.

ON THE ROAD AGAIN - Click to expand graphic by Fountaindawg.

Florida 3-fer To Launch T&T Tour



Just hours before the concert, fans can only surmise the set list, but Tried & True favorites like "What Kind of Fool Am I?," "Mack the Knife," "Suspicious Minds," "Unchained Melody," are sure to to be among the songs featured on the winter tour.

Spotlighted in a PBS Special by the same name, Tried & True classics from the 1950s and 1960s showcase Clay's powerful tenor voice and interpretive skills. Songs from the CD and DVD of the live PBS concert can be sampled at Amazon and in the preview video by

LovesClaysVoice

below.

Clay Aiken - Tried & True Tour
View montage by LovesClaysVoice full screen at YouTube.
2011 Tried and True Tour
2.10.11

Miami, FL Arsht Center, 7:30 pm


2.11.11

Orlando, FL Hard Rock, 8 pm


2.12.11

Sarasota, FL Van Wezel Performing Arts Hall, 8 pm


2.14.11

Houston, TX Jones Hall, 7:30 pm


2.16.11

Atlanta, GA Cobb Energy Center, 8 pm


2.17.11

Knoxville, TN Bijou Theatre, 8 pm


2.18.11

Pittsburgh, PA Carnegie Music Hall, 8 pm


2.19.11

Cleveland, OH Playhouse Square, 7:30 pm


2.20.11

Waterbury, CT Palace Theater, 7:30 pm


2.22.11

Baltimore, MD Kraushaar Auditorium, 7:30 pm


2.23.11

Charlotte, NC Blumenthal Center, 7:30 pm


2.24.11

Greenville, SC The Peace Center, 7:30 pm


2.26.11

Westbury, NY NYCB Theatre at Westbury, 8 pm


2.27.11

Glenside, PA Keswick Theatre, 7:30 pm


3.01.11

Cincinnati, OH Taft Theatre, 7:30 pm


3.02.11

Fort Wayne, IN Embassy Theatre, 7:30 pm


3.04.11

Waukegan, IN Genesse Theatre, 8 pm


3.05.11

Minneapolis, MN State Theatre, 8 pm


3.07.11

Memphis, TN Minglewood Hall, 8 pm


3.08.11

Grand Prairie, TX Verizon Theatre At Grand Prairie, 7:30 pm


3.10.11

Mesa, AZ Mesa Arts Center, 8 pm


3.11.11

San Francisco, CA The Warfield

,

8 pm
For concert times, locations, driving instructions, contact numbers, seating charts, even the weather, refer to additional info in the sidebar calendar created by

Scarlett

. Expand to full size by clicking on the top link.
Below are clickables of graphics from the

Clay Aiken Tried & True ~ LIVE!

performance. Special thanks to

AmazingCA

for the designs of screen caps by

Scarlett

.
Here's to an awesome tour, Clay! Have a great day, Clay Nation. Meet you in the recap threads later!

Signature by Linda