Can't Take My Eyes Off You - Clay Aiken
View montage by LovesClaysVoice full screen at YouTube.
Download video with this Sendspace file.
Meet & Greet Winners Elated
Interviews Build Tour Excitement
Clay Aiken concerts are always exciting events, but special spin offs this week before the singer's much anticipated Tried & True Tour highlighting his current Decca release have been the exceptional interviews and media promotional spots.

Portions of four articles are printed below in concert order. To read the complete interviews, click on the headline links. In some cases, I took liberties with the accompanying art.

For concert times, locations, driving instructions, contact numbers, seating charts, even the weather, refer to additional info in the sidebar calendar prepared by

Scarlett

. Expand to full size by clicking on the "Mark Your Calendar" link.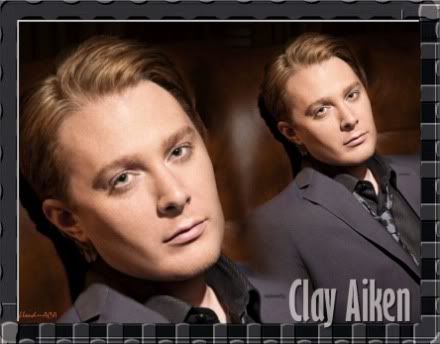 2010 graphic by AmazingCA is expandable.

Clay Aiken throws back the 50s and 60s in his fifth studio album

Clay Aiken: Tried and True Tour
Friday, 8 p.m., Feb. 11,
Hard Rock Live
, Orlando, FL
Saturday, 8 p.m., Feb. 12,
Van Wezel Performing Arts Hall
, Sarasota, FL
Erik R. Caban,

Watermark
In a day of reality-show instant celebrities, still only a select few know the exhilarating feat of being plucked out of anonymity and thrown into the proverbial fishbowl of super-stardom.

Clay Aiken was a fan favorite during the sophomore season of American Idol, where he finished second to Ruben Studdard.

Eight years later, despite rumors and set-backs, Aiken's grit, determination and raw talent have proven why he's a household name.

While Aiken may have acquiesced to a few minor alterations, he has stayed true to himself and his passion, using his celebrity as a platform to raise awareness for gay rights, AIDS and children with disabilities.



Just a few weeks out from a major U.S. tour that brings him to Orlando's Hard Rock Live Feb. 11 and Sarasota's Van Wezel Performing Arts Hall Feb. 12, the 32-year-old North Carolina native talks about coming out, fatherhood, Broadway and Richard Chamberlain.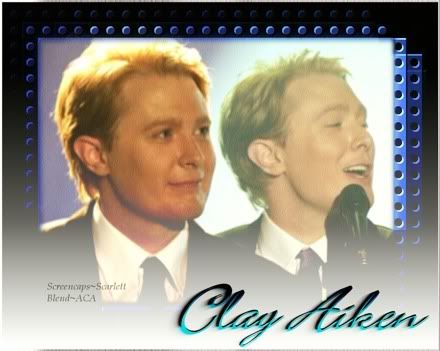 Clickable Tried & True ~ LIVE graphic by ACA with caps by Scarlett.

Clay Aiken remains 'Tried and True'
Clay Aiken: Tried and True Tour
8 p.m. Feb. 16,
Cobb Energy Centre
, Marietta, GA
Jim Farmer,

The GA Voice
Performing in Atlanta has been special for singer Clay Aiken. It's not his birthplace — that would be Raleigh, N.C. — but he feels partial to the city.

"I auditioned for 'American Idol' in Atlanta so it's full circle when I return," says Aiken, who brings his "Tried and True" tour to the Cobb Energy Centre on Feb. 16.

Aiken was featured on the second season of "American Idol," where he eventually was runner-up to Ruben Studdard. On the show, he was an audience favorite, never once appearing in the bottom three for viewer votes. It helped him, he feels, that he was able to sing songs he was familiar with.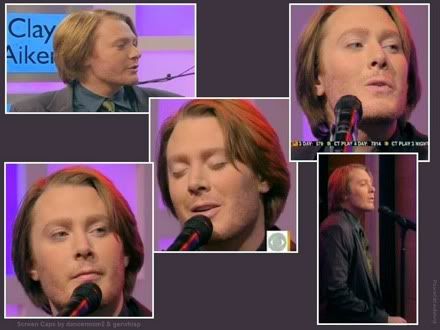 2010 Early Show graphic by Fountaindawg is expandable.
Clay Aiken Set To Play PlayhouseSquare 2/19
Clay Aiken: Tried and True Tour
7:30 p.m., Feb. 19 at PlayhouseSquare Palace Theater, Cleveland, OH
BWW News Desk,

Broadway World
As American Idol runner-up on the 2003 Idol season, Clay Aiken appears to have emerged the career winner.

Standing room-only concerts, an extended run on Broadway starring in Spamalot, an autobiography at #2 on the New York Times Best Sellers list, five albums selling millions of copies and an avid international fan club of "Claymates," all integrated with intense charity involvement have kept Clay firmly in the spotlight.

Now, following in the wake of a critically acclaimed tour with fellow American Idol alum, Ruben Studdard, Clay Aiken is treating his fans to another solo tour...the Tried and True Tour, which highlights his current album of the same title.

PlayhouseSquare's Palace Theatre on February 19th is one of the 20-city stages that will welcome the Raleigh, NC native. The 7:30 pm concert will be Clay's third PlayhouseSquare appearance. [snip]

An unlikely pop star, Aiken has remained steadfast in his desire to remain true to the simple values he learned as a child in Raleigh, North Carolina. "I still live in the town where I grew up," he says. "I like surrounding myself with people I know and love."

It is this authenticity that his millions of fans have responded to, an almost supernatural earnestness that feels unconventional in the cynical world today.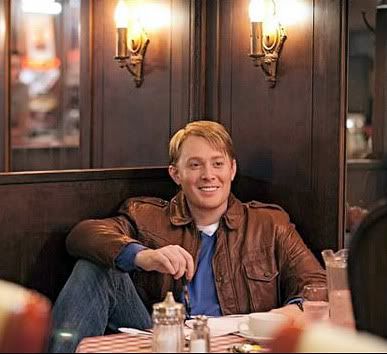 Clay Aiken - Tried & True photo by Vincent Soyez
North Carolina Always Home for Idol Clay Aiken
Clay Aiken: Tried and True Tour
7:30 p.m. Feb. 23, Belk Theater at
Blumenthal Performing Arts Center
, Charlotte, NC
Bernie Petit,
Gaston Gazette
North Carolina has been good to the hit reality television show "American Idol."

[snip]



But Raleigh native Clay Aiken still lays claim as the first North Carolinian to hit it big on the show, finishing second in the show's sophomore season.

Since then, he's toured relentlessly, starred on Broadway in "Monty Python's Spamalot" and become one of the biggest stars "Idol" has ever produced.

[snip]



This month, the soulful homegrown crooner is launching his "Tried and True" tour in support of his fifth full-length album, a collection of classics from the '50s and '60s. He'll bring his tour to the Belk Theater in Charlotte Feb. 23.

[snip]





What should people expect when they come see your show?





Aiken

: The most enjoyable ones for me have been the ones where we don't overproduce. I've done the shows with dancers and actors and the big tours. The ones I have the most fun with are the ones that aren't overly produced and I have time where I can talk to the audience and change things up. I want to keep this as laid back and low key as possible and change things up as we go.



Your latest album, "Tried and True," has received a lot of positive feedback. Why did you want to do an album like that?





Aiken

: These are songs that are a comfortable fit for me. They're singer songs, crooner songs, classic melodies. That makes them like a comfortable shoe to me. Songs on the radio today, it's about the producer nowadays and how good they can make them sound. They're not necessarily about the singer.



Back in the '50s and '60s, singers went into the studio and sang these timeless melodies and sang them beautifully. That to me is what's most impressive. They just don't write songs like that anymore.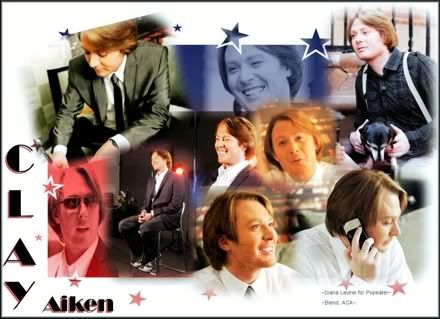 LOADS OF FUN - Clay Aiken concerts are not only jam packed with his extraordinary vocals but also the entertainer's quick wit as he competently banters with audiences. The graphic by AmazingCA with photos by Diana Levine is clickable.

M&G Winners Make Merry
In addition to the avalanche of media activity about the Tried & True Tour, the other big news has been the excitement of fans notified they will have a Meet & Greet with Clay. For many, this will be their first M&G ever.

Representative are these EEEEEE!!! reports posted by delighted winners on CA message boards during the past two days:
Poison Ivy

:

In other news, a certain poisonous plant, after five years of trying, has finally won a Meet and Greet for Clay Aiken's concert in Memphis.
sugrbugr
: I won a Meet & Greet for Grand Prairie! OMG, I've never met him!!!
luckiest1
: EEEEEEEEEEEEEEEEEEEEEEEEEEEEEEE! Cleveland, here I come! Only took me 8 years to meet the man!!!
canfly172
: OMG!!!! I actually WON A MEET AND GREET!!!!!
**faintsdeadawaycuzsheneverwinsanything**
CharmedbyClay
: I WON A MEET & GREET!!! I'm going to the concert in Knoxville on the 17th, and I've won my first Meet and Greet!


clazybones
: I won a Meet & Greet for Minneapolis! It only took 8 years. I am so excited I don't think I will be able to eat or sleep for the next month.

Congratulations to all M&G winners throughout the fandom!



TWWMAD Provides Tour Tickets



Since Clay's 2004 Summer Tour, The Way We Make a Difference has generated tickets for concert goers who otherwise would have been unable to attend.

Through donated tickets, as well as monetary contributions, TWWMAD fosters the cause of inclusion. With the support of CA fans, people with and without disabilities have been able to experience the joy of attending a concert together.

Among the organizations benefiting from TWWMAD program in past seasons have been Best Buddies, Special Olympics, YMCA, The Arc of the United States, and Ronald McDonald houses.

To offer assistance for the Tried & True Tour, click on the Make a Donation button or contact TWWMAD regarding extra tickets at the linked website.

Check the weather forecast and pack your bag. The curtain rises on the Tried & True Tour in Miami in a matter of days!

Have an awesome weekend, Clay Nation!

Signature by Linda
For related stories, see:
Clay Aiken: An American Idol
,
MiamiArtZine
Clay Aiken: Out 'American Idol' singing star says life is good as he launches 'Tried & True' tour
,
The Miami Herald