Clay Aiken in concert at Westbury, NY. Photo by Asolo.
To Delight of Fans, NJU Crowd
Clay Aiken & Co. Put on a Show
Word is getting out -- that Clay Aiken sure does put on a show! And he can sing, too!

Saturday night Clay Aiken & the Tried & True Tour troupe entertained a theater equally filled with fans and the Not.Just.Us crowd (casual/new fans) in the NYCB Theatre at Westbury. It wasn't long before a stream of fan recaps, photos, and videos began rewinding the show online.

CrazyAboutClay
: Wonderful concert last night! I was surrounded by NJU, and this is what they had to say: "He's so funny!" ... "He's so adorable!"
"You know, anybody can have a great voice and go up on stage and sing, but it takes a real talent to be that personable on stage."

In response to Clay stating that people are following along and listening in at home ..."Really??? Wow, that's incredible! That's great!"

I was sitting next to a couple who had never seen Clay before in concert. I thought the man was going to bust a gut laughing. There was also a group of teenage girls in front of me that were having the time of their lives.

It was a great experience to see so many NJU having such a great time.
libra1014
: During "Both Sides Now" and "In My Life," you could have heard a pin drop. The band played softly, and the entire room was riveted to Clay's voice. I can't say enough about how beautiful he sounded. I'm sure there were a lot of fans there, but I think just as many NJU.
A NJU across the aisle guy (AAG) looked to be about 50-60 yrs old and was very funny talking with a bunch of guys in the row in front of him. Before the show started, I was wondering if Clay would be able to reach these guys

So when AAG started to leap out of his chair and clap and holler, I was thrilled. "Where Do I Begin, Love Story Theme" smacked all of them in the face right at the start with that voice.

I know it smacked me! I think the song sounds good on the video, but it is unreal live.
The photo interlude below features expandable Westbury concert pictures by

mustbeeme

, 1, 2, 5; and

Asolo

, 3, 4.
Asolo
: I luckily snagged a second row seat as soon as the Westbury box office opened Saturday. Next to me was a couple who had never seen Clay perform before.
They were Westbury VIP Members who were able to buy the tickets in advance of the regular ticket buyers. They explained that we were sitting in the VIP section, and that would be why those seats were never sold to the public. My seat became available last minute.

The couple only knew Clay from AI and had no idea what to expect. They loved him! The man never stopped laughing at the banter, and they both looked entranced by Clay.

Afterwards, the woman told me she was so surprised that he was so entertaining, he had a wonderful voice, and they were so glad to have come.
Overheard by a CA fan's husband was a an older NJU talking on his phone: "That guy can really sing. He did some songs from the 50s and 60s, and he sang 'Unchained Melody' great!"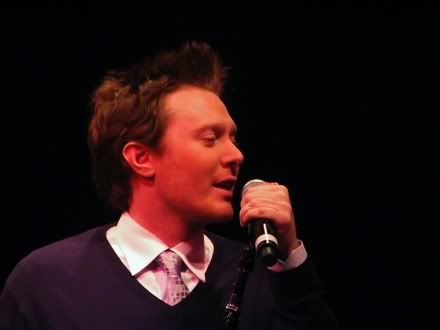 Expandable photo by cameocat from Westbury, NY, show.
Videos Provide Concert Glimpses
Below are five videos from the Waterbury show. Taped by

Scarlett

, these and other clips can be viewed at the Wowzers4Clay Channel on YouTube. You can download them here.

Also, check Shanapup Channel for videos by

adrienne1954

.
Latest YouTube uploads will appear at the top of the right column of the respective channels.

Jazzy/Big Band Medley of Clay's earlier hits.
Link to YouTube to view video by Scarlett full screen.

Even a sound glitch doesn't stop Suspicious Minds.
View video by Scarlett full screen at YouTube.

Clay sings the beautiful 'Both Sides Now.'
For full screen view, link to YouTube.

Clay receives tutorial on fan cellcerts.
To view full screen, link to Wowzers4Clay Channel on YouTube.

Singer dedicates 'In My Life' to fans everywhere.
View video by Scarlett full screen at YouTube here.

The Tried & True Tour heads to Glenside, PA, for a Sunday evening performance in the Keswick Theatre. Below are the remaining nine concerts of the 22-city tour supporting the Decca Tried & True release:
2.27.11

Glenside, PA

Keswick Theatre

, 7:30 pm




3.01.11

Cincinnati, OH

Taft Theatre

, 7:30 pm




3.02.11

Fort Wayne, IN

Embassy Theatre

, 7:30 pm




3.04.11

Waukegan, IN

Genesse Theatre

, 8 pm




3.05.11

Minneapolis, MN

State Theatre

, 8 pm




3.07.11

Memphis, TN

Minglewood Hall

, 8 pm




3.08.11

Grand Prairie, TX

Verizon Theatre At Grand Prairie

, 7:30 pm




3.10.11

Mesa, AZ

Mesa Arts Center

, 8 pm




3.12.11

San Francisco, CA

The Warfield

,

8 pm
Have an awesome week, Clay Nation! Catch you at the Keswick!
Caro