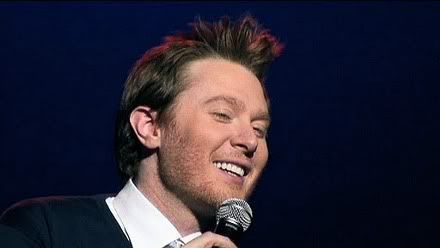 Clay Aiken's Tried & True concerts are a hit.
Expandable screen cap by Scarlett. (See two more in blog).
Fans Praise Tried & True Show

Waterbury Takes Bar Even Higher

Clay Aiken & Co. pulled out all the stops in Waterbury, CT, and presented another "best show ever" as the singer and five backup musicians wound down a five-day leg of the Tried & True Tour.

In addition to songs from his

Tried & True

Decca release, concert goers have been charmed with the big band/jazz arrangements of the singer's hits from earlier albums:

Measure of a Man, A Thousand Different Ways,

and

On My Way Here.



Like many Americans, the musicians have Presidents Day off before resuming this week's concerts in Baltimore, MD, 7:30 pm Tuesday, Kraushaar Auditorium; Charlotte, NC, 7:30 pm Wednesday, Blumenthal Center; Greenville, SC, 7:30 pm Thursday, The Peace Center; Westbury, NY, 8 pm Saturday, NYCB Theatre at Westbury; and Glenside, PA, 7:30 pm Sunday, Keswick Theatre.

Charlotte will mark the midway point in the 22-city tour, which will wind its way through the Midwest and western states, closing in San Francisco on March 12. For a complete listing with venue links, see the 1/11
Carolina
blog entry.

Clay & Co. swing with jazzy medley of previous hits.
View big band video by Scarlett full screen at YouTube.
Watch Clay's intro to the medley here.
Jazz Medley Sets Tone for Show
According to many, the new jazzy arrangement of old CA hits set the tone. Thank you to the fans who have shared their concert experiences here.
Emerson
: I loved, loved, loved the show! When he did that jazzy arrangement, I was in "Clay heaven," and I knew that we were in for a very special night.
He looked so amazingly good. What I really was impressed by was how much fun he seemed to be having. For all the LOL moments he gave me, it was nice to see him in fits of laughter at times throughout the show. When he talked about his fans and how much they meant to him, I was a bit misty-eyed.

If you are a Clay fan, you have to see this concert live if at all humanly possible. The clack is wonderful but, the live performance is just something that words are not enough to describe!

Call me one over-the-moon and blissfully satisfied Claymate!

Clay and Quiana sing 'Crying' duet in Waterbury.
Link to YouTube for full screen view of video by Scarlett.
Clay, Quiana 'Kill' on 'Crying'
A nightly hit on the tour is the T&T "Crying" duet performed by Clay and Quiana Parler. Like all of the featured videos by Scarlett, the above rendition can be downloaded at her
Waterbury
doc.
NOTE: Be sure to include the hilarious intro for the jazzy medley.

"Crying" has proved a nightly fan favorite on the T&T Tour, and Waterbury was no exception.
Rhode Island Fan
: What a wonderful night! Clay Aiken in his element, at his best with an audience that loved him. It doesn't get much better than that.
The show really was my favorite out of all of his tours. The intimate setting is perfect for him. He owned us all from the minute the curtain went up until the sign language "thank you" he gave us when he finished "In My Life."





One girl talked on the way out. She had lost track of him, loved it, and said she didn't realize he could be so funny. She won't be missing his concerts any more.



His speaking voice was a bit husky, but his singing was flawless. He didn't hold back. I noticed that especially on "Crying."

My friends who have been to three or four shows felt this one was the best so far. I had worried that five nights in a row would do him in, but he was spot on. The banter was hilarious; it's amazing how he can go from silly to sublime in a split second.

Incredible rendition of 'Love Story' opens show.
View Waterbury video full screen at YouTube.
Recaps Describe Diversified Audience
According to fan reports, the Waterbury crowd was diversified and very energetic, matching the variety of the evening's set list.
Angelclay
: The concert tonight was wonderful with a very diversified, energetic crowd -- many men, (Clay counted 10 in front row), many young girls, and even some younger kids.
For the genres of music, they did Irish dance, hip hop, and grunge. Hip hop was hilarious with Clay holding his jeans and hopping around. His grunge singing was pretty spot on.





This was one of the best Clay concerts I have been to. He was spot on, gorgeous voice, witty, and funny,





Clay called out some certers and video takers, but said he didn't mind them at all. Before he sang IML, he thanked all those who have been there from the beginning and those who come to one show or 10 shows. At the end of IML, he did his trademark signing of "thank you."
Waterbury, CT, Set List
Overture




Theme from Love Story




Mack the Knife





Banter




There's a Kind of Hush




What Kind of Fool Am I?




Breaking Up is Hard to Do





Banter




Big Band Medley: The Way, This is the Night, Measure of a Man, On My Way Here, A Thousand Days, These Open Arms, Invisible




Something About Us




Foggy Day in London Town (Quiana)





Banter - Auto-tune: Suspicious Minds, I Kissed a Girl




Suspicious Minds




Build Me Up Buttercup




You Don't Have to Say You Love Me




Moon River





Who's Sorry Now - Irish, hip hop, punk/grunge genres (Clay and Quiana)




It's Only Make Believe




Can't Take My Eyes Off You




Cry Me a River (Quiana)




Crying (Clay and Quiana)





Banter




Unchained Melody





Encore




Both Sides Now




In My Life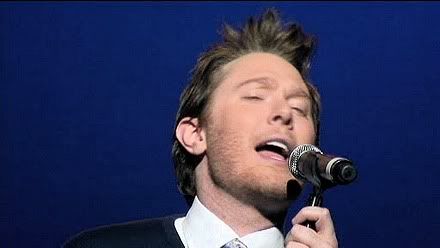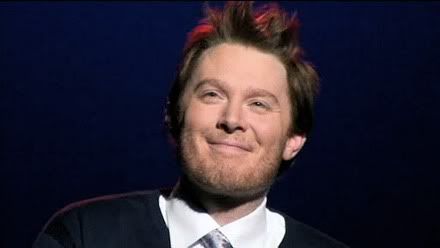 Expandable screen caps from videos by Scarlett.
Have a wonderful week, Clay Nation! See you after Baltimore!
Caro