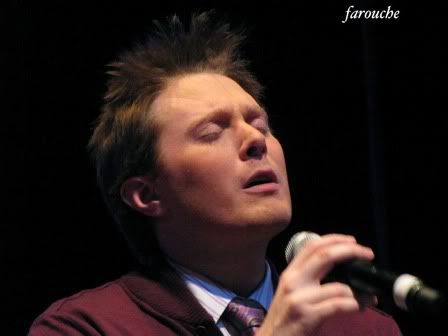 Clay Aiken takes Tried & True Tour to Towson, MD.
Expandable photo by farouche.
Concert Varied, Up Close, Personal
Aiken More Than Amazing Voice
I enjoyed Clay Aiken's Tried & True Concert in Baltimore by way of a very clear cellcert Tuesday night, and there is nothing I could add to the fabulous review posted by Gloria Dietz of
The Examiner
.
Finally, a reviewer gets what CA fans have known for eight years. The headline --
Clay Aiken concert review: he is more than an amazing voice
-- is just the beginning. Below are the opening graphs, but link to the entire article:
Clay Aiken knows how to entertain a crowd. He performed without an intermission for close to 2 hours at Goucher College in Towson. The venue was small and the seats were elevated with plenty of leg room, so there wasn't a bad seat in the house.

This concert was as up close and personal as you can get. Clay commands the stage and this was like we were all one big happy family. He doesn't just stand there and sing – he puts on a show that has lots of variety.

One thing in particular that is a real eye opener is that Clay lets his back-up singer and band members shine by putting the spotlight on them throughout the show. His bass player was able to tell a joke, he showcases their talent with their instruments and he banters with them as well as the audience.

The songs from his latest CD may have been from the 50's and 60's, but don't let that fool you into thinking this was a boring or formal concert; his fans ranged from age 13 to 94.

Clay manages to outdo himself with every show he puts on. This concert was very casual with lots of humor and surprise acts along the way. His camaraderie with the audience is priceless, but his voice is astounding.
I first viewed these photos on my new iPhone in a doctor's waiting room this morning. They are much better full size. Link to
The Baltimore Sun
for the show.

Clay Aiken sings 'Something About Us' in Baltimore.
Link to YouTube to view video by Scarlett full screen.

Clay chats with two birthday "girls" in Baltimore.
View video by Scarlett full screen at YouTube.

Dim lighting perfect for Clay's rendition of 'Misty.'
View Scarlett's video full screen at YouTube.
Download these and other concert videos by

Scarlett

at her
Baltimore
link.
More will be added, so remember to check back later.
Baltimore Set List
Where Do I Begin: Love Story Theme

Mack The Knife

There's A Kind Of Hush
Moon River

It's Impossible
Jazzy Medley

(The Way, This Is the Night, On My Way Here, Measure of a Man, A Thousand Days, Open Arms, Invisible)
Something About Us



Foggy Town In London Town

(Quiana)
Auto Tune
(I Got A Feelin'
)
Suspicious Minds

Build Me Up Buttercup

Breaking Up Is Hard To Do
Misty
Who's Sorry Now

(Motown, Acoustic, A Capella, Ragtime)
It's Only Make Believe

Can't Take My Eyes Off
You
Cry Me A River

(Quiana)
Crying
Unchained Melody

Both Sides Now
In My Life
Below are five expandable Towson concert photos by

farouche

.
The Tried & True Tour continues in Charlotte, NC, at 7:30 pm tonight. Clay appeared on Charlotte Today this morning. See you after the show!

Have a great time, all!
Caro