Clay Aiken performs 'Both Sides Now' at NIP Gala.
Images from October Gala and Chicago Park West Concert.
View montage by LovesClaysVoice YouTube.
Nation Plans Birthday 'Surprise'
NIP Nets $370k at Gala Benefit
Even in a recessed economy, supporters of the National Inclusion Project learned Monday they helped raise more than $370,000 at the Champions Gala Benefit in Raleigh last month.
The Oct. 16 event honored "champions" who have made a difference in their communities for inclusion. In addition to presentations to the honorees, the event featured addresses by Project co-founders Clay Aiken and Diane Bubel and concluded with a special concert by the singer and friends.
Funds raised at the annual Raleigh event will be used to open doors for all kids to experience life together. Attendees had the opportunity to participate in both silent and live auctions. Read Monday's release about the gala tally here.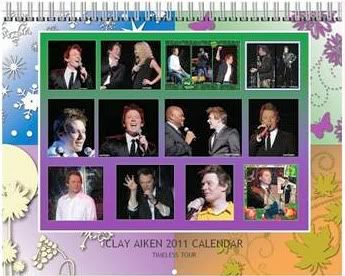 2011 Clay Aiken Calendar Cover

2011 Calendars Contribute $665



Contributing to the funds raised at this year's gala were the 2011 Clay Aiken Calendars donated for auction. At the gala, 13 wall and desk calendars were sold for a total of $605, and one set was included in a fan basket that went for $60.

Produced annually by

Rosaratana

with photos by

toni7babe

, the 2011 calendars feature images predominately from this summer's popular Timeless Tour and for the first time is being published in both wall and desk sizes. Also assisting in the calendar project has been

Hippoga

.

Including the calendars donated for the gala, a total of 110 have been shipped to date.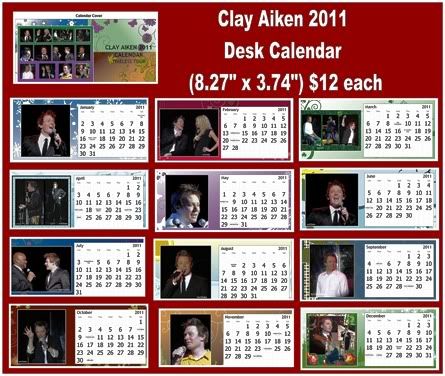 Samples of desk calendar months. Double click to enlarge.

The calendars, printed on premium glossy card stock, can be ordered through Rosaratana between now and early January. Costs include $12 for the desk size (8.27" x 3.74") and $25 for the wall version (11" x 8.5").

Like the past five years, all proceeds after costs will be donated to the National Inclusion Project in February.
To place a calendar order, Paypal or email Rosa at rosash@comcast.net by the first of January 2011. Checks are accepted, and she will email you the address.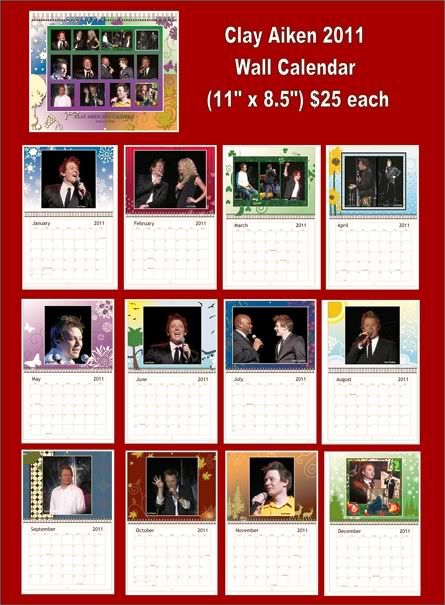 Samples of wall calendar months. Double click to enlarge.
Rosa keeps 10 calendars on hand so she can ship them as orders arrive. Below are examples of fan mail from happy calendar customers:
The calendars came yesterday, and you did a wonderful job, as usual. I didn't realize you were going to feature Timeless photos - very good ones at that.

After seeing it, I'm thinking of buying another one for my mom. She's still a Clay fan at 90 and I think she'd enjoy looking at those photos every month. I will send another check off to you this week.



I got my calendar today, and I love it. It will sit on top of my computer at work next year. Thank you very much.



I received the calendar today! OMG, it is just awesome! Toni takes wonderful pictures. I can hardly wait until 1/1/11 until I can hang in on the wall!



Got my calendar yesterday. It's wonderful, and each picture made me smile. Thanks so much for doing this and for being so generous with you time and talents. Clay fans are the very, very best!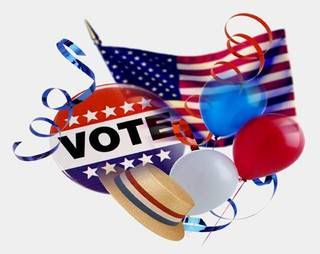 Clay Nation Sets $50k Goal

The worst kept secret every November is the search by Clay Aiken fans for a meaningful way to honor the singer on his 11/30 birthday.

This year the Clay Nation plans to deliver the $50,000 Pepsi Refresh grant for the National Inclusion Project, the charity for children with disabilities that Clay co-founded in 2003 and about which he is very passionate.

To this end,

VOTE, VOTE, VOTE

-- not just in Tuesday's national mid-terms but every day this month. Having established voting partnerships with other charities during September and October, CA fans. spearheaded by

SueReu

and

royalle

, keep tabs on votes given and received by the reciprocating organizations.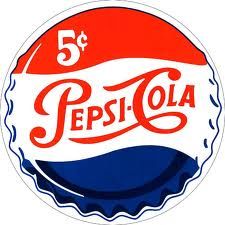 Several charities that have already received a Pepsi grant are supporting the NIP because of the votes Clay fans gave them in September and October. This note from Saving Shelter Pets is an excellent example:
Saving Shelter Pets here and voting! Thank you so much for all your support in October! We couldn't have won without you. And to say thanks, we will be voting for you through November! Best of luck!

All Pepsi alliances and partners are listed on the NIP Voting Widget created and updated nightly by

Scarlett

. She was up at 5 a.m. Tuesday redoing groups according to overnight voting. The widget contains six groups of partners PLUS a "How To Vote" panel, as represented in the screen caps below.

Each screen cap links to the widget's home base where supporters utilize the voting links and secure codes to post on other blogs and websites. In addition to the Carolina blog's sidebar, the widget is located on the All That Is Clay Aiken site and regularly linked on Facebook.


Be sure to copy/paste a message similar to the one below so the organizations will know the Inclusion Project is supporting their cause:
National Inclusion Project just voted for you. http://www.refresheverything.com/nationalinclusionproject. Text 102308.

Voting will end at midnight on Clay Aiken's birthday. Let's help Singer Man celebrate with a $50k Pepsi Refresh grant for the National Inclusion Project!

Have a wonderful week, Clay Nation!

Caro