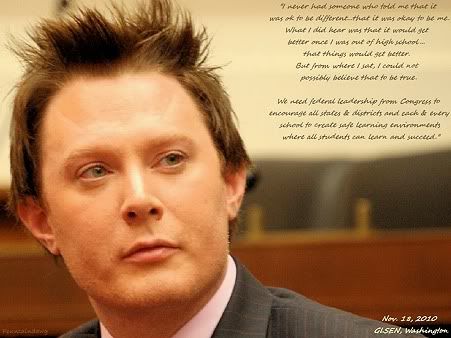 Mr. Aiken Goes to Washington - Clay spoke before a Congressional hearing Thursday urging federal legislation to create safe learning environments for all students. Graphic by Fountaindawg.
At Congressional Hearing
Aiken Speaks for Bullied Youth
Addressing a congressional hearing in Washington, DC, is nothing new for singer Clay Aiken, who Thursday spoke about the importance of two bills dealing with the harassment and bullying of young people in schools.

Asked by the Gay, Lesbian and Straight Education Network (GLSEN) to help support the Safe Schools Improvement Act and the Student Non-Discrimination Act, Clay's voice was one of many -- House and Senate sponsors of the bill, mothers who have lost sons to suicide due to in-school bullying, a teen experiencing harassment -- urging legislative action.

You can download WLOS-13 Asheville's video report on Clay's speech at Clack Unlimited and view it at Ideal Idol. The full report of Thursday's meeting can be read at the GLSEN site. Here is the paragraph about Clay's participation:

Clay Aiken, known to many as an American Idol star, is also a father and a former special education teacher who feels strongly about enacting specific anti-bullying protections so that future generations have the opportunity to fulfill their dreams.

"I never had someone who told me that it was ok to be different…that it was okay to be me. What I did hear was that it would get better once I was out of high school…that things would get better. But from where I sat, I could not possibly believe that to be true.

We need federal leadership from Congress to encourage all states and districts and each and every school to create safe learning environments where all students can learn and succeed."



The Safe Schools Improvement Act

(SSIA) would amend the Safe and Drug-Free Schools and Communities Act (part of the No Child Left Behind Act) to require schools and districts receiving federal funds to adopt codes of conduct specifically prohibiting bullying and harassment, including on the basis of sexual orientation and gender identity. The Act would also require that states report data on bullying and harassment to the Department of Education. The bill was introduced by Rep. Linda Sanchez and Bob Casey and currently has 130 co-sponsors in the House and 15 co-sponsors in the Senate.



The Student Non-Discrimination Act

(SNDA) would prohibit discrimination against any public school student on the basis of actual or perceived sexual orientation or gender identity. Rep. Jared Polis and Sen. Al Franken presented this bill to provide protection to students from bullying, harassment and discrimination. The bill currently has 127 co-sponsors in the House and 30 co-sponsors in the Senate.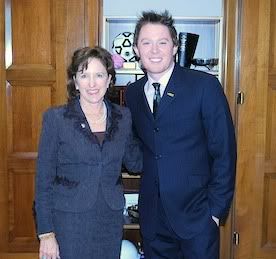 NC Sen. Kay Hagan visits with Clay Aiken.


Following the hearing, Clay stopped by the office of Senator Kay Hagan, US Senator for North Carolina, who posted the above photo of their visit.

In previous trips to Washington, Clay has championed the causes of inclusion, children with disabilities, and various UNICEF projects in his role as a celebrity ambassador. Below are regular and wide screen clickables of Washington graphics by

Fountaindawg

:

For more coverage, see the following:

Clay Aiken, Parents Join Lawmakers To Push Ani-Bullying Bills

Clay Aiken and Others Say Pass the Safe Schools Improvement Act
SSIA and SNDA Gain Support on Capitol Hill
(includes photos from hearing and press conference)
Inclusion Project Moves to #12
In the third consecutive month competing for a $50,000 Pepsi Refresh grant, National Inclusion Project supporters celebrated as their efforts finally yielded steps toward the top 10, first to #14 and into the 12th position by late Saturday afternoon.
The NIP must be in the Top 10 to win the grant that will open doors for ALL children to participate in all that life has to offer. The campaign includes supporting alliances formed by the foundation, as well as reciprocating votes with partnerships formed during the past three months.

Click to link to NIP Widget
Vote and add to websites.
Alliances, partners, their Pepsi links, and text numbers are listed on the NIP Voting Widget created by

Scarlett

and updated nightly according to detailed reports by

Royalle

. Fans not assigned to Groups A-E should support the charities in Groups F, G, and H. Use every available email and Facebook account in your household.
To put these causes in your circle of support, locate their link and/or text number on the widget in the Carolina blog's sidebar or go to the handy tool's home page via the screen cap below.
Following Internet, Facebook, and text votes for alliances and partners, be sure to leave a comment on each organization's page that the NIP has voted for their charity. Here is an example:
The National Inclusion Project just voted for you. http://www.refresheverything.com/nationalinclusionproject ...Text 102308 ... Thank you for your support and the comments you leave.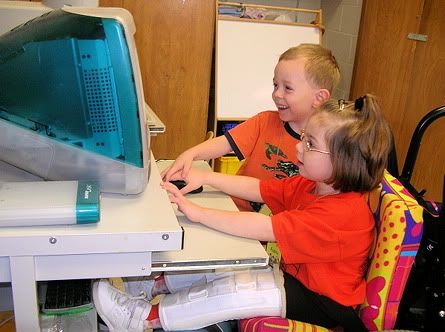 Vote 3 ways to expand inclusive programs for all children.

Pepsi Voting Simple as 1, 2, 3
I
f you are new to this project, follow the steps and links below. Encourage family, friends, and associates to help with the final push that is needed for a winning position on Nov. 30.
1. Go to the National Inclusion Project page on the Pepsi site.
2. Click the

Vote for This Idea

tab.
3. You will be prompted to sign-in. Log-in with your email address. (If you haven't already, you can register very easily.)
4. Click

Vote for This Idea

again. (This is very important!)
5. You will know you have voted when you see the

Votes Left Today

counter change from 10 to 9.
6. If you are a member of Facebook, log out and back in. Select the Facebook option in the pop-up window, and vote for the NIP again.
7. You can also

text the numbers 102308 to Pepsi (73774)

.
8. Share your vote on Facebook, Twitter, blogs, message boards, and via email, asking others to do the same.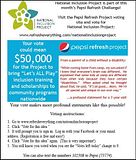 Screen cap of NIP Flier
Double Clickable
9. Download, print, and share the NIP informative flier in PDF format with prospective voters at ball games, fall festivals, malls, the zoo, the gym, church, school/business meets. Ask recipients to text the same vote everyday in November.

Ever the innovator,

gueenmama247

reported great success from distributing the fliers:

I have printed out the flier. I drop them off everywhere I go. People were happy to get them at the doc's office Friday. Today I will leave some at the pharmacy.

The library let me leave some on the counter, and I will check Monday to see if they need more.

Use your imagination, Clay Nation. As of Saturday, NIP supporters have 10 days to bring "Let's ALL Play" inclusion training and scholarships to community programs nationwide.

Most readers of this blog know what a special birthday gift the grant would be for a certain singer whose humanitarian endeavors have become the passionate projects of his fans.

Here's to a wonderful weekend recruiting, distributing, and voting, Clay Nation!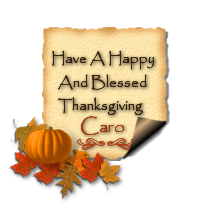 Thanksgiving design by Linda/ABM