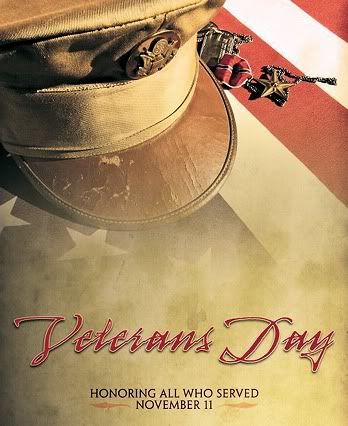 VETERANS DAY: Honoring All Who Served. Click to enlarge.

All Who Served, Past and Present


America Remembers Veterans
A Veteran - whether active duty, retired, national guard or reserve - is someone who, at one point in their life, wrote a check made payable to "The United States of America," for an amount of "up to and including my life." - Author Unknown
At home and halfway around the world, in commemorative ceremonies, speeches, parades, and traditional laying of wreaths, America's leaders and citizens are today honoring the nation's 22 million veterans, soldiers wounded or killed in battle, soldiers home and abroad, and their families.

In South Korea for the G-20 economic summit, President Barack Obama saluted the bravery of US troops who fought in the Korean War, recognizing 62 veterans of the 1950s conflict in an army installation in Seoul, South Korea. The President also recognized Korean soldiers who fought alongside American forces.

At 11 a.m. Thursday, Vice President Joe Biden participated in a wreath-laying ceremony at the Tomb of the Unknowns at Arlington National Cemetery, delivering remarks at the Memorial Amphitheater afterwards.




First Lady Greets Troops in Germany



En route back to Washington, First Lady Michelle Obama surprised a group of US servicemen and women based at Ramstein Air Base, Germany, to help serve a special Veterans Day meal. Earlier, she met with wounded troops recovering at the nearby Landstuhl Regional Medical Center, which regularly receives casualties from Iraq and Afghanistan.

On Wednesday, Dr. Jill Biden. the vice president's wife, joined active-duty military, veterans, and military families at a volunteer event in Washington, D.C., with the Service Nation's Mission Serve initiative.

Thursday she will make brief remarks and join veterans and other volunteers to work on landscaping and painting of the final two homes of a development at a Habitat for Humanity housing site in Northeast Washington's Deanwood neighborhood.

Dr. Biden and the First Lady helped kick off the Mission Serve Initiative on Veterans Day 2009 as part of their ongoing work to encourage Americans to show service members, veterans, and military families appreciation for their service.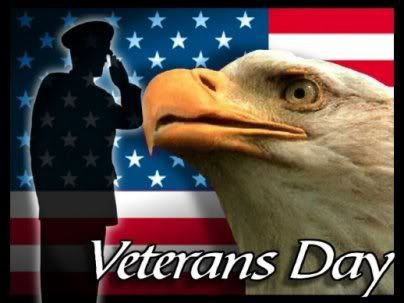 92nd Anniversary of Armistice Day
In 1919, then President Woodrow Wilson proclaimed November 11 as the first commemoration of Armistice Day, the end of World War I:
To us in America, the reflections of Armistice Day will be filled with solemn pride in the heroism of those who died in the country's service and with gratitude for the victory, both because of the thing from which it has freed us and because of the opportunity it has given America to show her sympathy with peace and justice in the councils of the nations …
Armistice Day, also celebrated as Remembrance Day and Poppy Day in other Allied countries, took effect on the eleventh hour of the eleventh day of the eleventh month in 1918.

The United States first recognized Nov. 11 as a day to honor veterans in 1938, the 20th anniversary of the official end of World War I. A movement arose in the aftermath of World War II and the Korean War to expand the holiday to honor all veterans instead of only those from the first world war.

In 1954, President Dwight D. Eisenhower, himself a distinguished World War II veteran, signed a document to rename Armistice Day to Veterans Day. Except for seven years during the Vietnam War, when the holiday was observed on the last Monday of November, it has been observed on Nov. 11.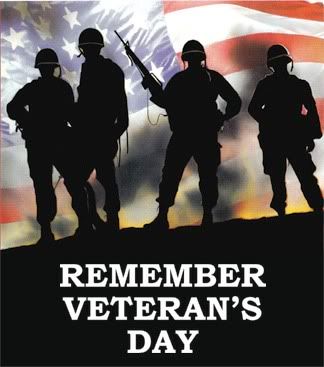 'All We Can Do Is Remember'
President Ronald Reagan spoke these words on another Veterans Day:
It is, in a way, an odd thing to honor those who died in defense of our country, in defense of us, in wars afar away.

The imagination plays a trick. We see these soldiers in our mind as old and wise. We see them as something like the Founding Fathers, grave and gray-haired.

But most of them were boys when they died, and they gave up two lives, the one they were living and the one they would have lived.

When they died, they gave up their chance to be husbands and fathers and grandfathers and veterans. They gave up their chance to be revered old men. They gave up everything for our country, for us. And all we can do is remember.
Clay Aiken's performance of
God Bless the USA
at the 2004 Capitol Fourth is fitting for this November patriotic day.

Clay Aiken sings 'God Bless the U.S.A.' at the 2004 Capitol 4th.

For links and information regarding the National Inclusion Project's ongoing campaign to secure a $50,000 Pepsi Refresh grant this month, see the Carolina blog's Nov. 8 and Nov. 4 entries.

Thank you to veterans past and present. God Bless the USA!
Caro