WKNO: A Conversation with Clay Aiken
View Pierre Kimsey's interview full screen at YouTube.
Fans Campaign for $50k NIP Grant
Memphis PBS Chat Covers Bases
Uploaded to YouTube Thursday, WKNO's interview with Clay Aiken covers all the bases -- performing, sudden fame, the National Inclusion Project, UNICEF, family, fans, connection with former teachers, the

Tried & True

PBS Special, Broadway -- and much more.

Here is a portion of the promo or overview of Clay's chat with Pierre Kimsey, WKNO producer:
WKNO Producer Pierre Kimsey talks with singer Clay Aiken. The North Carolina native was beginning a career as an educator working with special-needs children when he took an opportunity to audition for the TV show American Idol, then in its second season.





His life was transformed as a finalist, and he has emerged as one of the most successful singers to have been launched by the show.





Aiken has used his celebrity on behalf of the international charity UNICEF and has traveled to Somalia, Afghanistan, and other countries where children have been impacted by war.
Check PBS programming in your area, as some stations prepare to re-air
Clay Aiken: Tried & True ~ LIVE!
leading into the 2011 Winter Tour supporting the singer's latest release with Decca Records.
Graphics depicting scenes from the singer's PBS Special include

Fountaindawg

, 1, 2, 3, and

AmazingCA

, 4, 5, 6, with photos by Jim R. Bounds:
NIP Needs More Pepsi Voters
While coming home from camp, my son asked if I knew that everyone's brain was different. He explained that some kids at camp are different from other kids because they have certain disabilities.





When asked what he thought about that, he replied, "It's all good, Mom. We're all special and unique in our own way."

-

Profound statement from a 7-year-old participant in a Let's ALL Play Camp.



The National Inclusion Project is competing in the $50,000 category of November's Pepsi Refresh Challenge and needs the creativity of its supporters to recruit more daily voters. The foundation is currently #15 and needs to climb into to top 10 to win the grant.
Dedicated backers maintain a daily voting schedule that includes the National Inclusion Project, official alliances, and partnerships formed with other charities.
Help spread the word so the Inclusion Project can bring Let's ALL Play training to more programs across the nation and open doors for ALL children to participate in all that life has to offer!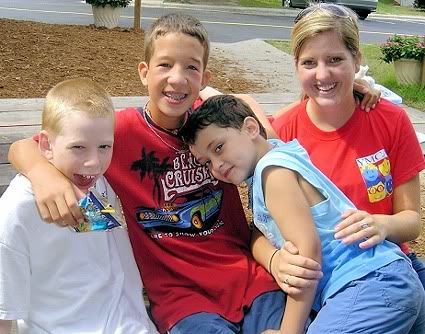 Vote 3 ways daily to expand inclusive programs for all children.
NIP Voting Simple as 1, 2, 3
1. Go to the
National Inclusion Project
page on the Pepsi site.
2. Click the "Vote for This Idea" tab.
3. You will be prompted to sign-in. Log-in with your email address. (If you haven't already, you can register very easily.)
4. Click "Vote for This Idea" again. (This is very important!)
5. You will know you have voted when you see the "Votes Left Today" change from 10 to 9.
6. If you are a member of Facebook, log out and back in. Select the Facebook option in the pop-up window, and vote for the NIP again.
7. You can also text the numbers

102308 to Pepsi (73774)

.
8. Share your vote on Facebook, Twitter, blogs, message boards, asking others to do the same.
9. Download the full page PDF version of the new NIP flier shown in a clickable screen cap below. Print and share the flier with prospective voters -- at ball games, fall festivals, malls, the zoo, the gym, church, school/business meets. Ask recipients to text the same vote everyday in November.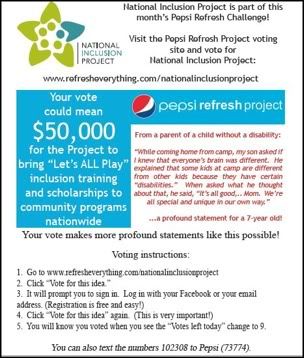 Click to enlarge screen cap of new NIP flier.
Partners Vote, Pull for Each Other
Inclusion Project supporters are not only voting for the NIP but also alliances and partners formed with other charities in the Pepsi Refresh Challenge. A good example is Crown Pointe Academy's strategy this weekend:
Crown Pointe Academy is still voting for you. Over the weekend we are going to be recruiting for you, Hawthorne, Crone's, Colorado Solar, Monte Vista, and a few other favorites. Hope it helps you!

- Sherri R.
Be sure to leave a comment on each organization's page that the NIP has voted for their charity. Here is an example:
The National Inclusion Project just voted for you. Thank you for your reciprocal support. Please leave a comment, as we re-evaluate daily. http://www.refresheverything.com/nationalinclusionproject ...Text 102308.
The foundation's current alliances and partners are listed on the NIP Voting Widget that

Scarlett

created and updates according to nightly reports.

To put these charities in your circle of support, locate their link and/or text number on the widget in the Carolina blog's sidebar or link to the handy tool's home page with the screen cap below.

Click to link to NIP Widget
Vote and add to websites.
Below are the Top 21 charities posting daily reciprocal votes for the National Inclusion Project. The groups refer to their placement on the NIP Voting Widget. This is where I'm using my extra votes -- three for the NIP and 27 for other charities. Hopefully, you -- and every eligible account in your family -- are, too!
Top 21 NIP Supporters





RETT Syndrome Clinic

- Group A


She Shall Go Free

- Group A


Hawthorne Elementary School

- Group A


Weaver Bored of Education

- Group C


RATCO

- Group A


Spoede

- Alliance


Karo Grillo Golf

- Group A


INRS

- Group A


Libby Tennis

- Group A


Pandora's Project

- Group A


Blue Shadows

- Group A


Cure AHC

- Alliance


Cystic Fibrosis

- Group B


Granara-Skerry

- Group B


Cedar Park HS Band

- Group B


HUGS Adirondack

- Group B


HVCPA Opportunity League

- Group B


Girl Scouts Eastern SC

- Group B


Earl Crowe SUV

- Group B


Alleghany Wellness

- Group B


The Bag Ladies

- Group B
Have a wonderful weekend, Clay Nation!
Caro