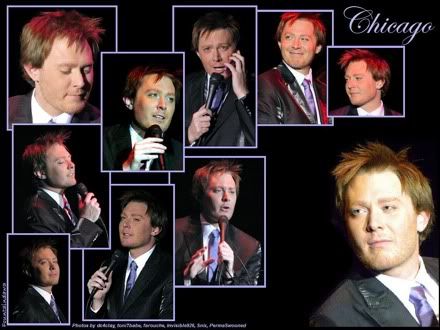 CHICAGO REWIND - Graphic by Fountaindawg recreates Winter Tour preview with photos by dc4clay, toni7babe, farouche, Invisible926, snix, and PermaSwooned.

Smartphones Join NIP $50
k Campaign


Westbury Ad Promos T&T Tour

Take one

Newsday

ad for Clay Aiken's Feb. 26 Westbury, NY, Concert, add generous portions of visual and video clack from the Winter Tour's Oct. 14 preview performance in Chicago, and the 2011 Tried & True February/March dates assume an immediate "trending topic" label on CA message boards across the Net.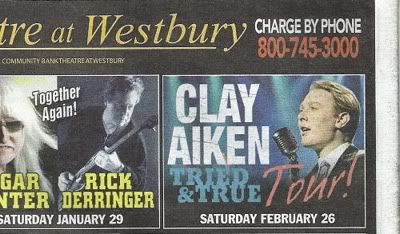 Click to expand Clay Aiken corner of the advertisement.


Double Clickable
The Tried & True Winter Tour, in support of Clay's T&T CD release by Decca Records, begins Feb. 10 in Miami, FL, and ends March 12 in San Francisco, CA. All appearances can be viewed at the singer's Official Fan Club site.

The opening graphic by

Fountaindawg

features photos from the Chicago event, invoking memories of the poise with which the singer entertains an audience with his amazing vocals one minute and light-hearted banter the next.

The videos from the Oct. 14 Chicago Benefit Concert support the premise. Both videos by

dlh7777

can be viewed full screen in the WTTW Chicago Benefit Concert Play List on the Wowzers4Clay YouTube Channel.


Clay performs 'Mack the Knife' at Chicago Concert.

In the second video, Clay tells an Ohio fan listening to the concert via cell phone that she is really nearby compared to many in the audience, finally rolls his eyes, closes the phone, and segues into "Who's Sorry Now."

Phone banter, 'Who's Sorry Now' from Chicago Concert.

At the Wowzers4Clay Channel, click on the Chicago play list and enjoy the concert from start to finish.
Below are clickables of

Fountaindawg

's opening graphic in regular and wide screen versions:
NIP, Pepsi Partners Join Forces
During the three months the National Inclusion Project has been vying for a $50,000 piece of the Pepsi Refresh pie, supporters have crossed paths with dedicated backers of many worthy causes.

The Pepsi website is a giant community of individuals passionate about their cause but willing to help others in the process. Below are some of the comments posted on the Inclusion Project's page this weekend:
Alleghany Raise the Roof

: Votes for your great cause from friends at Alleghany Raise the Roof! We really appreciate all your help for our kids pool. We have to get you into top 10 and we hope to follow in your footsteps. -- Jan M



Girl Scout Low Country SC

: Good morning from Girl Scout Camp Low Country (103373)! We're setting up a display tomorrow at a college, and will pass out fliers with your voting info on it, too! - Patricia N



Good Friend, Inc

. back to vote for you. Consider texting 103636 to 73774 to vote for our middle school video to promote autism awareness, acceptance & empathy and prevent disability harassment. - Denise S



The Bag Ladies

are voting for National Inclusion Project. We appreciate your faithful support over the past few months. Hope this month can be it for us both! - Holly C



Hawthorne Elementary

sent you over 50 votes on Sunday. We will continue to support you with even more votes if will vote for us daily. - Ryan B.



Midwest Women's Vascular Advocates

(MWVA): A good morning vote for you! Best wishes, and "this will be your week!" We thank you so much for your votes/support! - Elizabeth I



A vote from MWVA

: There has been no funding for FMD research either by the government [National Institutes of Health (NIH)], other funding organizations or industry. Thus, there has been virtually no new research in this disease over the past 40 years. We need your vote today MWVA - Kari U



FROM PAST/FUTURE PARTICIPANTS

:





Peaceful Paws

votes coming your way. Please remember us in December. -- Jan S



Tiger Crane Kung Fu

(October finalist) supporting our friends who supported us last month! Sending votes your way! - Anna S



Saving Shelter Pets

is here for you! - Jillian U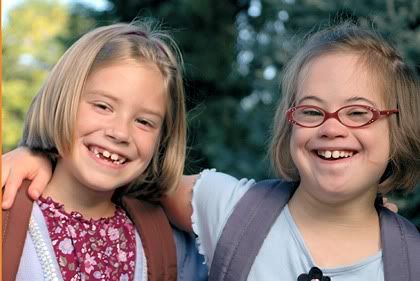 Vote 3 ways daily to expand inclusive programs for all children.
NIP Sets Top 10 Pepsi Goal
Dedicated backers maintain a daily voting schedule that includes the National Inclusion Project, official alliances, and partnerships formed with other charities.

To put the NIP into the Top 10 by Nov. 30, vote three ways daily: at the Pepsi Refresh site, via your Facebook account, and mobile phone text. In addition, you can vote through the National Inclusion Project

website and register for a chance to win a new iPad.

Be sure to leave a message with the alliances/partners that the NIP is supporting their charity. Here is an example:
The National Inclusion Project just voted for you. Thank you for your reciprocal support. Please leave a comment, as we re-evaluate daily.

http://www.refresheverything.com/nationalinclusionproject ...Text 102308.
Below is a list of charities sending the most votes to the NIP over the weekend. The list will change daily according to nightly reports. To put these charities in your circle of support, locate their link and/or text number on the NIP Voting Widget: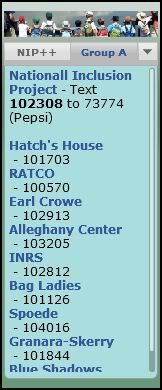 Cap links to NIP Widget
RATCO

- Alliance


Spoede

- Alliance


*Rett Syndrome Clinic

- Group A


Hawthorne Elementary

- Group A


INRS Expo

- Group A


Hatchs House of Hope

- Group A


Libby Tennis

- Group B


Karo Grillo Golf Cart

- Group B


Camp Low Country Girl Scouts SC

- Group D


Cedar Park High School Band

- Group F


Alleghany Wellness

- Group A


The Bag Ladies

- Group A


Granara Skerry

- Group A


The Blue Shadows

- Group A


Earl Crowe SUV

- Group A


MWVA

(MW Womens Vascular) - Group C


She Shall Go Free

- Group E


Raider Brigade

- Group E


Monta Vista Robotics

- Group D


Pandora's Project

- Group G



* Rett Syndrome Clinic

, which is no longer an official alliance, is still in close partnership with the NIP. With the aid of the Hale Middle School staff, this charity gives the NIP 600+ votes daily.
App, Widget Aid High Tech Voters

The latest addition to November's Pepsi campaign is an app for iPhone and Android users. Like the voting widget, the app was created by Scarlett and conveniently brings together the mobile Pepsi Refresh links needed to vote for the NIP and its alliances.

It allows supporters to log in or register with Pepsi Refresh (with a different ID), vote for the NIP alliances on one page, vote for the NIP, or vote for the "Top Voting Partners." To preview the app, click on the photo below: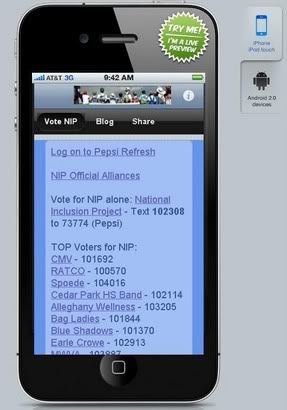 Screen cap links to voting app preview.
Buttons on the preview page allow the app to be sent to a phone via text (SMS), emailed to a friend, or shared via Facebook, Twitter, linked-in or QR codes, etc. The cap below shows you what the window looks like when you hit the SMS (text) button: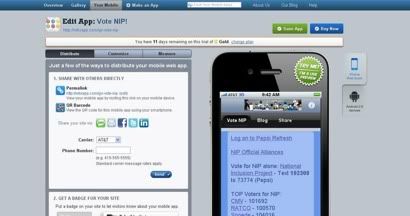 Click to enlarge above image.
Scarlett

, who monitors the Carolina blog via her iPhone, asks that you post comments/questions RE the app here or at Facebook.
She will answer you as quickly as possible.
Vote daily, and have a wonderful week, Clay Nation!

Caro