Little Drummer Boy - Clay Aiken-Bing Crosby Duet
View montage by Ashes full screen at YouTube.
Countdown for $50K Grant Drive


Montages Celebrate Virtual Duet

Clay Aiken's "Little Drummer Boy" duet with the late Bing Crosby during the

Nick at Night Christmas Holiday Special

of 2003 is celebrated as a wonder of modern technology but, more importantly, the blending of two singers with incredible pipes.

How extraordinary it would have been if Clay and Bing had crossed paths in real life. Meanwhile, their virtual duet from the holiday special is a fan favorite year after year.

"The Little Drummer Boy," also known as "Carol of the Drum," is a popular Christmas song written by pianist/composer Katherine K. Davis in 1941. Based on a traditional Czech carol, the song was popularized by the Harry Simeone Chorale and has been adapted countless times since.

The lyrics tell of a poor young boy who, unable to afford a gift for the infant Jesus, plays his drum for the newborn with the Virgin Mary's approval. The newborn seems to understand and smiles at the boy in gratitude.


The Little Drummer Boy - Montage by Aspiegirl
View montage full screen at YouTube.

Taking a different approach,

Aspiegirl

's montage of the classic Clay-Bing duet opens with children begging for money in the streets of New Delhi, India. Their enforcers profit greatly from the young beggars.

The young boy at the end of the montage is from America. As the video progresses, many people walk by turning a blind eye to him.
'Peace on Earth' Provides Counterpoint
With David Bowie, Bing Crosby originally recorded the
Peace on Earth/Little Drummer Boy
duet for his 1977 television special,
Merrie Olde Christmas
. Crosby died on Oct. 14, and the show was aired on Nov. 30.
The duet was issued by RCA as an official single in 1982 and has become a staple of holiday radio play.

Uploaded just before her death in December 2009, the opening montage leads the final
Clay-The Man
blog by

Ashes

.

Of the many heartfelt comments posted in the
Carolina
blog's tribute for Joan Martin last December, the message by
bluecouchpotato
captured the legacy of a truly special friend and CA fan whose art lives on in this digital plane:
Perhaps it is sweet solace that through the very technology that enabled us to be part of her life, she will continue to be part of ours, and so many others will continue to wish they had known her.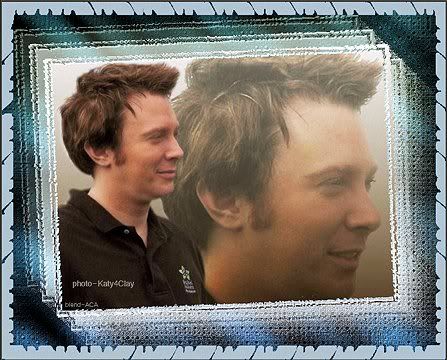 MAKING A DIFFERENCE: In 2003, singer Clay Aiken and Diane Bubel of Charlotte co-founded the charity to expand inclusive programs for all children. Graphic by AmazingCA, photos by Katy4Clay.
T Minus 3 Days for NIP Pepsi Grant
Supporters of the National Inclusion Project -- and that includes Clay Aiken fans; countless new recruits among family, friends, associates; hundreds of participating Pepsi charities partnering with the foundation -- have less than four days to pull out all the stops and secure a November Pepsi Refresh grant for $50,000.

If you are new to the three-way voting process (Pepsi, Facebook, mobile phone text), scroll back through recent Carolina blogs for some tips. Specifically, see these sub-heads from Nov. 23: Holidays Provide NIP Alternatives; Nov. 19: Inclusion Project Moves to #12; and Nov. 16: Pepsi Voting Easy as 1,2,3.

In addition to "how to vote" steps, there are fliers you can download, print, and distribute, as well as successful strategies from NIP supporters that may provide you ways to enlist other voters.

Since the campaign began, reciprocating charities have been key to the Inclusion Project's daily vote tally. Click on the

VOTE NOW

art below to link to the NIP Widget created by

Scarlett

and updated daily according to

Royalle

's reports, or use the one in the Carolina sidebar.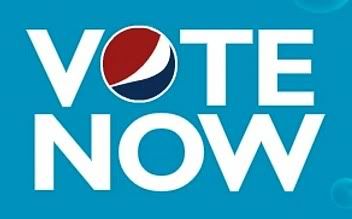 Click on VOTE NOW art to link to NIP Widget.


With 30 daily votes per account (Pepsi, Facebook, mobile phone text), only three can go to the Inclusion Project. The other 27 should be given to partners and alliances. Leave a comment similar to this one so they will know of the NIP support:
The National Inclusion Project just voted for you. We are promoting you on our widget. Thank you for your support and comments. http://www.refresheverything.com/nationalinclusionproject Text 102308



Reciprocal Voting Key To Campaign



These are recent comments posted by foundation partners/alliances trying to help the Inclusion Project move from #11 into Pepsi's Top 10 winners' circle:



HOPE HEALS

: We are having voting parties all weekend long. Also, at our house, no one can come in without promising to vote and text. Hope Heals coming your way. Let's do this!



SECOND CHANCE WILDLIFE

sending votes to National Inclusion. Thanks for staying strong for us as we are you.





RATCO

is voting for you. We want so badly to see you win your grant this month!





PANDORA's PROJECT

:

Thank you for all your support. We have pulled back this month but are voting for you everyday.





MWVA

:

Keep the faith, guys! Keep doing the hard work you have a reputation for doing. This is Midwest Women's Vascular Advocates saying a prayer for you!





HAWTHORNE ELEMENTARY

appreciates your support and is sending multiple votes to you daily.





HALE MIDDLE SCHOOL

:

The HMS Staff is out for a week, but they and their families are voting for you daily!





AHC

supporting you all the way! Thanks for helping us get in the money. Now let's get you there!
It's crunch time, Clay Nation. Let's make this happen in the days we have left. What an awesome birthday gift the Pepsi grant would make for Singer Man, the Inclusion Project's co-founder!


Below is a clickable of

AmazingCA

's opening graphic: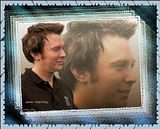 Have a wonderful, productive weekend, Clay Nation!

Caro