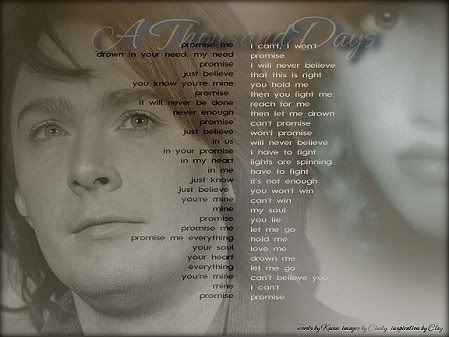 FRIENDS COLLABORATE -- The story behind this hauntingly beautiful poem and graphic design for "A Thousand Days" is in the second half of the blog. A special thank you to Kareng and Cindilu2 for sharing their creativity and their friendship. A clickable wallpaper is included below.
Just Five Minutes From My House
Aiken Amazes World Jam 07

Headlining my agenda Saturday night was the 9 p.m. telecast of the Carolina-Boston College basketball game; so while the Heels prepared for this all-important match-up, I put together a leisurely dinner and dropped by the Official Fan Club Chat Room to see what was happening in Clay Cyberspace.
Most of the time, OFC CHAT is filled with light banter about our favorite singer, what's happening in the lives of fans in the room, the weather, what's for dinner, etc. Not Saturday night -- those assembled were involved in a serious, in-depth discussion about autism. One of my best friends, also an OFC member, is Aspiegirl; and I promptly called to see if she would like to join the session.
As you may know, Aspiegirl has Aspergers, a high-functioning form of autism. Because "the system" continually slams doors on treatment and assistance for adults with autism, Aspie has undertaken intense research, actively written and made montages about autism and the lack of awareness/programs for adults, as well as educated many of the caseworkers and physicians whose assistance she has sought.
You can read about her experiences and link to montages she has created in her OFC blog, as well as the journal she recently started in the public sphere, Aspiegirl's Corner.
For a good hour, normally light chatter about Clay ceased to exist as many exchanged knowledge and experiences -- some first-hand -- regarding autism. Of all nights, Clay, whose humanitarian endeavors for inclusion of children with autism and other learning disabilities is well-documented, really would have enjoyed the give and take of his fan club's chat room.
For more information, see these sites: The Bubel/Aiken Foundation and Autism Town.
Tar Heels Take the Court
At the nine-o'clock tip-off in Boston, I excused myself from the conversation to cheer for the Tar Heels, but dropped back by during time-outs. The main topic took a sudden detour when a newcomer asked if we knew that Clay had made an appearance in North Carolina that night.
Knowing the singer's connections with the Carolina Hurricanes, I suggested that perhaps he had sung at a Canes game in Raleigh -- proving once and for all how little I know about the sport. That night the Canes were actually playing in Montreal, LOL!
Returning to the nail-biting of the close Carolina-BC contest, I disregarded CHAT until another time-out. By then, talented Clay Nation sleuths had the lowdown on the singer's surprise appearance. Just five minutes from my house, Clay had dropped by the World Jam 2007 Concert at the Greensboro Coliseum to sing a duet with his friend and mentor, Steven Curtis Chapman.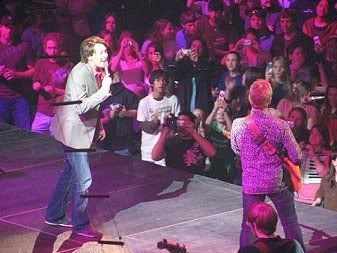 Clay Aiken, Steven Curtis Chapman at World Jam
Internet fans first learned about this exciting event when Cats4Clay's son dialed his mother from World Jam to tell her she would never guess who was there, too. Clay and SCC rocked out on "The Great Adventure," a song many fans know from an early CA demo session. Once the initial alert was posted, Claymates tracked down several photos and a video from the performance within a few hours.
The sound quality is not the greatest, but you can view the performance recorded by a fan and uploaded to YouTube by Katiaiken below:


The Great Adventure


SundayNYC's YouTube montage features a 19-year-old Clay singing the early demo of The Great Adventure.
Christopher Knight, an independent filmmaker and freelance website designer in the Piedmont, blogged about Saturday night's surprise in The Knight Shift:
Surprise performer Clay Aiken wows crowd at Winter Jam

Well, Chapman rocked the crowd, as he's apt to do. And about 2/3rds of the way through his set he did something that had been joked about once or twice already by the performers, but I don't think anybody took them seriously. But, it happened: Clay Aiken walked onstage and started singing! Yes, the Clay Aiken! How they kept that one under wraps - and in Greensboro of all places - I've no idea. Anyway the crowd was already having a great time but bringing Aiken out just intensified the electricity of the place.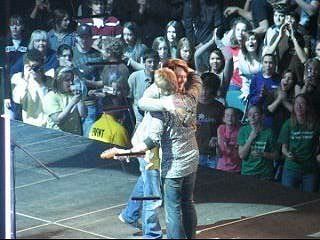 Clay and SCC in bear hug following the duet.
What a night -- an informative chat session, Clay singing in my backyard, plus the Heels won, 77-72!

PHOTO INTERMISSION: This clickable interlude features graphics and photos by eight visual artists, including Cindilu2, photo by Karen Eh, 1; ABeautifulMind, photos by Karen Eh, 2; Claystruck, photos by Scrpkym, 3; Amazing_CA, photos by MixnJude, 4; and Ambassador of Love, 5.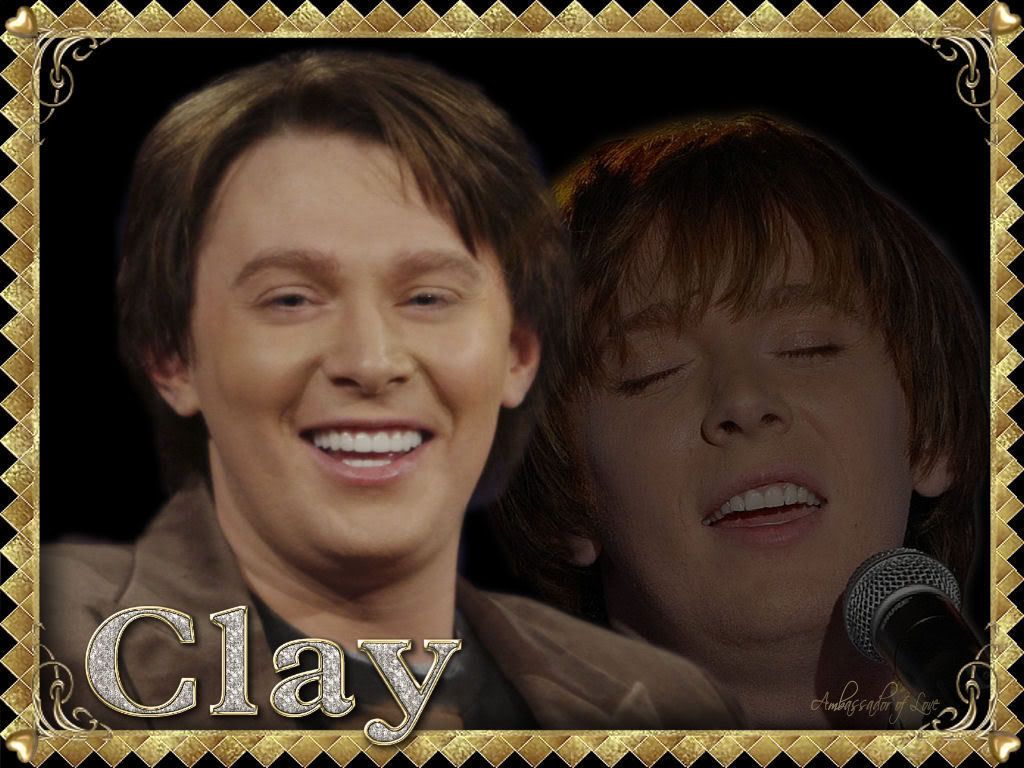 A Unique Collaboration by Two Friends
The exquisite venture by two close friends atop this blog occurred by way of the special Valentine's Day Contest at the OFC. As required, the words remain true to the lyrics of A Thousand Days and can be read down, as in "him" on the left, "her" on the right, or back and forth line for line. The synergy, nuances, and interplay between the words and the visuals are truly unique.

Though

Kareng

, a.k.a.

Claydictedmom

at the Clayboard, did not enter her poem, her best friend,

Cindilu2

, was immediately intrigued with the idea and created the lovely graphic. The clickable version enlarges the design to a readable 1024 pixels and makes a beautiful desktop wallpaper.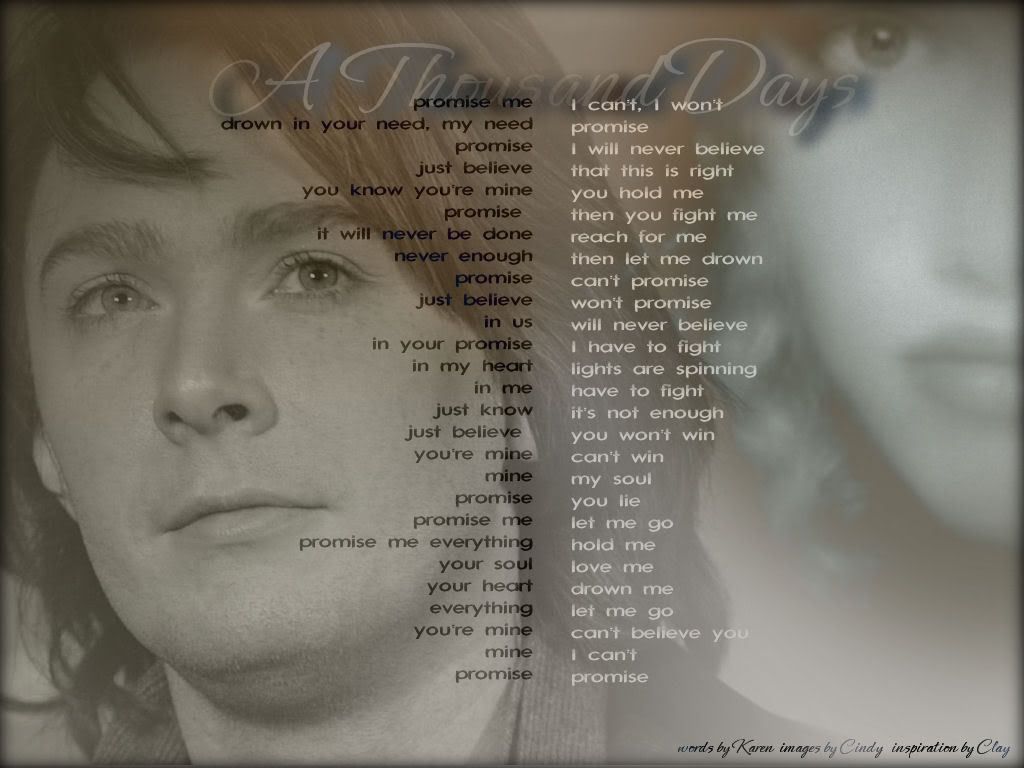 "She wrote it, and I loved it and wanted to honor it in some way; so I made the wallpaper to showcase it," Cindilu2 explained in an email. Both give their favorite singer credit for inspiring the poem, the graphic, and their novel collaboration.

Close friendships like an American poet and a Canadian artist are the norm in Clay Cyberspace. A huge thank you to both for sharing their artistry and to Clay for inspiring this imaginative creation and the countless, treasured connections these two friends represent.

Congratulations to Claymaniac113078, who won the poetry contest and a phone call from Clay on Valentine's Night!
Musical Friends Mark Birthday
Today marks the birthday of two very special people in my life. Friends and pianists, these ladies were keyboardists for the Cambiata Chamber Players, an ensemble we formed a couple of decades ago just for the pleasure of making music together -- flute, oboe, and piano.
As it turned out, we wound up playing all over Nashville for park concerts, weddings, receptions, fashion shows, retirement homes, and several functions at the Governor's Mansion. In the five years that we performed together, we had two different pianists. Ironically, they share the same birthday.
Still a Nashvillian, Judy performs and teaches elementary through college-aged piano students while Diane now makes music in the Chicago area.
I noticed this quote in a birthday blog today and am including it in their honor:
Because time itself is like a spiral, something special happens on your birthday each year. The same energy that God invested in you at birth is present once again. -- Menachem Mendel Schneerson (The Rebbe)
Happy Birthday to two very special friends!


Claymate calendars have been marked for weeks as a certain singer from North Carolina is set to co-host Fox's Morning Show with Mike and Juliet this Thursday.
See you then. Meanwhile, have a great week, Clay Nation!

Caro
RELATED TAGS:
Clay Aiken
,
A Thousand Different Ways
,
A Thousand Ways
,
Claymates
,
Autism
,
Aspergers
,
The Bubel/Aiken Foundation
,
Autism Town
,
UNC Tar Heels
,
World Jam 2007
,
Steven Curtis Chapman
,
The Great Adventure
,
The Knight Shift
,
The Morning Show
,
Clay Nation