VALENTINE GREETING -- Cindilu2 designed this elegant card for Clay Aiken's traditional Valentine appearance on Jimmy Kimmel Live. The songs from Clay's CD, "A Thousand Different Ways," are the quintessential musical match for St. Valentine's Day.
Happy Valentine's Week!
Special Moments Highlighted
February 14 traditions continue throughout the world this week, but none closer to the hearts of the Clay Nation than Wednesday night when a certain North Carolina singer will appear on the Jimmy Kimmel Live Show. In the host's words, "Valentine's Day is Clay Aiken Day."

The last time Clay and Jimmy celebrated Valentine's together was 2005, and the CA fandom literally took charge of the stage decor, sending flowers, stuffed animals, balloons in the shape of hearts, and enough pizza for the crew and half the audience.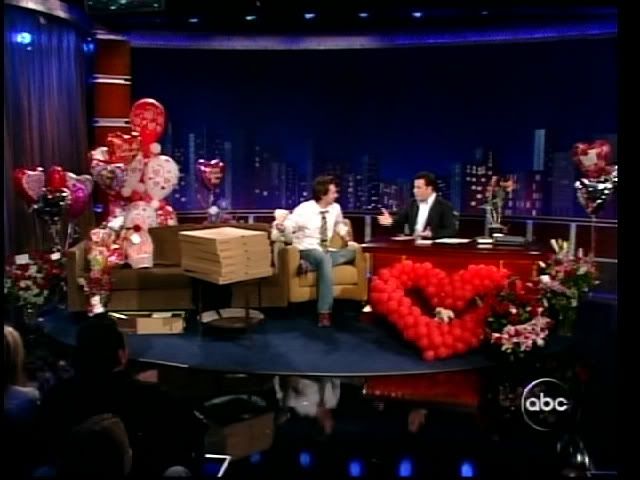 In the three weeks since Clay's appearance was announced, fans have been busily securing tickets, transportation, and accommodations for being there, as well as collecting money and planning a variety of special gifts for the 2007 occasion. One board I frequent has a countdown ticking off days, hours, minutes, and seconds until the event.

At the heart of all this is the amazing chemistry and friendship that has developed between these two men. Feb. 14, 2007, is bound to be another Aiken-Kimmel reunion to remember. Meanwhile, you have to admit that JK knows how to throw a party for the Clay Nation!
Elm City Celebrates 92nd Birthday
Last week, Aunt Gladys, my mother's baby sister, celebrated an important milestone, the 92nd anniversary of her birth. In her immediate family, Aunt Gladys is more often addressed as "EC" or "Elm City," a name long ago established when her granddaughter could pronounce the eastern NC town in which she lived easier than the customary grandmotherly tag.
Cousin Charles, EC's son, emailed our family a trio of pictures and the birthday gal's celebratory menu of favorite foods -- soft shell crabs, sweet potatoes, double chocolate chunk ice cream with chocolate sauce and chocolate cookies. Her chosen beverage was not the champagne of her 90th birthday, but a top shelf premium beer.
EC now lives with her son and daughter-in-law on Hatteras Island. Among her daily activities are the jumble and crossword puzzle, solitaire on the laptop, and assembling 1,000-piece puzzles. I'm sure she will be putting to good use the new cell phone she received for her birthday.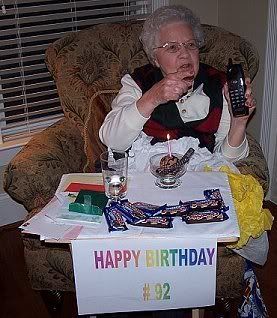 EC shows off her birthday cell phone.
Sister Entertains at Mama Mac's Party
Elm City reminds me so much of my own mother, who passed away in July 2005. She and Mama Mac were raised in a musical family and given piano lessons by their mother. Their adult lives revolved around their families and careers as educators. Mama Mac taught vocal music and 5th grade, and Elm City was an elementary/special ed teacher who, upon retirement, continued working with the adult literacy program in her area for many years.
One of the last times the two sisters were together was my mother's 90th birthday. Besides her immediate family, Mama Mac enjoyed the company of her sister, cousins, nieces, nephews, and friends that day. Aunt Gladys can play just about anything by ear, and I had asked if she would like to provide background music for the party.
At the time, EC resided in an assisted living facility in Reidsville near her son's family, about 20 miles north of Greensboro. Carolina Place should have put her on the payroll because she played the piano for numerous functions, as well as conducted a weekly sing-along for the residents. Because of her lifelong love for card games, EC also organized a weekly rook group.
When EC and cousin Josie entered the party room for my mother's 90th shindig, my best friend Terri was quite impressed with the spry, little 88-year-old woman walking without a cane. Later, when I asked EC if she would like to start the music, Terri vows Aunt Gladys literally skipped to the piano.
She came prepared, too. Besides her playlist, she seamlessly worked in requests from Mama Mac's guests; and later when we had the sing-along, EC provided the large-print word sheets she used with her regular gig at Carolina Place.
Happy 92nd, EC!
PHOTO INTERMISSION: This clickable interlude features some of the many Valentine graphics Clay's talented fans have created. Included are Amazing_CA, photos by Karen Eh, 1 and 2; ABeautifulMind, graphic of Tyra Banks Show cap, 3; Ambassador of Love, photo by Fivegoldens, 4; and MNmeesh, 5.

Michael Jordan Creates Memories
Michael Jordan's remarkable moves on the basketball court will long be remembered by fans of the game, especially those with allegiance to the University of North Carolina Tar Heels and the Chicago Bulls, teams for which he played. Saturday this extraordinary man provided yet another unforgettable maneuver that has made banner headlines throughout the media, Internet sports sites, and the hearts of "Carolina blue" fans everywhere.
At the halftime of last weekend's Carolina-Wake Forest game, the Heels paid tribute to the 1957 and 1982 national championship teams. For the first time in history, hardly anyone left their seats at intermission. As the legendary honorees took the floor together, cameras and cell phones popped, capturing the momentous occasion.
The 1957 players were emotional as videos of their season rolled on the jumbo screens overhead. They played in an era with no Internet, fledgling television, and the barest of radio. Now, 50 years later, they were being greeted with a roar from over 20,000 people who still appreciated their accomplishments.
Then came the 1982 introductions with Sam Perkins, James Worthy, Michael Jordan, and Coach Dean Smith at the end of the line. As the coach emeritus of Tar Heel Land was introduced, the greatest basketball player of all time threw his arm around Smith and planted a kiss on the top of his head.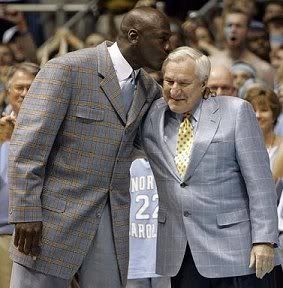 MJ creates yet another Tar Heel memory.
What a special "awwwwww" moment for those of us watching on TV. For those in the Dean Dome, the house named for this regal, quiet-spoken man, the impromptu "move" must have been spine-tingling.
Vintage Cards Provide Unique Valentines
During the Golden Age of postcards (1907-1915), some of the world's most beautiful Valentine's Day postcards were created. You can see in these vintage Valentine's Day postcards the influence of Victorian design and sentiments, which have stood the test of time.
Many antique Valentine's Day cards have travel as a theme, but there are also plenty of flowers, hearts, and cupids to go around. For an interesting step back in time and cards you can send this season, see Vintage Valentine Cards.
At Clayversity, Clayscience shared several of her grandmother's cards from the era. I hope you enjoy these three clickables: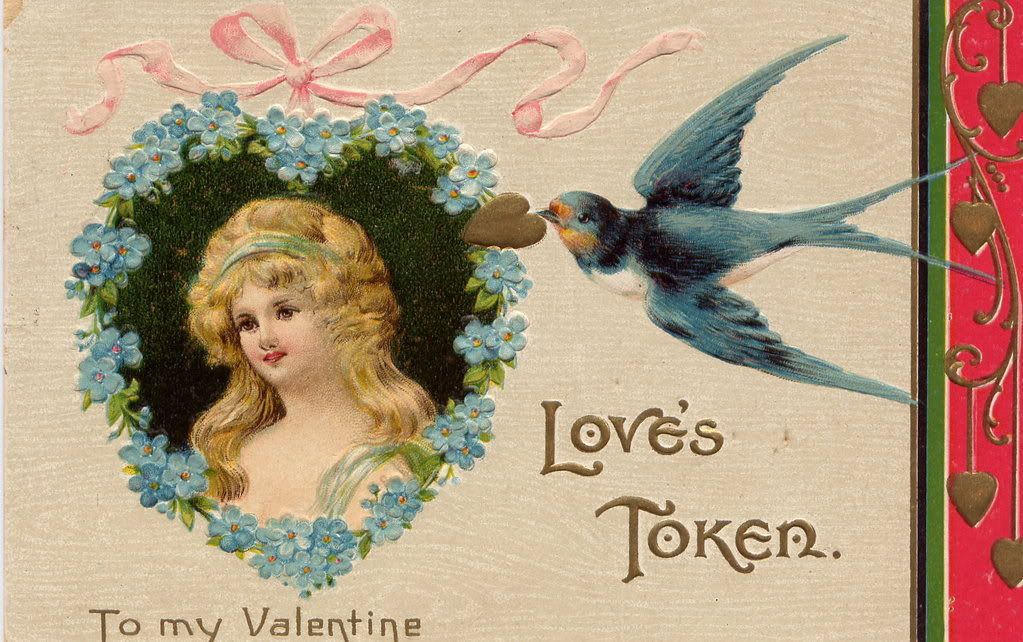 Have a wonderful Valentine's Week or as we're saying on the message boards:
Happy Clay Aiken Week!
Caro
RELATED TAGS:
Clay Aiken
,
A Thousand Different Ways
,
St. Valentine's Day
,
Jimmy Kimmel Live
,
Elm City, NC
,
UNC Tar Heels
,
Chicago Bulls
,
Michael Jordan
,
Dean Smith
,
Vintage Valentine Postcards
,
Clay Nation