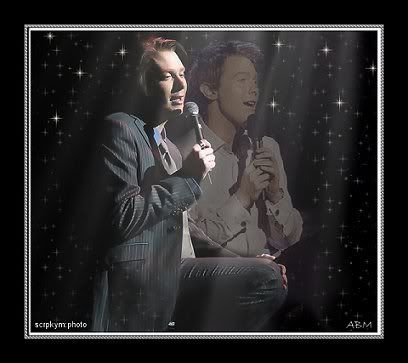 HANDSOME REFLECTION -- In a week that began with celebrations of the fourth anniversary of 'Always and Forever,' A Beautiful Mind's stunning graphic spotlights an earlier moment with one from December's Christmas Symphony Tour. Photo by Scrpkym.
Photos, News Also in the Mix
Winter Soup Recipes Shared
In the pre-dawn hours, February 1st crept into Carolina riding a freezing, wintry mix. After watching Clay Aiken's Good Morning America appearance for UNICEF today, my thoughts naturally transitioned from the weather channel's continuous parade of cold, treacherous conditions to favorite warm soup recipes.
I shared some of these menus last fall; but as is my style, I constantly make alterations. In addition, a new CA fan club blogger's recipe -- Spicy Tomato Soup -- also joins this collection. Welcome to the OFC, Sadie1!
Clay Talks About UNICEF at GMA
Besides the weather, the Clay Nation enjoyed a full morning of news. A couple of stories are highlighted here.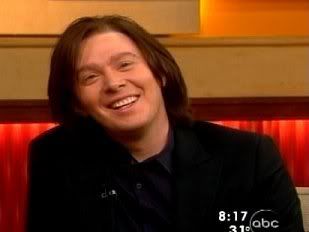 Good Morning America screen cap by Katt45
Our singer's appearance on ABC's GMA is summarized quite well and with just the right "flavor" in this story at ET Online.
CLAY AIKEN made an appearance on "Good Morning America" Thursday to promote UNICEF's public awareness campaign for Child Survival 2007, and the "American Idol" runner-up also revealed which former contestant gets his vote!
"I'm jealous," Clay lightheartedly replied when asked about JENNIFER HUDSON. "There was a point I was considered the most successful 'Idol' loser, but now I'm not anymore. I saw the movie ['Dreamgirls'] and she deserves the Academy Award," he added. "Now I'm going to be in second place again."
Of course, Clay has proved to be number one with fans. As just one example of the strength of his devotees, a February 2006 People magazine poll ranked Aiken as reader's "Favorite American Idol."
But the singing sensation wants to use his fame to help others, and is a dedicated advocate for children's causes, such as UNICEF's mission to provide health, education, equality and protection for children across the globe.
"We want to get people involved," Clay said of his role with the organization. To find out more about Clay's UNICEF mission, check out his UNICEF page HERE.
Then, of course, Clay's GMA stop made evening entertainment shows -- E! and The Insider, the latter now available on YouTube. The full GMA segment is streaming at Yahoo News.
In case you missed Clay's appearance, here is a Sendspace download from his morning at GMA.
Celebrities Stand Up to Tabloids
After enduring months of scandalous fiction about himself in the tabloids, Clay has taken off his "nice guy" gloves and invited fan club members to create the "biggest scandal of 2007" in an OFC contest he named "Build Your Own Scandal." Announcing the guidelines in an early morning blog Thursday, Clay will personally choose the winning entry.
Our singer is not alone in fighting the hideous bunk that passes as journalism. George Clooney recently asked his fans to contact Stalker.com and report false sightings all day long so they would be unable to know the truth.
Thursday Tyra Banks lambasted the media for making such an outrageous deal about her holiday weight gain and the effect this fervor has on young girls who risk their lives to become pencil thin. Members of the studio audience -- and many watching at home -- tearfully applauded her bold gesture.
You go, Clay ... and Tyra ... and George ... and anyone else brave enough to stand up to these so-called journalists perpetuating sleazy fabrications as factual news!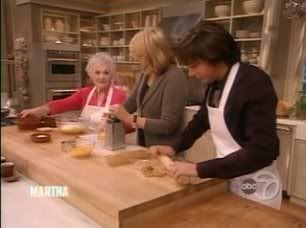 KITCHEN SEGMENT -- Clay assists his grandmother in 2006
appearance on the Martha Stewart Show. Gerwhisp screen cap.
Supper Over Key Signatures
A few years ago when my week included 55 private students and a growing family, my slow cooker was probably the most used appliance in the kitchen, making it possible for me to fulfill dinner preparation and an afternoon of music lessons at the same time. Enticing aromas from the trusty crock pot wended their way into the studio and almost always had the latest students thinking more about supper than their key signatures.
Kicking off this winter sampling is Cabbage Bean Soup, a family favorite from the beginning. The "framework" for this recipe can be located in the Harpeth Valley Elementary School Cookbook, purchased during a PTA fund-raiser in Nashville, TN. Typically, I experimented with the original from the get-go. Since our family enjoyed hot, spicy flavors, I doubt I ever prepared this soup the same way twice.
There are several variations available for Cabbage Bean Soup on the Internet. For example, the recipe can be prepared in a slow cooker (4 hours on high or 6-8 hours on low) or in a Dutch oven on top the stove. An array of substitutions can be applied, and some of my alterations are provided within the ingredient list.

CABBAGE BEAN SOUP

1 T. vegetable oil
1/2 to 1 pound low-fat ground turkey, beef, or meatless ground burger [Best combination is part ground turkey and and part turkey sausage, chopped. The sausage adds lots of flavor.]
1 large onion, chopped
1 small head cabbage, chopped
1 can (16 oz) can stewed tomatoes (Mexican, Italian, Cajun)
[Optional addition: 1 can tomatoes with green chiles]
2 (16 oz) cans red kidney beans [mix or substitute pinto, navy, black beans]
2 cups (or cans) water
1 can (16 oz) can tomato sauce (chunky, garlic, plain)
1-2 beef/chicken-flavored bouillon cubes or Better Than Bouillon equivalent [Option: the original recipe called for 2 cans beef or chicken broth; if I use bouillon, I make up for the liquid with water.]
1 1/2 teaspoons ground cumin
Spices to taste: garlic, Italian seasonings, red pepper flakes, cilantro, etc.
Brown ground turkey or beef with onion in a skillet, using 1 T. vegetable oil. Cook until meat is well browned and crumbled. Drain fat; transfer meat and onion to a large pot along with all other ingredients except the cabbage. Cook for an hour and a half. Add the cabbage at the halfway point. Serve with cornbread or crackers.
Makes 10 servings, which -- for me -- means lots of leftovers that can be frozen and reheated in the microwave for lunches and/or dinners.
MEXICAN CORNBREAD WITH GROUND MEAT
I was given this recipe by a dear friend in Odessa, TX, years ago. The 3x5 recipe card is now splotched from time and spilled ingredients, as I prepared this dinner often after being transplanted to Texas. The main dish consists of cornbread with a center of ground meat, onions, green chiles, and shredded cheese. A side salad with the cornbread dish has been a popular combo in our home.
At first, I prepared Mexican Cornbread as printed below. However, with time constraints as a teacher and mother, in later years I substituted with instant cornbread mixes. Prepare according to the mix recipe, adding the cream corn of the scratch version.

CORNBREAD

1 C. yellow corn meal
2 eggs, beaten
1 C. milk (any per cent)
1/4 C. yellow cream corn
1/2 tsp. soda
3/4 tsp. salt
1/3 C. vegetable oil

Mix all of the above well, and set aside; or do the same with the cornbread mix and cream corn.

FILLING

2 T. vegetable oil
1/2 to 1 lb. ground meat (turkey, beef, meatless burger)
1 large onion, chopped
1 small can chopped green chile peppers
Grated 2% cheese

Saute 1/2 to 1 lb. ground meat and one large chopped onion with one T. vegetable oil. Drain on paper towel. Mix with one small can copped green chile peppers.

Grease the bottom and sides of a large iron skillet with remaining tablespoon of vegetable oil. Sprinkle with corn meal, and brown briefly to help form a crust. Pour half the batter into the pan. Sprinkle grated cheese evenly over the batter. Add a layer of the meat, onion, and peppers. Pour remaining batter on top.

Bake 45-50 minutes at 350 degrees.

What does all this have to do with Clay Aiken? Nothing -- unless he wants to try an alternative to his favored tacos sometime!

PHOTO INTERMISSION -- This clickable interlude features the talents of seven visual artists and photos from the Christmas Symphony Tour. They include Amazing_CA graphic, photo by Scrpkym, 1; Long Island photo by PermaSwooned, 2; Ambassador of Love graphic, photo by Ztilb, 3; Merrillville concert photo by Snix, 4; and Amazing_CA graphic, photo by Karen Eh, 5.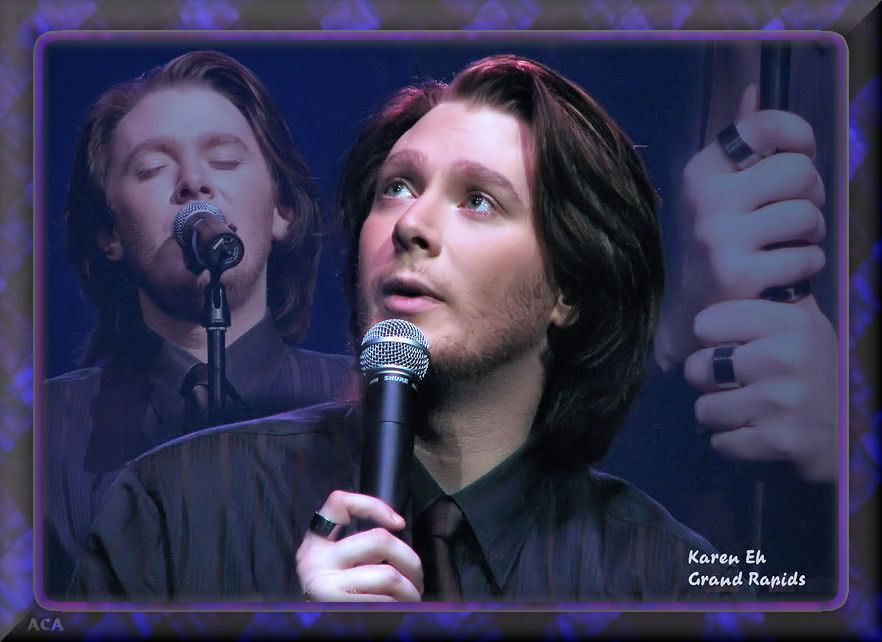 Cooking for Just One



Though less time-consuming, preparing meals for just one can sometimes be a challenge. Always seeking ways to simplify, I created a winter soup recipe with that in mind. This oft-used "soup for one" plan was shared in a previous blog at the OFC. However, there are already a few variations.

My bywords in cooking are "simple" and "substitution," so feel free to create your own variations. Just be sure and share your findings, LOL! These ingredients can be multiplied to yield servings for any number of people. Preparation time for just me is around 10 minutes.



SIMPLE SOUP for ONE



Cook the following -- approximately 1/4 cup for the vegetables -- in a microwave-proof bowl for 2-3 minutes:

Onion
Bell pepper
Frozen corn
Frozen lima beans
Three-inch link of turkey sausage, chopped*

* Variations here can be one inch of the turkey sausage and a portion of shredded chicken, meatless burger meat, ground turkey, shredded chicken alone, etc.
* Another variation can be the addition of a little bit of wine -- or a few drops of vinegar -- when the vegetables are cooked. Both yield a distinctive flavor difference.

Add these ingredients, and microwave all for another two minutes:

3 T. canned black beans (or another variety)
Half a can of Mexican-flavored stewed tomatoes (alternates include stewed tomatoes, Italian-flavored stewed tomatoes, etc.)
Water or small amount of tomato juice
Spices to taste -- I use cumin, red pepper flakes, and Mrs. Dash Italian seasonings
2-3 T. shredded 2% cheese on top

Result: Delicious one-dish meal fast!



BAKED POTATO PLATE



One large baking potato
Onion
Bell pepper
Frozen (or fresh) broccoli
One serving of turkey sausage, crabmeat substitute, or meatless burger crumbles
Canned black beans
Heart-healthy margarine
Seasonings to taste: Mrs. Dash (Italian Medley, Southwest, Lemon Pepper), cayenne, etc.
Shredded 2% cheese (Mine is Mexican-flavored)

Wash, punch holes in the skin, and microwave the potato on a plate until done, about 6-7 minutes. Cut in half, and refrigerate one portion for another meal. In a bowl, microwave onion, bell pepper, frozen broccoli, and meat.

Drizzle 2 T. black beans (with juice) over the potato half. Dot with margarine. Spread the vegetables and meat over this, and top with shredded cheese.

Run the "loaded" potato back through the microwave for 1-2 minutes. If desired, add a dollop of fat-free sour cream. Result: Another delicious, healthy meal-in-one-dish for one!



SADIE's SPICY TOMATO SOUP



2 cans Campbells Condensed Tomato Soup
1 can (12 oz) V-8 spicy hot vegetable drink
1 cup 2% milk
1 14 oz. bag Pictsweet frozen Seasoned Corn & Black Beans with Peppers & Onions
1 6 oz. bag Tyson Grilled Chicken Strips (chopped into smaller pieces)

Combine all ingredients in a pot and simmer on low for about an hour.

Makes 4 servings (320 calories, 1g fat, 6g fiber, 5 WW points per serving)

Now that you know what's for dinner at my house, how about sharing your favorite cold-weather recipe? For dessert, here is a clickable of the lead graphic by

A Beautiful Mind

.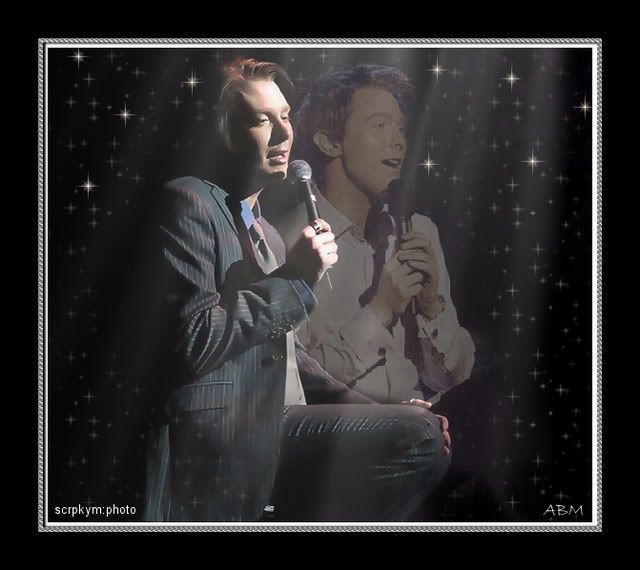 Soup's on -- have a great weekend, Clay Nation!

Caro
RELATED TAGS:
Clay Aiken
,
A Thousand Different Ways
,
UNICEF Ambassador
,
Child Survival 2007
,
Jennifer Hudson
,
ET Online
,
Tyra Banks
,
Official Fan Club
,
Soup Recipes
,
Clay Nation