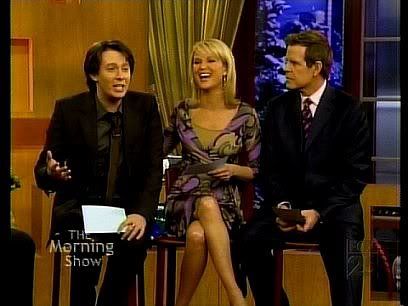 A REAL NATURAL -- Clay Aiken and hosts Juliet Huddy and Mike Jerrick of Fox's Morning Show had a grand ole time during the singer's co-hosting appearance on Thursday's episode. Screen cap by Platinum Clay.
It's a Clay Day!
Aiken Shines on 'Morning Show'
Thursday was Clay Day at The Morning Show with Mike and Juliet, and the main guest and his legions of dedicated fans made quite an impression. For starters, Clay Aiken's supporters began gathering as early as 11 p.m. the night before the taping, and bleachers were brought in to handle the overflow of fans unable to be seated inside the studio.
Clay Aiken was warm, witty, and charming -- something we Claymates have known for a long time -- in his appearance on the Fox talk show. He exuded immediate rapport with his co-hosts, Mike and Juliet, who seem to posses the same snarky, fun-loving streak Clay does.
The many sides of CA were evident in this appearance -- the singer, the entertainer, the humanitarian, the intelligent and well-informed "news junkie," the teacher, a great listener and thus an excellent interviewer, a man unafraid to laugh at himself. And that just scratches the surface.
Karaoke Fun to News Expert
From the rollicking excursion to a karaoke bar the previous night to intelligently discussing the news of the day, Clay and his hosts seemed to have a great time. It's for sure those of us watching at home did.
There was even a segment in which one of Clay's "most enthusiastic" fans -- Cookie from Pennsylvania -- displayed her "Claymobile," a specially-decorated Saturn with all kinds of CA paraphernalia. She not only met her idol but went head to head with him in a game show setting of trivia about the star. Clay let her win, and she walked away with a tropical vacation package for two. Members of the studio audience also were gifted with snazzy new cell phones.
Typical of many in the Clay Nation, Cookie and the fans in her area have helped raise thousands of dollars for The Bubel/Aiken Foundation, the charity founded in 2003 by Clay and Diane Bubel to promote inclusion for children with disabilities.
Once again Clay proved he can expertly run with industry talk show professionals; and, surely, network bigwigs are paying close attention. Meanwhile, the man is on a break, visiting with his brother Brett, who just returned from a second tour of duty in Iraq; planning a spring trip for UNICEF; and dropping hints about a summer tour in support of his album, A Thousand Different Ways.
PHOTO OVERVIEW -- These clickable Morning Show screen caps surrounding the animation in the middle provide a pictorial overview -- from the clever "hand-over-mouth" promo, Clay and Juliet's swing around the dance floor at a karaoke bar to pensive and amusing moments from the segment. Special thnx to Gerwhisp (1, 2, 3 4, 5) and Platinum Clay (6, 7) for the pictorial recap.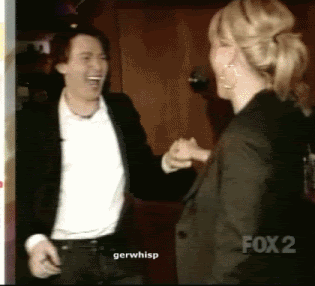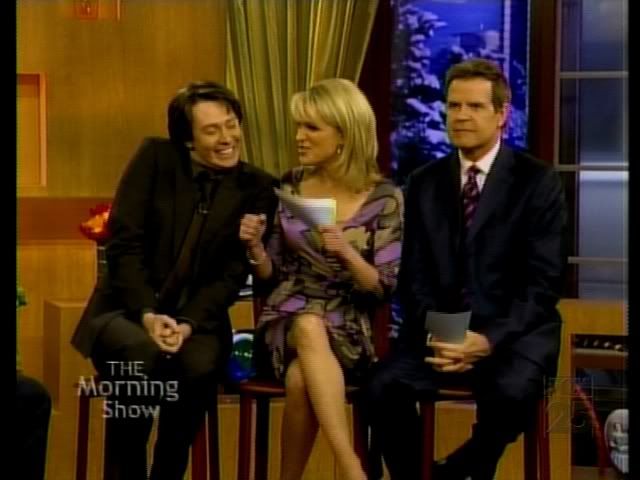 Afterwards, Mike and Juliet vlogged about It's Clay Day at their website. Videos can be streamed from the Morning Show site, and downloads of the episode are available at Clack Unlimited.
One request from my card-carrying, West Texas Claymate MIL -- when the "Clay Aiken Talk Show" becomes a reality, just be sure to include at least one segment showcasing that beautiful voice.
Clay Day everyday sounds like a winner to us!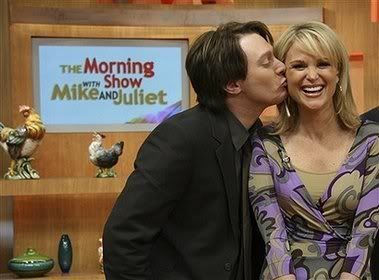 SHOWING THE LOVE -- Clay Aiken bids adieu to Juliet of Fox's The
The Morning Show following his appearance as guest co-host on
Thursday. -- AP Photo on Yahoo
Have a wonderful weekend, Clay Nation!
Caro
RELATED TAGS:
Clay Aiken
,
A Thousand Different Ways
,
The Morning Show with Mike and Juliet
,
Clay Day
,
Claymates
,
The Bubel/Aiken Foundation
,
karaoke
,
Clay Nation