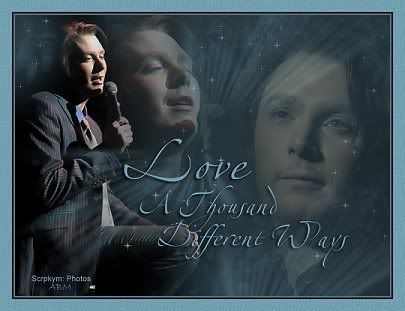 VALENTINE SONGS -- Clay Aiken's latest CD, A Thousand Different Ways, is the perfect musical accompaniment for St. Valentine's Day. Graphic by ABeautifulMind with photos by Scrpkym.
Net Finds, Clay News, Too!
Music Library Due Overhaul
Last week my sister stopped by with a Valentine gift -- a heart-filled welcome mat that was a hit with my students this week -- and to borrow some piano duet books for a couple in her class. I have tons of duet books on many levels, but I couldn't any more put my hands on one than the man in the moon.
If this had been during the 17 years I taught 50 piano students weekly in a Nashville suburb, I would have marched straight to the item needed. However, between the time I returned to teaching band/orchestra in the public schools and later retired to a handful of private lessons, my music library has weathered several haphazard packings for carting across town, then over the Smokey Mountains to High Point for a couple of years, and finally to its current location on bookcases lining two walls of a spare bedroom in the house I bought almost -- egads!!! -- 13 years ago.
Every time I moved, the music got a little more disorderly as it was hastily packed into file boxes. Probably the worst time was my last-minute move from Tennessee to High Point. I had come to North Carolina to interview for orchestra jobs in Charlotte, Wilmington, and the Piedmont. There were no openings that year, but I decided to return to Nashville, pack, and move back to Carolina anyway, start a class of private students, maybe substitute teach, and gig with my sister, an excellent flautist. After all, I had made a decent living this way while raising a daughter in Tennessee.
During the week of interviews here, we had never been able to get past the busy signals of the Greensboro school system's personnel office. Even as I was packing for the return trip, Sis was constantly redialing. Suddenly she screamed, "It's ringing, it's ringing!!!" Teachers were already involved in workdays, so I first asked about subbing, something I had never even done. The personnel receptionist asked what subject I taught, and I replied, "Orchestra."
As long as I live, I will never forget her next four words: "We have an opening."
Moving Whirlwind Begins
An appointment was made, and I was hastily ushered into the office of the music coordinator, who set up an meeting with the middle school principal who had an opening. Thursday I talked with the principal and her band director and was soon asked if I could be there Monday morning when the students arrived for the first day of school.
My leisurely jaunt to Nashville was immediately bumped to "whirlwind" mode. I had already engaged a moving company, but I had planned to complete most of the packing myself. They had even delivered a boatload of boxes to my apartment before my trip.
Following a brief introduction to the faculty early Friday morning, I made the eight-hour "dash" to Nashville to gather bare necessities to bring back on Sunday, as well as do what I could to organize the apartment for the movers to complete the packing. I arrived in High Point late Sunday night in time for the opening of school and bunked in my sister's den until the truck came later that week to unload my belongings in my new apartment.
We hit a comical little snag when the four professional movers couldn't figure how to get my grand piano into the apartment. Fortunately, my sister knew just the person; and a local piano tuner with the most amazing, little dolly maneuvered that baby around a sharp corner that had totally baffled the regulars. This man has been my piano tuner ever since.
Library Project On Tap
Now about the music library -- I guess it really is time to replace chaos with order. We are not talking about a handful of selections, but at least a couple thousand books, collections, and singles for piano, woodwinds, and strings. Back in the 50-students-a-week days, I kept an extra set of everyone's music -- for planning, as well as in case a little darling forgot to bring this necessary ingredient to his/her lesson.
That happens more often than you would imagine, and sometimes the excuses are priceless: "My mother accidentally put my Mozart in the washing machine" ... "You won't believe this, but my dog ate my Bach for lunch."
The spare music came in handy for mishaps, plus I always had the next set of books ready when a student finished a series. We lived about 10 miles from the center of Nashville, and my music library soon looked like a branch of the main stores downtown.
I do have latent organizational skills, but the combination of teaching orchestra, discovering the Internet, and other obligations have kept this task off my main agenda. I once spent an entire summer organizing the morgue at the Star-News Newspapers. For five summers, from high school into college, I wrote news and feature stories for the Wilmington paper, sometimes front page stuff. Until the last time I saw him, the executive editor, now long gone, always referred to me as that "sweet little gal who cleaned up the morgue."
With the assistance of four of my students, I did the same thing with Grimsley High School's orchestra library. Over the years, the GHS orchestra program has run the gamut from small ensembles playing transcriptions to a full 100-piece symphonic group that performed Grade 6 originals, parts of which were strewn throughout a room full of wall to wall filing cabinets. Before and after school, my crew and I gradually put that library in order and transcribed the contents to computer disks.
So now it's my turn to do the same with this music library. I'll keep you posted on the progress -- that is, if I can find the "off" button on this computer!
PHOTO INTERMISSION: This clickable interlude features the talents of six visual artists. Graphics include ABeautifulMind, 1; Amazing_CA, photos by MixnJude, 2 and 4; MNmeesh, photos by MixnJude, 3; and Katt45, photo by Karen Eh, 5.



Some Amazing Net Finds

Lately my email box has been full of gems, mostly in the form of links to interesting sites, info, and happenings on the Internet. Adding the sites to a couple of news bits, this second half potpourri is bound to hit a button or two for everyone.
The first three stops are compliments of my good friend Sally, whose talents include photography, graphic design, and -- coming soon -- videography. If you are looking for a some awesome effects, backgrounds, etc., give (er um) camera tossing a whirl. For more details and some beautiful results, check out Camera Tossing.
Some unbelievable high dynamic range photography is featured on these two sites: Portfolio: The Best and the photographer's self-named blog, Stuck In Customs.
These two clickables are examples of many more:


Multimedia Scrapbooks Taking Off
If you enjoy sharing photos -- and what Clay fan doesn't?!? -- you might want to see the latest in multimedia scrapbooks. With Scrapblog, you can drag and drop photos, videos, audio, and other creative elements.
This looks like a fun way to share your story online or through high-quality photos, DVD's, and postcards. Scrapblog is free, and there's nothing to download. For an excellent intro, check out the site's Quick Tour.


The Bubel/Aiken Foundation, co-founded by Clay and Diane Bubel in 2003 to implement programs for inclusion of children with special needs, has approved the nationwide fundraising and awareness initiative called Scrapping 4 Inclusion.
According to founder Laurie Weishar, the mission of Scrapping 4 Inclusion is to combine one of the fastest growing hobbies in North America with the need for creating awareness and raising funds on behalf of TBAF. "It just made sense for me to combine these two passions into something that can benefit everyone."
Scrapping 4 Inclusion is an awareness and fundraising campaign where volunteers organize a "scrapbooking crop" in their community. Currently 22 US cities have organizers in place who are actively planning a scrapbooking event.
Lycos Adds Videos to the Mix
Newly launched Lycos Mix provides a fun video tool that allows users to gather their favorite video clips from across the Web and put them in one mix or playlist. Others can add video content, as well as comments and chat.
The Claymate Lycos Mix seems to be off and running. Check it out if you haven't already.

Clay To Co-Host Fox Morning Show
The Official Fan Club has announced that Clay will co-host The Morning Show with Mike and Juliet on Thursday, Feb. 22.
The Fox talk show is telecast here at 9 a.m., but I notice it's also available in Odessa, TX; so my Claymate MIL will be setting her alarm earlier on the 22nd. Visit the show's web site to see if it is telecast in your area.


Juke Box Holds Memorable Tunes

Ever get a hankering for some good ole rock 'n roll? Another good Clay friend, Madaelynn, shared the site Class of 1960 Reunion Juke Box, which contains 450 songs from 1956 - 1960.
If you have read this blog very long, you know the first song I played was Sonny James' "Young Love" on the 1956 jukebox. [The Real Rebels of Music, 7/13/06.]

The Platters, the Chantels, the Coasters, Buddy Holly, Connie Francis, Bobby Darin, Fabian, the Everly Brothers, the Teddy Bears -- what a walk down memory lane for some of us and an education for others!

Here is a clickable of the lead graphic by ABeautifulMind: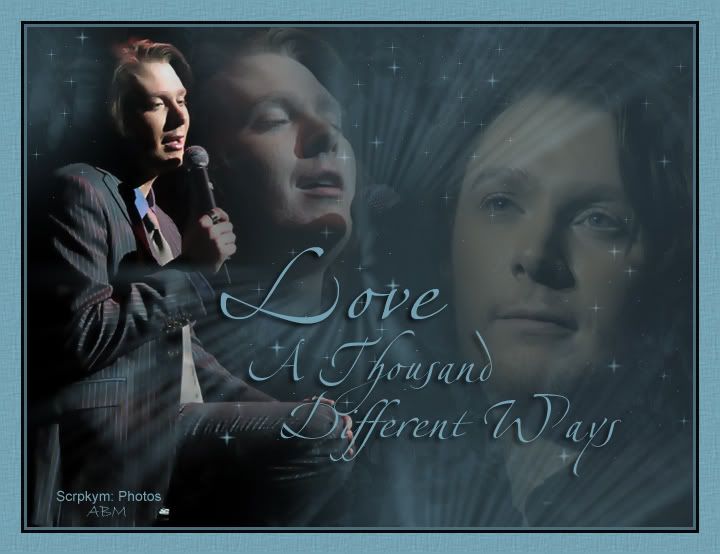 Have a wonderful weekend, Clay Nation!
Caro
RELATED TAGS:
Clay Aiken
,
A Thousand Different Ways
,
Camera Tossing
,
Stuck In Customs
,
High Dynamic Range Photography
,
Scrapblog
,
Scrapping 4 Inclusion
,
The Bubel/Aiken Foundation
,
Lycos Mix
,
Official Fan Club
,
The Morning Show
,
Class of 1960 Reunion Juke Box
,
Clay Nation