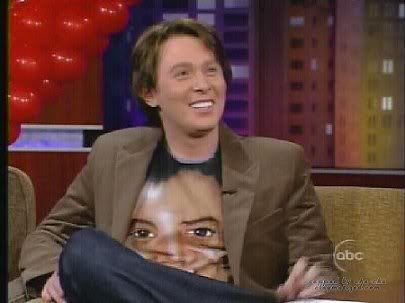 VALENTINE TRADITION -- The annual Feb. 14 reunion continued as Clay Aiken appeared on Jimmy Kimmel Live this week.
Jimmy, Clay Begin Without Me!
Late Night Snooze Interferes
Because Jimmy Kimmel Live is delayed a full hour in the Piedmont, I try to make sure I am ahead in the sleep department so I can be wide awake at 1:05 a.m. Normally, that's not a problem; but I was snoozing away during the opening 20 minutes Valentine's Night and almost missed Clay Aiken's traditional and much-anticipated appearance on the show.

Actually, I awoke around 1:20 a.m. with ESPN's Sports Center spouting basketball scores at me. Slowly recalling why my TV was even on in the first place, I immediately switched channels and landed right in the middle of Clay's segment.

The first thing I noticed, of course, was that Jimmy was wearing a CA tee shirt and Clay an airbrushed shirt bearing JK's face. With a little patience, I knew all would be revealed in later CLACK downloads. By morning, I was caught up and enjoying the important parts of the show ...
In addition to being a multi-platinum recording artist, the author of a New York Times bestseller, and tireless UNICEF ambassador, our first guest has been my Valentine for two out of the last three years running. Please welcome Clay Aiken!

Clay Enters Bearing Gifts
Following that intro and the ensuing pandemonium from the Claymate-packed audience, our singer entered bearing gifts -- a giant heart of red balloons, the Clay face shirt, and special "Aiken 4 Kimmel" M&Ms. Jimmy immediately whipped off his jacket and put on his new shirt. The two friends chatted about Clay's break, the upcoming UNICEF trip, his "enthusiastic" fans" ("Do you realize you command a larger army than Fidel Castro?"), some recent dental work ("I heard that you got a visit from the tooth fairy yesterday and had some work done on your teeth"), and what not.

Jimmy's reminder that Clay had promised to compose a very special Valentine's Day song resulted in comical, baffled expressions from our singer. A pianist started playing offstage, and Clay eventually relented, "Well, I can make one up."

He mischievously viewed the bowl of candy beside him, started picking up pastel-colored hearts, improvising a song with the Valentines and tossing them over his shoulder as he finished each phrase. That he just happened to find a handy microphone nearby didn't detract from the impromptu flavor of the skit and song:

Love me ... true love,
Fax me ... got love,
You're so sweet ... yours forever,
You're so sweet ...
(speaking)
I've got Stage 2 diabetes; that's not going to work!
(singing again)
Angel ... dear one.

(chuckles)


You're a tiger ... you're mine, Jimmy!!!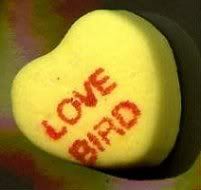 Posh's Valentine from Clay
According to Poshpenny, who sat on the front row, Clay picked up the bowl of candy and passed out sweets to audience members during a commercial break. Throughout the show, he interacted with fans and other Valentine Night guests, actress Gabrielle Union and singer Madeleine Peyroux.
The Jimmy Kimmel Live site is featuring videos of the opening gift-giving, as well as the improvised song. Clay's Valentine lyrics were easily #1 in AOL TV's Top 5 video clips for the day. This is a Sendpace download of Clay's portion Wednesday night: JKL Valentine Show 2007.
What a day for the Clay Nation -- the steady stream of reports to message boards as fans progressed from an afternoon waiting in line to the evening taping and, finally, the airing of the show. Loads of fun, even for this gal who almost missed the main event!
Thnx to my alert, my Claymate MIL in Odessa, TX, enjoyed the show immensely and laughed when I told her my situation. I have learned my lesson, however, and will be setting an alarm clock for the next Clay-Jimmy reunion. It just so happens this Valentine shindig is set for replay on March 7, and I plan to be wide awake.
PHOTO INTERMISSION: This screen cap interlude, courtesy of Claymatized.com and Gerwhisp, begins in Clay's dressing room overflowing with flowers, balloons, and gifts from fans and proceeds through some of the show's highlights. Many more screen caps can be viewed at the Claymatized site.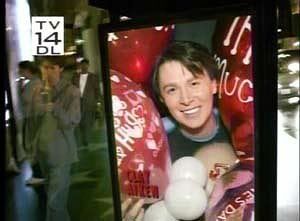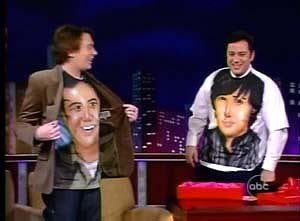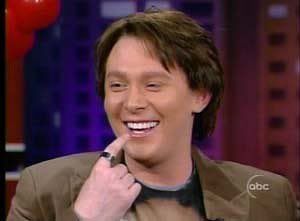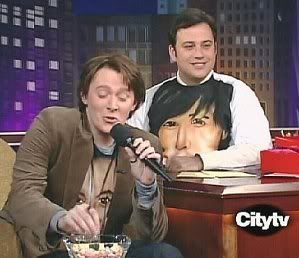 'Today' Celebrates J-Mac's Basketball Fete
It's been exactly one year since Jason McElwain, a New York teenager with autism, emerged as an overnight sensation when he came off the bench, caught fire, and scored 20 points in the final four minutes of his high school basketball team's last regular season game.

On Thursday's Today Show, Jason and his family discussed the amazing year since those magical four minutes. "My life has changed from being just an ordinary kid with autism to someone who is a hero," he told Matt Lauer. "I hope my story is inspiring others to set goals and achieve their dreams."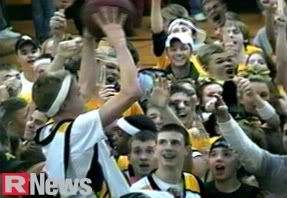 Jason After His Amazing Game -- RNews TV Photo
Jason -- "J-Mac" to his friends -- never made the Greece Athena High School varsity squad, but he faithfully served as team manager. His coach decided a little playing time on Senior Night would be a fitting reward for his commitment to the program. After missing the first attempt by six feet, Jason sank six three-pointers and a jump shot. As the seconds ticked off the game clock, teammates and friends stormed the court, hoisted Jason on their shoulders and asked him to pose for pictures and sign autographs.
That was just the beginning. Captured on videotape, the teen's achievement hit the airwaves and Internet sites, making him a national sensation. A week later ESPN Sports Center placed the unlikely feat at #1 in the show's Top 10 Plays of the Week. I happened to see the segment and included the story in my 2/23/06 blog.
In succeeding months, Jason has spoken about his experience throughout the country, appearing at the ESPY Awards, the NCAA Final Four and the NBA Finals. Besides meeting Oprah Winfrey, Peyton Manning and President Bush, he and his family have talked with Magic Johnson about making a movie of his story. Following the Today show, he was hitting the road for engagements in Southern Tier, Canada, Pennsylvania, and Illinois.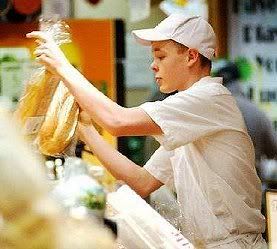 Celebrity Baker in Athena -- Photo by Carlos Ortiz
Customers Still Request Autograph
In Athena, Jason works in the bakery at Wegmans where he is frequently asked to autograph grocery lists. He plays nightly pickup games at the YMCA, though he has never repeated his famous scoring feat.
Thousands of people have written letters telling him how much hope he has given their children. The theme of his speeches is usually about dreams coming true. "When you have a disability, people can make you feel different, like you can't do things," he said. "But I got an opportunity during that basketball game to show that I could do things like other people. I got to feel like everyone else."
This month the U.S. Centers for Disease Control issued a report estimating that one in 150 children born in this country are autistic, much more prevalent than previously thought.
For more information, see stories at MSNBC and in the Rochester Democrat and Chronicle.
Congratulations on the anniversary, J-Mac! Have a great weekend, Clay Nation!
Caro
RELATED TAGS:
Clay Aiken
,
A Thousand Different Ways
,
Valentine's Day
,
Jimmy Kimmel Live
,
AOL TV's Top 5
,
Claymatized.com
,
Claymates
,
Jason McElwain
,
Today Show
,
J-Mac
,
Greece Athena High School
,
Autism
,
Clay Nation