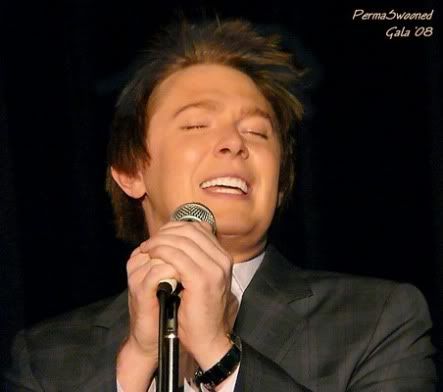 GALA PERFORMANCE - Clay Aiken sings at the 2008 National Inclusion Project's Champions Gala. Photo by PermaSwooned.
For National Inclusion Project

Fans Round Up Giveaway Votes

Visit any Clay Aiken message board, and you will find fans rounding up votes for the National Inclusion Project's run in the Christie Cookie Charity Giveaway, finalizing plans for the foundation's Oct. 17 Champions Gala in Raleigh, and deciphering tweets about their singer's latest sightings and possible recording plans.

Priority is accumulating as many votes as possible before the giveaway conclusion on Oct. 15 when the Nashville-based Christie Cookie Company will present $25,000 to the 12 charities with the most nominations. The winner and runner-up will receive $10,000 and $5,000, respectively, while the next 10 charities will win $1,000 each.

Currently in a dead heat for third place, the charity co-founded by Clay and Diane Bubel in 2003 needs to double its total votes to compete for second place. Presently, the top five charities include:
Nazarene Compassionate Ministries Lenexa, KS
Young Singers Foundation Tulsa, OK
National Inclusion Project Raleigh, NC
Child Advocacy Center Murfreesboro, TN
Ronald McDonald House Winston-Salem, NC

National Inclusion Project - Video by SueReu
If you haven't already done so, click on the giveaway voting link, select the National Inclusion Project from the drop-down menu, and enter nominations with all of your legitimate US e-mail addresses.

Next, compose an e-mail asking friends, relatives, and co-workers to support the Inclusion Project by doing the same. Charity Giveaway links to the voting site, while the National Inclusion Project will provide info about the foundation's mission and projects.
Also, include the YouTube link for the above video by SueRue. In voice overs, Clay explains about the foundation, plus he sings "Open Arms" throughout the montage.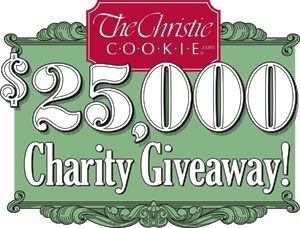 Nominations must be submitted by 11:59 p.m. CST Oct. 15. The winning charities will be announced in November. One vote per US e-mail address. Double click on the Christie Cookie Giveaway image above to start the process!
The latest results are available on the main page, as well as a variety of web logos/banners for Facebook, MySpace, etc., and signs/fliers to download, print, and distribute. Be sure to add "National Inclusion Project, Raleigh, NC" to the signs.
Supporters are making an effort to contact all active Clayonline members, casual, and "not just us" fans. If every fan club member votes once, that's 10,088. Then if each fan contacts another person exponentially, that's another 10k votes. Many will have more than one e-mail address.
Let's create some legs for the National Inclusion Project, Clay Nation!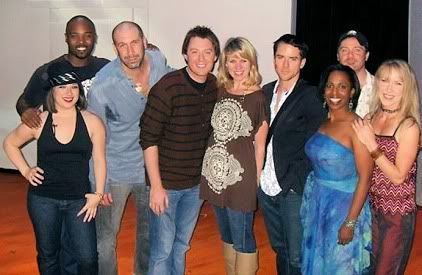 BACKSTAGE AT KENNEDY THEATRE -- Clay joined composer Jeremy Schonfeld, director Lauren Kennedy, and members of the cast of DRIFT following Thursday's show in Raleigh. Click to enlarge photo by Hillary Russo.
Clay Attends DRIFT Performance
Meanwhile, the fandom's super sleuths are getting plenty of practice analyzing tweets and miscellaneous Internet mentions as they track their singer's activities. From meeting with songwriters for his upcoming Decca album to attending a play performance in Raleigh, Clay has been on the move.
Clay Aiken attended a production of DRIFT last night [Thursday] at The Kennedy Theatre in Raleigh where Hot Summer Nights at the Kennedy's production of DRIFT is playing it's final week.

DRIFT was the first production to grace the new Lauren Kennedy and Alan Campbell Theatre at Barton College and ran from September 12-20, followed by a current run at The Kennedy Theatre at the Progress Energy Center for the Performing Arts in Raleigh from September 23-27 to close the season.

With music and lyrics by Jeremy Schonfeld and additional material by Craig Popisil, DRIFT is about a man's journey of gaining peace and perspective on his life after the break up of his marriage and family.
See Broadway World for the complete article.
PHOTO INTERLUDE: Included in this clickable collection are graphics by Ashes, 1, and AmazingCA, 2, 3.


Sony-Legacy Posts Aiken Videos

Earlier this week, Sony Music Legacy Recordings posted several CA videos at YouTube. The four featured here include "The Way" from Measure of a Man, Clay's 2003 album, and "On My Way Here" title track of his third mainstream album.

In two webisodes, the singer discusses his charity work with UNICEF and the National Inclusion Project, as well as his decision to perform in "Spamalot."
Here are the links. Enjoy!

Below is a clickable of PermaSwooned's opening photo:

Have an awesome weekend, Clay Nation. Happy sleuthing!
Caro
TECHNORATI TAGS:
Clay Aiken
,
Christy Cookie Charity Giveaway
,
National Inclusion Project
,
DRIFT
,
Kennedy Theatre
,
Sony Legacy
,
music video
,
YouTube
,
Clayonline
,
Clay Nation