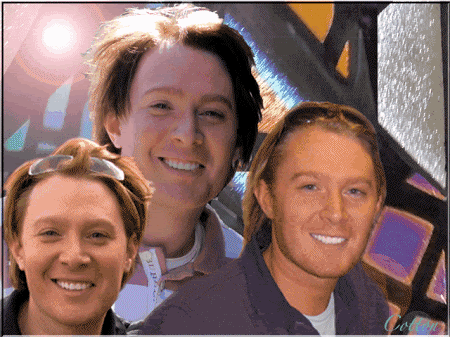 ULTIMATE IDOL -- Clay Aiken has made a career of coming in second and ending up the winner. Graphic by Cotton.
Grandson Marks 2nd Birthday
Aiken Epitomizes World Idol

Balloting in the Ultimate World Idol Poll wound down at noon Thursday in London with Clay Aiken on tap for a familiar second place finish, but that's just fine with his fans.
To his legions of supporters voting in countries around the globe, readers of countless Internet blogs in his honor, and the thousands his humanitarian endeavors have touched, Clay Aiken is the Ultimate World Idol.
The Tweeterwall poll, which has consumed the efforts, time, and tweets of infinite numbers of fans of former American Idol contestants, has been fun, exhilarating, and exhausting. Congratulations to all the participants who inspired such faithful voting among their supporters!
Basically in idle mode this summer, the Clay Nation mobilized and began working the poll a few days late with their candidate in 47th position. As more and more fans joined the pursuit of the prize, the singer rallied and even took over first place a few times.
More importantly, Clay fans are again organized with worldwide message boards anxious to celebrate Singer Man's new chapter with Decca Universal.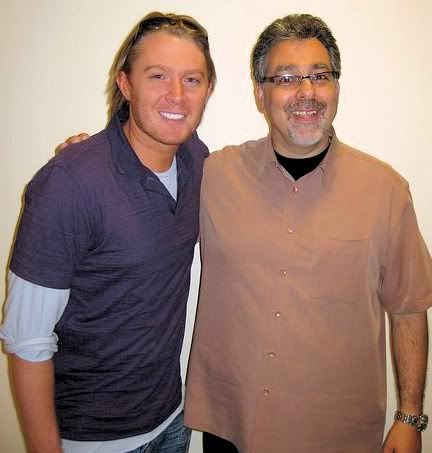 Clay Aiken and David Novik, Decca vice president. - Photo from TwitPic.
When he signed with the Decca label in August, Clay severed final ties with the reality show that vaulted him onto the world stage in 2003. His fan base decided up front that the Tweeterwall event would close the books on American Idol polls.
Coming in second has never been a problem for Singer Man, as indicated by his eight successful tours; multi platinum album sales; New York Times best-selling memoir, Learning to Sing: Hearing the Music in Your Life; rave reviews for his Broadway debut in "Spamalot"; multiple television and benefit appearances.


UNICEF Ambassador in Somalia - Graphic by Claystruck
Clay, Fans Make a Difference
From the outset, Clay has used his celebrity to make the world a better place. A dedicated advocate for education and children's causes, Clay co-foundered the National Inclusion Project (formerly The Bubel/Aiken Foundation) in 2003 and was appointed a UNICEF National Ambassador in 2004.
In the process, he taught his fans the importance of making a difference. Besides participating in annual fundraisers like Wrapping for Inclusion, many CA fans work as volunteers in the "Let's All Play" summer camps of the foundation.


I'm often asked what I would do to change the world of I had the power to do anything. In my ideal world, no child would suffer. Charitable instincts would prevail. Those who could give, would give. There would be global acceptance of all different types of people.

There are so many kids in this world who could use another person looking out for them. Someone who will help them to discover their strengths and rise above their weaknesses. Someone who offers another opinion of their worth. Why not me? -- Clay Aiken from LTS.
Because of Clay, the fandom has helped raise money and awareness for inclusion, a variety of UNICEF campaigns, as well as a host of other charitable organization, including Toys for Tots, Ronald McDonald House, Make a Wish Foundation, and Broadway Cares/Equity fights AIDS.

128 Countries Dot 'Carolina' Map
An unscientific indicator of Clay's worldwide popularity is Carolina On My Mind's ClustrMap which registers home countries of this blog's visitors. Since December 2007, residents of 128 nations have dropped by to read about the singer.
New additions this month include Djibouti and Angola (Africa); the Solomon Islands (Australia); and Albania (Europe). The 128 countries represent every continent except Antarctica:
ASIA

: Guam, Hong Kong, India, Indonesia, Israel, Japan, Korea, Malaysia, Micronesia, Oman, the Philippines, Saudi Arabia, United Arab Emirates, Singapore, Thailand, Brunei, Qatar, Republic of Korea, Taipei, Taiwan, Vietnam, Pakistan, Iran, Bahrain, Kuwait, Azerbaijan (Baku), Bangladesh, Cambodia, Mongolia, China, Sri Lanka, Lebanon, Maldives, Palestinian Territory, Brunei Darussalam, Asia/Pacific Region, Jordan





AFRICA

: South Africa, Egypt, Morocco, Madagascar, Seychelles, Somalia, Kenya, Nigeria, Mozambique, Algeria, Uganda, Mauritius, Burkina Faso, Tunisia, United Republic of Tanzania, Djibouti, Angola



EUROPE

: Austria, Czech Republic, Denmark, Estonia, Finland, France, Germany, Great Britain, Greece, Hungary, Iceland, Ireland, Italy, Lithuania, Netherlands, Norway, Portugal, Sweden, Romania, Scotland, Slovenia, Spain, Switzerland, Bulgaria, Belgium, Poland, Russian Federation, Luxembourg, Slovakia, Croatia, Serbia, Ukraine, Turkey, Malta, Georgia, Federation of Bosnia and Herzegovina, Sicilia, Andorra, Latvia, Europe, Moldova, Albania





NORTH AMERICA

: Canada, Costa Rica, El Salvador, United States, Mexico, Panama, Puerto Rico, Jamaica, Bermuda, Saint Lucia, Guatemala, Nassau, The Bahamas, Grenada, Trinidad and Tobago, Dominican Republic, Anguilla, Honduras



SOUTH AMERICA

: Argentina, Brazil, Chile, Colombia, Paraguay, Peru, Uruguay, Venezuela, Ecuador, Bolivia



AUSTRALIA

: Australia, New Zealand, Tasmania, Solomon Islands
The "Idol Found, Game Over" CA fandom is enthusiastically looking forward to the singer's upcoming Decca chapter. In exactly one month, many will gather with him in Raleigh for the annual National Inclusion Project Gala for Champions of Change.

For Clay Aiken and his Nation, the best is yet to come!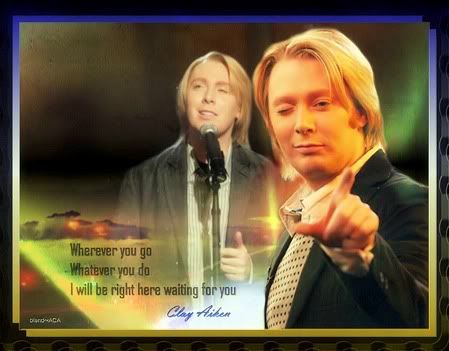 RIGHT HERE WAITING -- Graphic by AmazingCA
Kai Celebrates Two Candles
An excited grandson today will blow out two big candles and open colorfully-wrapped gifts, celebrating the anniversary of his Sept. 17 birth. Sadly, his grandmother will be several states away teaching violin lessons.


As some may recall, Kai has been intrigued with the buttons and keys on computers, telephones, and television remotes most of his life.
Curious, clever, and extremely mobile, he knows his grandfather's bedroom is filled with an array of electronic treasures and percussion instruments, the main reason the door stays locked.
A couple of Saturdays ago, Poppy left early to visit his mother, remembered he had not locked the door, and immediately called home to remedy the situation.
Too late! Cagey Kai had already made his move and was scampering out of the bedroom with a pair of drumsticks under one arm and a practice pad under the other.

He set up his "drum" on a marble table and alternated between practicing and watching TV. Thankfully, his mother grabbed her camera for a video that the Carolina clan has thoroughly enjoyed. "Auntie" Ashes created the birthday graphic from a photo taken that morning.


Drummer Boy Kai
Happy Birthday to our precocious, lovable Kai, who just may be the family's next musician!
Wishing the Clay Nation a wonderful weekend, knowing the best is yet to come!
Caro
TECHNORATI TAGS:
Clay Aiken
,
Tweeterwall Ultimate World Idol
,
American Idol
,
National Inclusion Project
,
UNICEF National Ambassador
,
birthday
,
Clayonline
,
Clay Nation