LINK: Ultimate World Idol Poll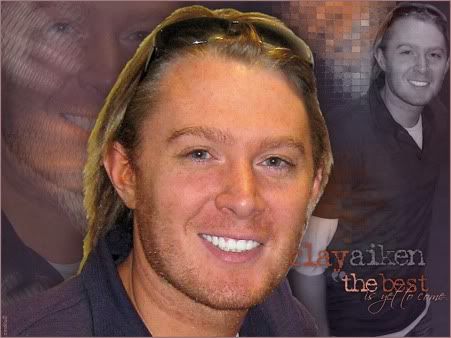 THE PRIZE -- Clay Aiken fans know they already have the prize in Singer Man. Winning Tweeterwall would be a bonus! Graphic by cindilu2.
Tweeterwall World Idol Poll
Clay Nation Campaigns for Votes
After getting started a day late at #47 with a score of 80, the dedicated, tenacious Clay Nation entered a second week with 44k+ votes for their singer in Tweeterwall's Ultimate World Idol Poll.
UPDATE

: At 1:30 a.m. Friday, Clay briefly took over the lead. Now, with five days remaining, Friday poll totals periodically looked like this at midnight, 11 a.m., 5 and 8 p.m.:
AL:
68,152
...
74,292 ...
79,002 ...
81,339
CA:
67,556
...
73,477 ...
77,349 ...
79,759
Voting at this site should be a piece of cake -- one ballot per ISP address every 20 minutes -- but it's not.
A slew of irregularities -- a bonus of 1,200 votes awarded the main opponent in the blink of an eye, the realization that Clay fans are competing against not one but three fan bases, a variety of website malfunctions plus the Internet's inevitable ad ware (be sure to click the "RED X" in the upper right corner instead of "CANCEL"!) -- Twitterwall voting is definitely not for sissies.
The two leaders are locked in a horse race that is testing the devotion, ingenuity. and recruiting skills of their supporters. CA fans have closed the gap to 776 only to see it widen overnight. The largest margin was 6,287 on Aug. 31.
A short video by LovesClaysVoice -- Idol Found-Game Over -- is an excellent YouTube link to email Clay fans encouraging them to vote. International fans around the globe are participating. Supportive threads at Clayonline and a host of CA message boards keep voters up to date.
On Monday, MJs Big Idol Blog endorsed Clay as the Ultimate World Idol:
I have come to appreciate the incredible talent and success that is Clay Aiken and I'm going to endorse him for the win.
The endorsement is gratifying, but winning will take lots of fans voting in 20-minute intervals.
This Stopwatch link will assure that you don't miss a vote. To get to Tweeterwall, click on the visual created by LCV:

Remember, with the Decca label signing, new music on the way, this fall's National Inclusion Project Gala, and all that is Clay Aiken -- we already have the REAL PRIZE. (tm anaturegirl).
Let's win the Wall for Clay anyway!

PHOTO INTERLUDE: Included in this clickable collection are graphics that originated as TwitPics on Twitter. The designs are by AmazingCA, 1; cindilu2, 2; and Fountaindawg, 3, (Clark Kent-Superman Special).
Need more inspiration? On a 20-minute break, enjoy the Every Beat of My Heart montage by LCV, in the player below.
If you go to YouTube, be sure to set the stopwatch timer so you won't miss a voting cycle!

Every Beat of My Heart -- Montage by LovesClaysVoice
Have a winning week, Clay Nation!
Caro
TECHNORATI TAGS:
Clay Aiken
,
Tweeterwall World Idol Poll
,
American Idol
,
MJs Big Idol Blog
,
montage
,
Clayonline
,
Clay Nation