On My Way Here Album Clips - Montage by SueReu
Clay Nation Recalls Voting Skills
Poll, Montage Tender Deja Vu
It's been one deja vu experience after another for Clay Aiken fans who this week dusted off latent voting skills and began participating in a worldwide poll that recalls the competitive American Idol, MTV and Top 10 radio countdowns from past seasons.
Brush up on your voting techniques, and join those participating in Tweeterwall's Ultimate World Idol poll. The rules are simple, and you are only allowed one vote every 20 minutes. In one day, the Clay Nation moved Singer Man from #47 with 80 votes to #2 with 6,063 at 5:29 p.m. Tuesday, 9/1.
UPDATE
: Ultimate World Idol standings at Tweeterwall on Thursday, 11 p.m.; Friday, 11 p.m.; and Saturday, 9 a.m.

Adam: 16,822 ... 19,338 ... 20,215
Clay: 12,436 ... 15,892 ... 17,001
Come on Clay Nation!
The poll runs through September, so click on the World Idol link and be counted many times, Clay Nation. Even if second place has been a good fit for Clay, first would be kinda nice, too.
Montage Virtual Memory Lane
For more deja vu moments, check out SueReu's montage of On My Way Here Album Clips above and at YouTube. With each track, she credits the songwriters while video clips from six tours, TV appearances, UNICEF trips, and a National Inclusion Project's Gala provide a visual walk down memory lane.
Below is an outline of the occasions you will experience by viewing the montage. To download a copy, here is the Sendspace link.
On My Way Here - AI Solitaire performance and AI Tour (Raleigh)
Ashes - National Inclusion Project Gala auction
Everything I Don't Need - Jukebox Tour (Pittsburgh)
Something About Us - Joyful Noise Tour 04 (Costa Mesa)
Falling - SRHP Tour (Pala)
Where I Draw the Line - Diane Sawyer interviews
The Real Me - UNICEF (Uganda)
Weight of the World - Jimmy Kimmel Live skit
As Long As We're Here - UNICEF (Afghanistan)
Sacrificial Love - Neil Sedaka Tribute
Grace of God - UNICEF (Mexico and Indonesia)
Lover All Alone - SRHP tour (Indio)


PHOTO INTERLUDE: This clickable collection features graphics from the past and present with an eye on the future. Included are designs by AmazingCA, 1, 2 (photo by toni7babe), and 3; Claystruck (photos by ClayIzzaQT, Invisible926, and Tasapio), 4; and SueRue's screen cap from a video by SecretlyLovesClay, 5.
Looking back is always a treat, but as Decca Records and the Clay Nation know ... the best is yet to come!
Below is a clickable of the September calendar by cindilu2. For a widescreen version, see her Yuku site.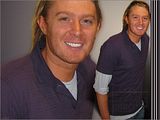 Have an awesome week, Clay Nation!
Caro
TECHNORATI TAGS:
Clay Aiken
,
On My Way Here
,
montage
,
Tweeterwall
,
World Idol Poll
,
Decca Universal Records
,
deja vu
,
voting
,
Clayonline
,
Clay Nation