LINK: World Idol Poll

Bridge Over Troubled Water - Montage by Aspiegirl
Khrystyna, a Very Special Fan

BOTW Links 2003 MDA Telethon
Labor Day Weekend doesn't roll around without Clay Aiken fans remembering the first time their singer, fresh off American Idol 2, performed for the Jerry Lewis Muscular Dystrophy Telethon, now in its 44th year.
For the Clay Nation, Labor Day 2003 and the singer's incredible performance of "Bridge Over Troubled Water" will forever be linked. The host introduced Clay like this:
We are thrilled to have him joining us today because when it was made known that he would appear on this telethon, the emails and the fan clubs that this young man has have sent us $30,000 just for the fact that he was here.

And I can honestly say I have never in all of my life seen a theatrical groundswell that this kid has motivated that it makes us all come right back to the bobby sox and Frank. And isn't it nice to live through that magnificence again? Here is Clay Aiken! -- Jerry Lewis
For a timely walk down memory lane and a reminder of the MDA's efforts to eradicate, treat, and ease the progression of the disease, replay Aspiegirl's montage of the 2003 "Bridge Over Troubled Water" performance above and at YouTube.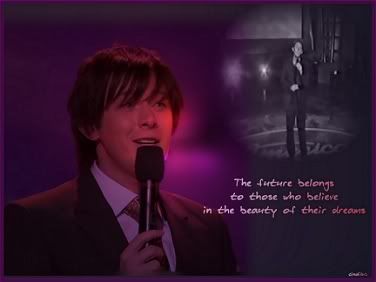 The future belongs to those who believe
in the beauty of their dreams. Graphic by cindilu2
The montage, which opens with this beautiful graphic by cindilu2, features many others throughout.
On April 19, the Carolina blog highlighted the remarkable story of a Twitter acquaintance battling ALS, a form of muscular dystrophy: AceNoFace Sets Musical Mark.
Read about the musical benefit -- Sing Out for a Cure -- that he has planned for Sept. 13 in East Lansing, MI. All proceeds will benefit the ALS Therapy Development Institute. Information about ALS, the day's activities, and the donation process is available at the "Sing Out" link.
During the Labor Day Telethon, secure donations can be made through MDAUSA here.

'Remembering Khrystyna' Honors Legacy.
Video from KMTV-Omaha
Video Honors Life of Khrystyna
When Khrystyna (K-na) Serednytsky, 22, passed away 10 days ago, many in the Clay Nation a close friend while heaven welcomed a very special new angel.
Action 3 News, KMTV Omaha, NE, shared her story via a beautiful video tribute -- Remembering Khrystyna -- that incorporates her love for Clay Aiken. The Omama MDA will telecast a memorial segment on K-na at 1 p.m. Monday.
Khrysyna's mother broke the news of her daughter's death on her Facebook page:

I just know how she loved all of you, and I think she would want me to let you know that she is with God now.
Born in the Ukraine, Khrystyna was challenged by Muscular Dystrophy from birth, but died of complications from the Swine Flu. She felt a special connection with Clay, and excerpts of his "Because You Loved Me" accompany the video throughout.
Khrystyna first saw Clay perform in Omaha but also traveled to New York City in March 2008 to experience Sir Robin in the Broadway production of "Spamalot."
The young woman also had a special place in her heart for MDA Camp, which she renamed "Heaven" in a book she wrote for her high school graduation project. The video was produced by Kayla Thomas of Action 3 News.
Another -- Friends Remember Local H1N1 Victim -- can be viewed at the KETV-7 website. A camp that Khrystyna helped organize for older MD sufferers may be renamed in her honor.


K-na meets her favorite singer, Clay.
Clay Rallies in World Idol Poll
Dust off your voting techniques, set your timer, and join the growing numbers of Clay Aiken fans participating in Tweeterwall's Ultimate World Idol poll. The rules are simple, as you are only allowed to vote once every 20 minutes.
The race between Clay and Season 8 runnerup Adam Lambert has grown tighter, as CA fans have begun closing the gap. Starting a day late, the Clay Nation moved Singer Man from #47 with 80 votes to #2 with 6,063 by Tuesday afternoon.
At 5 p.m. Saturday, the score was AL 21,773 and CA 19,031. As the poll heads into its second week, Clay fans are urged to click on the World Idol link and cast your three votes every hour. There are supportive threads at Clayonline and a host of CA message boards.
Even if second place has been a good fit for Clay, first would be especially nice!
Have a wonderful Labor Day Weekend, Clay Nation!
Caro
TECHNORATI TAGS:
Clay Aiken
,
Jerry Lewis MDA Telethon
,
Bridge Over Troubled Water
,
American Idol
,
montage
,
Ace Noface
,
Remembering Khrystyna
,
Tweeterwall World Idol Poll
,
Clayonline
,
Clay Nation