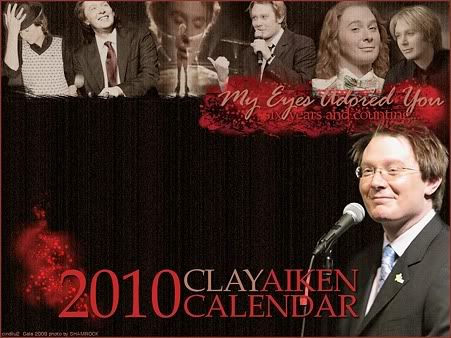 2010 Clay Aiken Calendar
Above graphic links to slide show of wallpapers
Designer: goldarngirl; Graphic artist: cindilu2
Tunes into 2010, Looks Back, Too
Calendar Features Art, Timeline
Since DIRECTV and I were reunited with a brand new receiver a week ago, I have become a part-time Clay Aiken fan, music teacher-musician, movie buff ... and blogger. Not surprisingly, much-needed housecleaning didn't make the list.
One of the coolest creations in Clay Cyberspace this weekend is a printable 2010 calendar that combines wallpapers by cindilu2, as displayed in the above slide show, with events from the past six years notated each month.
To view the calendar's artwork, click on opening graphic and select the fading, gallery, or full screen version. You can also link with this slide show link.
Compiled by goldarngirl, the calendar credits the Clay Aiken Kids and Finding Clay Aiken websites as timeline sources and dancermom2 for proofreading assistance.
These December double-clickables provide a sample of the monthly terrain:

Download this Sendspace file, unzip, print, and enjoy a 2010 calendar that recalls special Clay Train events from the past six years.
Sunday, Nov. 15, is the deadline to order the 2010 Clay Aiken Calendar compiled by Rosa Shurtz and featuring photos by toni7babe. For more info about this National Inclusion Project fundraiser, see the Oct. 31 Carolina blog entry.
New DVR in Perpetual Motion
To one whose DVR unit croaked a week ago with 10% available space (90% filled to capacity with new films, along with some old favorites), rebuilding a movie repertoire has been a slow, arduous task.
Within a few days, I was thrilled to locate and program a few "must haves": August Rush, The Great Debaters, Hitch, The Paper, Death at a Funeral, etc.
This weekend I viewed for the first time recent blockbusters Milk and Slumdog Millionaire. Both are in the repeat column as the restoration continues night and day. The orange recording light is on most of the time, and the receiver has hit 50% capacity.
Had it not been for my friend Chris, who helps me with everything from computer problems to yard work, I probably would not even have the TV running now.
Friend Makes Set-Up Simple
The good folks at DIRECTV promised I would have no trouble setting up the new receiver. New DVR on top the old, remove connections from one and insert them in the other sounded easy enough. However, I have lived in this skin long enough to know my mechanical shortcomings.
Chris agreed to drop by before afternoon lessons; and, sure enough, even he had to speak with technical support. Because I don't have HD, one or two of the satellites would not load. I left my friend programming the new DVR while I started violin lessons.
Somewhere between Handel's "Gavotte" and the fiddle tunes, he finished and slipped out the den door . A really great guy to know!
Below is a clickable of cindilu2's opening graphic: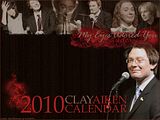 Have a wonderful weekend, Clay Nation!

Caro
TECHNORATI TAGS:
Clay Aiken
,
2010 Clay Aiken Calendar
,
graphics
,
cindilu2
,
timeline
,
goldarngirl
,
DIRECTV
,
movies
,
Clayonline
,
Clay Nation