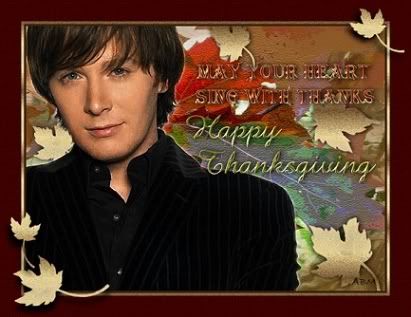 SECOND STANZA -- ABeautifulMind's handsome Clay Aiken graphic extends Thanksgiving greetings, celebrating the second verse of a trio of holidays exemplified in "Merry Thanksgivoween."
Merry Thanksgivoween!
Holiday Commemorations Merge
Due to their proximity on the calendar and the influence of commercial activity, Halloween, Thanksgiving, and Christmas celebrations have so effectively merged that the appropriate seasonal greeting could easily be "Merry Thanksgivoween!"
The sentiment is effectively depicted below in the classic cartoon by Mike Thompson of the Detroit Free Press.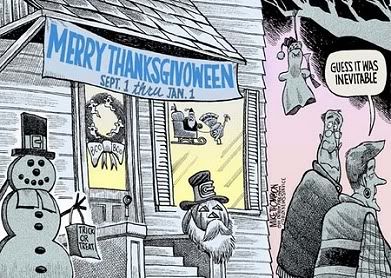 The spooks of Halloween have come and gone, families are gathered for Thanksgiving Day festivities, while from Schenectady to Spokane, Pensacola to Phoenix, radio stations with AC, Hot AC, CCM/Gospel, Oldies, and Smooth Jazz formats have begun singing the third stanza of "Merry Thanksgivoween" with Clay Aiken Christmas carols.

Among the CA vocals decking the airwaves with a joyful noise are "O Holy Night," "The First Noel," "Don't Save It All for Christmas Day," "Merry Christmas with Love," and "Winter Wonderland."
Christmas Albums Fan Favorites
Clay's Chrismas albums -- Merry Christmas with Love and All Is Well -- are seasonal favorites and were the nucleus of his popular Joyful Noise holiday tours.

Recognized by Billboard as the "Best Selling Christmas Album of 2004" and the "Best Selling Christian Album in 2005," MCWL has long been certified platinum. The CD features classic carols, as well as some of the singer's personal favorites, "Don't Save It All for Christmas Day" and "Mary, Did You Know?"
A Walmart exclusive in November 2006, the four-track AIW was made available on iTunes in December 2007. YouTube hosts countless montages set to the EP's four songs, the title track as well as "Christmas Waltz," "O Come O Come Emanuel," and "My Grown-Up Christmas List."
Below is All Is Well, a montage for all seasons by Aspiegirl:

All Is Well montage by Aspiegirl
Kai Enjoys First Lap in Barber Chair
On the home front, grandchildren Kai and Lia are celebrating Thanksgiving 1,600 miles away from the Carolina clan. Their mother promises many festive photos and videos to mark Turkey Day 2009.

A first barbershop haircut was a major milestone for our family's two-year-old fellow. Below are clickable memories of grandson Kai's maiden voyage in the barber chair.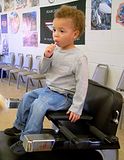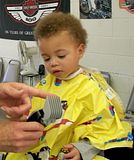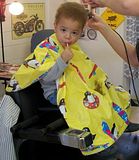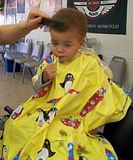 Besides the all-important lollipop, Kai was anxious to learn just
how the clippers worked. That settled, it was back to his sucker.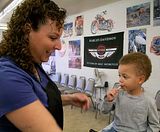 Next time ... maybe a
shave and a lollipop!
Merry Thanksgivoween, Clay Nation!
Caro