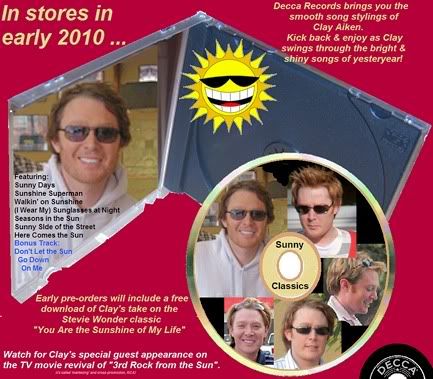 SUNNY CALIFORNIA -- A photo of Clay Aiken's sunshade purchase at San Francisco Optics Friday inspired Fountaindawg's imaginative review/preview of the singer and sunshine.
At David Foster & Friends Concert
Clay Sings 'Unchained Melody'
The most celebrated pieces of clack in Clay Cyberspace this weekend have been less than stellar videos of Clay Aiken's unscheduled performance of "Unchained Melody" at Friday night's David Foster & Friends Concert in San Jose, CA.
From fuzzy video with amazing sound late Friday, the sacred clack has progressed to better and best. Many thnx to videographers moonriver919, kjmmom, and rob91902, who shared with fans THE VOX and Clay's surprise appearance with other fans.
Below are moonriver919's recap and the video taped by rob91902 that can also be viewed at YouTube. Download the audio from moonriver's version with this Sendspace mp3 file.
David Foster had a schtick going on (which I'm sure you guys have heard about by now). After singing a note, David would ask a member of the audience in the front row to come up to the microphone and sing it back to him. The first two times, the audience members were normal audience members. But the third and final time, it was Clay!

David sang a note, and Clay sang it back; but the note was too high. David said something to the effect of what he can do when he produces and then sang another note. Clay sang it back perfectly.

David then introduced Clay as his brother-in-law, mentioned that his sister and Clay had a baby together, and invited Clay to come up on stage. I started to flip out, said "OMG" about 20 times in a row, and set my digital camera to video mode as fast as I could!

Clay looked great! His hair was brown, not red. I'm glad that someone gave him a jacket to wear on stage so he could comply with the "dress code."

Clay was very enthusiastic during Ruben's set. From where I sat (very far away from the stage), I could see Clay in the front row clapping his hands above his head after Ruben's songs and waving his arms around after Ruben's request.

Near the end of Charice's set, someone came by the front row, and Clay ducked and ran along the front row to go backstage.

Clay's Surprise Appearance with David Foster
Video by rob91902
A few years ago, Neil Sedaka proclaimed his hit "Solitaire" would forevermore be a Clay Aiken song. In my opinion, "Unchained Melody" is, too.
Final DF&F Concert is in Vancouver on Sunday. I wouldn't doubt CA fans in the area are scouting around for tickets today!
Inclusion Project Raises $25,000+
The National Inclusion Project completed the month-long America's Giving Challenge one position away from the 12 charities that will receive bonus money.

However, with contributions and daily placements, the Project unofficially generated 1,570 donations totaling $25,100. Results are posted at Causes with official Challenge award recipients scheduled to be announced on or before Nov. 20.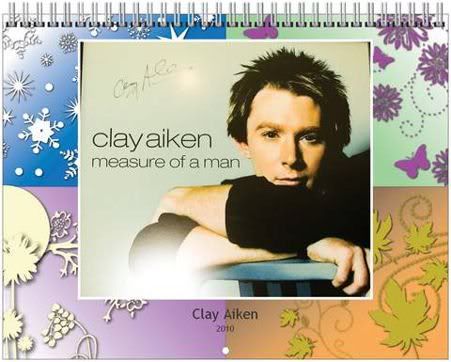 Mark Your Calendar
Nov. 15 - Deadline to order 2010 Clay Aiken Calendar. Contact: Rosa Shurtz.
Nov. 23 - Deadline to order Rockdale wreaths online in the Deck the Halls fundraiser.
HOLIDAY SEASON - Wrapping for Inclusion

Samples and information about the calendar, wreath, and wrapping fundraisers are in this blog's Oct. 25 Trick or Treat with the Clay Nation entry.
Below is a clickable of Fountaindawg's opening graphic: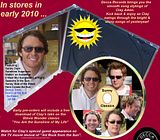 Have an awesome weekend, Clay Nation!
Caro

TECHNORATI TAGS: Clay Aiken, David Foster & Friends Concert, Unchained Melody, Decca Records, YouTube, National Inclusion Project, America's Giving Challenge, 2010 Clay Aiken Calendar, Deck the Halls, Wrapping for Inclusion, Clayonline, Clay Nation