As Long As We're Here - Clay Aiken
Montage by Aspiegirl
Making a Difference
Worlds Merge in Uplifting Film
Most people go to their graves with their music still inside them. -- Oliver Wendell Holmes

Worlds unexpectedly collided on many levels Tuesday as I watched the movie "Music Within," the true story of Richard Pimentel, who overcame a severe hearing impairment, learned to use his voice, and played a pivotal role in improving the lives of Americans with disabilities.
His hearing ravaged on a Vietnam battlefield, Pimentel returned home very frustrated. The government dismissed his dreams of college and public speaking, insisting his fate was one of insanity and rage due to his condition.
Refusing to accept this path, the determined veteran returned to college and became a driving force behind the Americans with Disabilities Act signed into law in 1990. He found the music within and learned to use his voice.
"Use Your Voice" is the mantra singer Clay Aiken writes above his name when he signs autographs. He has stated on many occasions that As Long As We're Here, a track from his 'On My Way Here' album, is his favorite.

As an entertainer, the former special education teacher has continued his commitment to improving the lives of children with disabilities.

The montage by Aspiegirl opens with images of homeless Americans but also includes videos from Clay's humanitarian work through the National Inclusion Project and as a UNICEF Ambassador.

ALAWH is also harmonious with Richard Pimentel's story.
In 1977, Pimentel began conducting diversity-based disability attitude training in Portland, OR. His landmark program, WINDMILLS, became the blueprint for diversity training.
Along with his PERSPECTIVES training program, he helped revolutionize the modern workplace and change attitudes about hiring and working with people with disabilities in 23 different countries.

In 2007, Pimentel began developing an employer training program to support the transition of wounded and disabled veterans from Iraq and Afghanistan into the workplace. On June 14, 2008, he was presented an Honorary Doctorate in Humanities by Portland State University.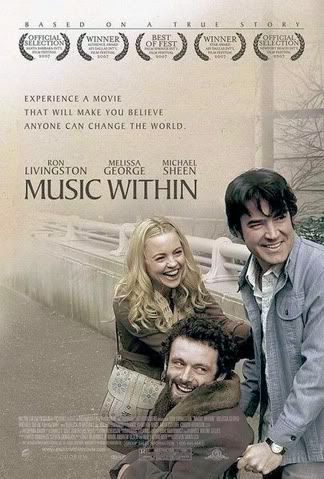 'Music Within' movie poster

Smart, funny, ornery author-poet Art Honeyman, who happened to have severe cerebral palsy, was a devoted friend until his death in 2008. In the movie,

Ron Livingston and the British actor Michael Sheen are outstanding in their portrayal of the two men.

Music Within is scheduled several times Thursday (11/18), Sunday (11/22), Friday (11/27), and Saturday (11/28) on the TMCe and TMCw channels.

For more information, see these links: Richard Pimentel (Wikipedia), Music Within (Wikipedia), and Music Within (Internet Movie Database).

Below is a clickable of AmazingCA's graphic reflective of the opening montage: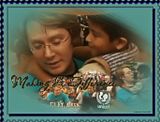 Enjoy Music Within ... and have a wonderful week, Clay Nation!
Caro
TECHNORATI TAGS:
Clay Aiken
,
As Long As We're Here
,
On My Way Here
,
Music Within
,
Richard Pimentel
,
Americans With Disabilities Act
,
National Inclusion Project
,
UNICEF Ambassador
,
montage
,
Clayonline
,
Clay Nation