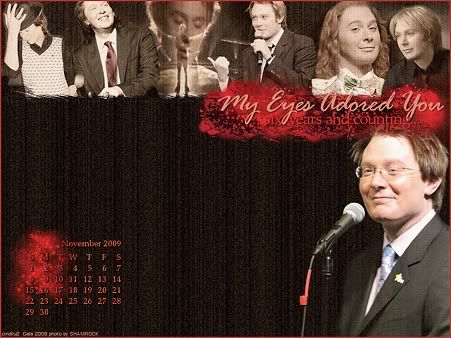 MY EYES ADORED YOU - November calendar by cindilu2 features scenes from "six years and counting." Gala photo by Shamrock.
Halloween Night a 'Thriller'
November a Clay Aiken Month

It's a "six years and counting" celebration as the Clay Nation welcomes the month of November.

The November 2009 calendar by cindilu2 is a handsome reminder that the singer's fans have been adoring him for "six years and counting." As always, the artist provides regular and wide screen versions of the calendar on her Yuku site, along with the graphic sans dates. Here are clickables of the regular-sized calendar and graphic:
With elections, Veterans Day, and Thanksgiving, the month of November boasts a busy calendar. In the spotlight of awareness, several causes will be honored this month. They including National Adoption Month, Diabetes Awareness Month, and National Family Caregiver Month.

Sponsored by the American Cancer Society, the great American Smokeout occurs annually on the Thursday before Thanksgiving during which smokers are encouraged to put down their tobacco products for one 24-hour period.

To Clay Aiken fans, one of the most important dates on the calendar is the last, the anniversary of their favorite singer's birth, Nov. 30, 1978.
Be sure to mark Nov. 5-6 for the Final Push Party in the National Inclusion Project's fundraising campaign through America's Giving Challenge. At 2:30 p.m. ET Sunday, the Project had raised $15,215.
The final day of participation will begin at 3 p.m. ET Thursday and continue through 2:59 p.m. Friday.
Halloween Montage Thrills Fans
A final fling with Halloween -- Aiken Halloween Montage by Yollie950 -- features a creative collection of Clay Aiken photos and videos set to Michael Jackson's "Thriller."

Aiken Halloween Montage by Yollie950
Kai, Lia Enjoy Halloween Treats
Grandson Kai and his sister Lia enjoyed an night of Halloween fun 1600 miles away. Through the magic of digital photography, glimpses of their evening of tricks and treats are currently replaying on my computer.
The family visited friends for the evening, and a spectacular seasonal scene was set by the elaborate yard and table decorations. All photos are double clickable.
This was Kai's first season to really understand Halloween, and he made the "trick or treating" rounds as a very warm giraffe. The new sugar stash is already in "dole out" mode.

Granddaughter Lia dressed up as a pink butterfly. However, a favorite new shirt announces that as princess, things will be done her way. As a teething five month old, she is most definitely Princess Lia, the Boss!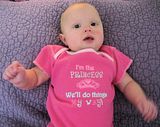 Have a wonderful week, Clay Nation!
Caro
TECHNORATI TAGS:
Clay Aiken
,
National Inclusion Project
,
America's Giving Challenge
,
Halloween
,
montage
,
grandchildren
,
November calendar
,
Clayonline
,
Clay Nation