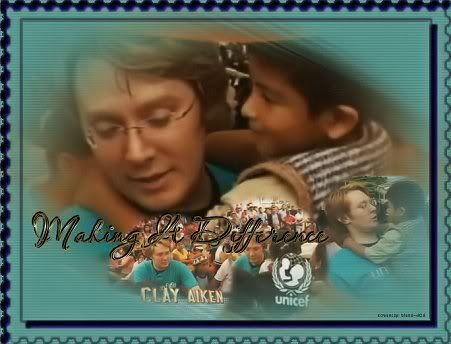 As Long As We're Here - Clay Aiken
Graphic by AmazingCA links to montage by Aspiegirl
Mailbag Blog Spotlights Readers

Clay Aiken Fans Have Their Say
Readers who leave comments have a special place in the hearts of bloggers, and their remarks often complete the dialogue set in motion by the writer.

Occasionally, I like to feature the thoughtful -- sometimes clever -- remarks shared by Carolina On My Mind and Clayonline readers in a mailbag blog.
This edition highlights what many of you wrote about the the parallels between two men who listen to the "music within" and "use their voice" for the disabled, the goldarngirl-cindilu2 collaboration on a 2010 calendar featuring art and timelines, and the affinity fans share with David Foster for Clay's interpretation of "Unchained Melody."
An overview of reader remarks accompanies the link and opening paragraphs of each entry.
11/17/09: Clay Aiken Song Echoes 'Music Within'
Most people go to their graves with their music still inside them. -- Oliver Wendell Holmes

Worlds unexpectedly collided on many levels Tuesday as I watched the movie "Music Within," the true story of Richard Pimentel, who overcame a severe hearing impairment, learned to use his voice, and played a pivotal role in improving the lives of Americans with disabilities.

His hearing ravaged on a Vietnam battlefield, Pimentel returned home very frustrated. The government dismissed his dreams of college and public speaking, insisting his fate was one of insanity and rage due to his condition.

Refusing to accept this path, the determined veteran returned to college and became a driving force behind the Americans with Disabilities Act signed into law in 1990. He found the music within and learned to use his voice.
SueReu
: Use your voice just about says it all. Everyone must have something that they are passionate about, something that can help the lives of others. It doesn't take all that much to make a huge difference.
Aspiegirl

: Thanks for sharing this blog, Caro. It is everything I think about all the time (rights for individuals who are disabled). Thanks for sharing my montage, also.
Barb55: Great blog and story! I'll have to make a note to check out "Music Within." It is amazing how one person can make such a difference by using his/her voice.
MissSally: Add me to the "I love ALAWH" list. The music, Clay's voice, and the message in the song create a timeless reminder to remember what's important in life.

kallie: Richard Pimentel and Clay Aiken are an inspiration and use their voices.
Sharrie: What an amazing story. It is so true that one person can make a change. I love how the story is somewhat like Clay's, trying to make the world a better place. I look forward to watching the movie "Music Within."
Ashes: Awesome story. "Music Within," the true story of Richard Pimentel, was written up in the paper a while ago, I've been watching for it to appear on TV ever since.
vibajajo: Once again, I come here and learn something new and wonderful. I never heard of this movie and I will have to check where I might be able to see it.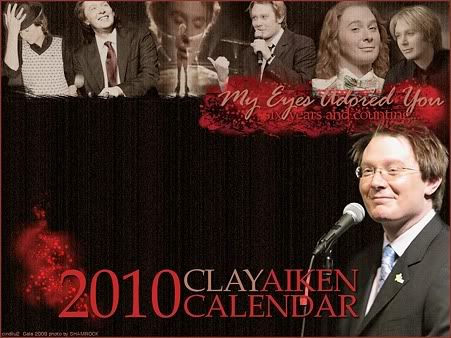 2010 Clay Aiken Calendar
Graphic by cindilu2 links to slide show of wallpapers
Calendar designed by goldarngirl
11/14/09:
2010 Calendar Features Art, Timelines
Since DIRECTV and I were reunited with a brand new receiver a week ago, I have become a part-time Clay Aiken fan, music teacher-musician, movie buff ... and blogger. Not surprisingly, much-needed housecleaning didn't make the list.

One of the coolest creations in Clay Cyberspace this weekend is a printable 2010 calendar that combines wallpapers by cindilu2, as displayed in the above slide show, with events from the past six years notated each month.
Sandy
: Beautiful slide show! Thanks to our wonderful creators for this masterpiece! I am so like you with being "mechanically challenged". Heck I still need my husband to help me start up a movie on the DVD player!

LovesClaysVoice
: Great slide show and calendar! WOW! So many great memories! I can't wait to add more! 2010 is going to be great!!

Margaret5828
: I love your techie friend. Ask Chris if he makes house calls to Indiana.
gerra
: Housework, smousework, that's no fun. Enjoy your new DVR. Love the calendar. What a gorgeous subject.

Cindy
: Thanks for getting the calendar out there, Caro. Six years and counting and I still can't get enough Clay Aiken. It's great to see goldarngirl's hard work being appreciated. Thanks everybody!
reneti:

Enjoyed the calendar slide show. I can usually hook up things as long as I have the instructions. Col. works all the computer stuff. I do the TV,DVD and VCR. Its funny. somethings I can't do on the computer he can, but he can't figure out how to work the DVD player in the living room. I have to do that, LOL!
MissSally
:

I just got my desktop computer reconnected (my son did the actual work), and your blog was the first "must see." The calendar is breathtaking; Cindy's artistic talent is THE shining example of Clay's ability to inspire. Thank you Cindy, and all others who helped with the project.

UNCHAINED then ... now ... forever
Graphic by cindilu2 links to Clay's San Jose UM performance
Montage by EcirachcVirus features video by rob91902, audio by kjmmom
11/10/09:
David Foster a Clay Aiken-UM 'Junkie'
David Foster might as well be president of the Clay Nation when it comes to his unabashed appreciation for Clay Aiken's interpretation of "Unchained Melody." Like me, he is a true Clay Aiken-UM "junkie."

In the past few years, the successful Canadian music producer has specifically requested that Singer Man perform UM at his foundation's gala and in two David Foster & Friends concerts, the most recent being an unscheduled appearance in San Jose, CA, Friday night.
Aspiegirl
: I am a proud to be a "junkie" of Clay version of Unchained Melody. The Toledo JBT was my first Clay concert. Love seeing the video from there and all the other videos too. Love Cindilu2's graphic too. She is really talented. I also enjoyed reading the history of how UM was written. It is one of those icon songs that will be around forever.

deyabird
: I think I have watched that UM performance David Foster and Friends...uhm...I lost count. Great job to the National Inclusion Project and all involved for raising such an impressive amount to help further the cause of inclusion. I am proud to be a supporter of this organization.
copingincalifornia

: Your junkie title cracked me up. David Foster loves him some Clay Aiken! ME TOO!



Beanblossom

: Not every singer has the chops to sing this song. Clay Aiken is certainly the exception to the rule. It's almost as if the song had been written just for him to sing.



Rhode Island Fan

: "Unchained Melody" has been my favorite song ever since I was in the fifth grade. And since hearing Clay Aiken sing it, it has become another Clay Aiken song for me!! No one sings it like he does!!



Marlyne

: I'm with you, a "junkie" of Clay's version of "Unchained Melody." Yay for the raising $465,000 for the National Inclusion Project. Great job to everyone involved!



Anonymous

:

I'm a proud member of the Clay Aiken UM fan club too!! Clay can sing the begeebers out of that song!! No wonder David Foster loves to have him sing it!





ImGranny

: I just had to come back and listen to Clay Aiken's Unchained Melody (all of them) again! I LOVE listening to him sing that song!
Many thnx to all who leave comments, which not only complete the circle for each entry but also give Clay blogs a boost in the search engines at Google and other Internet sites.

Here's to 2010 and many more memorable moments with Clay Aiken the entertainer and humanitarian!

Have an awesome weekend, Clay Nation!

Caro
TECHNORATI TAGS:
Clay Aiken
,
Richard Pimentel
,
Music Within
,
Making a Difference
,
National Inclusion Project
,
As Long As We're Here
,
2010 calendar
,
timeline
,
Unchained Melody
,
David Foster
,
Clay Nation