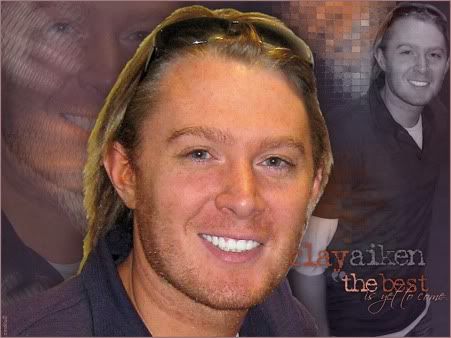 THE BEST - As a singer, entertainer, philanthropist, Clay Aiken is the best. From the beginning, his goal has been to "make a difference," one which his fans have also adopted. Graphic by cindilu2.
Fans Plan 'Final Push' for Inclusion
Remarkable Journey with Clay
Within the ebb and flow of November message board threads are thoughtful reflections not only of Clay Aiken's journey from American Idol to pop star and Broadway actor, classroom teacher to worldwide children's advocate, but also unexpected changes in the lives of the singer's following.
With permission, here is ymarie's extraordinary look back at the past six -- going on seven -- years:
I was thinking this morning on my way home from the airport on all that has happened for me in the last six years because of Clay Aiken. Before Clay, I would get up, go to work, come home, eat, go to bed. My computer was used for emails and Word Processing.

I had no friends here because we had recently moved to town, and the only people I knew were my coworkers, and a few people from my church. However, we didn't socialize with any of them. My husband would leave for 6-9 weeks in the summer to go back and work in Alaska, leaving me kind of bored for most of the summer.

Enter one extraordinary young man, a man who made me giggle when I first saw him, with his confident "I'm the American Idol", then blew me away with his voice. We had many water-cooler moments at work discussing one amazing performance after another, right up until the unbelievable outcome. I thought that might be the end of it, although there was that glimmer of hope that since he was signed to a record label, we hadn't heard the last of him.

Sometime after the end of AI, I discovered message boards. Clayboard was the first one I saw, and I lurked for a long time before joining. I think I finally signed up to ask a question , and everyone there was so helpful. I learned to make CDs, then eventually DVDs. I even researched and bought a new computer, based on advice I got from people there. I now have an iPod (that impresses the heck out of my daughter).

Then someone there directed me to Clayversity, and I met a whole new group of people that I love dearly. While standing in line by myself in the wee hours of the morning to get tickets for the Independent Tour, I met a couple of women who had started a local Clay fan group, and invited me to join. Through them, and the rest of the women I have met, I now have lifelong friends. I have traveled to out-of-state concerts and New York City, things I never dreamed I would be doing.

Because of Clay, I now know to address the person first, then the disability. It was never something that I thought about before, not because I didn't care, but because I was ignorant. Same with the problems in the rest of the world. Because of Clay, I am more aware of the strife and struggle for survival of a lot of the world's children. Again, not because I didn't care, but because our media is so focused on sensationalism and gossip, that they didn't report on things like that, so again I plead ignorance.

This wonderful young man, who first said he wanted to make a difference, and has never wavered from that goal that I am aware of, has brought so much meaning to my life. I can't imagine what these last six years would have been like if he hadn't walked (or been pushed) into it.

He has endured more cruelty than anyone should have to endure, and holds his head high. He continues to lead by example with his compassion and caring for all the world's children. Because of him, I no longer turn a blind eye when I see injustice being done. Because of him, I do turn a blind eye to tabloids and gossip sites. Because of him, I spend more time volunteering and fund-raising, not just for the National Inclusion Project and UNICEF, but for other worthwhile causes.

With all he's gone through in his young life, I am beyond ecstatic that he was able to finally fulfill his heart's desire to have a child. No one deserves more than he to be able to carve out a little bit of happiness in this life. I wish for nothing more than that he be able to continue to live out his dreams and that those dreams include me in some small way. He filled a void in my life that I didn't even know I had and has taken up permanent residence in my heart.

Now I can add having new friends stay at my house and a trip to Raleigh to my Clay resume.
PHOTO INTERLUDE: Clickable graphics by Fountaindawg also reflect the six-year span from the American Idol collage, 1, and Atlanta-Gala dreams, photo by Shamrock, 2, to the promise of beautiful music with Decca Records in 2010, 3.
Giving Challenge Enters Final Days
Supporters of the National Inclusion Project are busy organizing a Final Push Party for the last 24-hour period of America's Giving Challenge from 3 p.m. EDT Thursday - 2:59 p.m. Friday.
The National Inclusion Project needs to finish within the top 12 to receive a $10,000 award. At 10 a.m. Wednesday, the foundation was holding onto 10th place with a total of $16,630 from 1,157 unique contributors.
UPDATE

: At 3 p.m. Friday, the National Inclusion Project finished in the 13th position with 1,570 donations totaling $25,100. See Causes for the unofficial final results.
Of utmost importance is the total number of unique/different contributors. The Clay Nation hopes to inspire several hundred unique donations in the final days of gift-giving. AGC counts one donation per person per day with a minimum gift of $10.

All contributions will aid the foundation and do not have to be at the last minute. Encourage friends and family members to become involved in the cause for inclusion. Donate and follow the progress of the NIP here. A $10,000 bonus would fund another "Let's All Play" camp.


National Inclusion Project - America's Giving Challenge
Montage by LovesClaysVoice

Several montages can help explain the foundation's mission and accomplishments to your contacts outside the CA fandom:

National Inclusion Project - America's Giving Challenge and Power of the Dream by LCV, National Inclusion Project by SueReu, What It's All About, Clay's 2008 Gala speech posted by Wowzers4Clay, and Champions Gala 2009 by SueRue.

The "Final Push for NIP" project is being promoted throughout Clay Cyberspace. Share your recruiting techniques, successes, questions in blog comments and posts on Clay Aiken message boards.

Together we can make a difference!

The Night Chris Matthews 'Died'

Since the sudden death of my DIRECTV recorder in the middle of Monday's Chris Matthews Show, it's been very quiet around my house. No news, no political posturing/discussion, no sports, no movies, no nothing coming from the squawk box just a few feet from my computer.

Part of the deathly silence is my mourning the loss of countless favorite movies that are gone forever. I am one who can enjoy a movie or read a book more than once. Some of the movies, recorded months ago when I had the introductory, free access to premium channels, had become old, faithful friends.

Even though there's a replacement DVR box en route, things may stay quiet a little longer as I am the least mechanically-minded person in the world. DIRECTV assures me I can handle the new hookup, but these folks really don't know the depth of my ineptitude. I have already called a friend to be on standby.

Meanwhile, I'm enjoying listening to Clay Aiken sing!

Below is a clickable of cindilu2's opening graphic: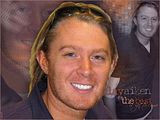 Have a wonderful, noisy, winning week, Clay Nation!
Caro
TECHNORATI TAGS:
Clay Aiken
,
National Inclusion Project
,
American Idol
,
America's Giving Challenge
,
Final Push Party
,
advocacy
,
making a difference
,
Decca Records
,
montage
,
Clayonline
,
Clay Nation