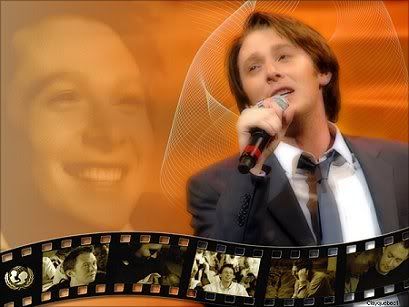 WORLD AMBASSADOR -- Clay Aiken's singing career allows him to work toward making the world a better place, and his fans have joined him to make a difference. Graphic design by Clayquebec1.
'Clay cares ... and so do we'
Singer Inspires Cyber Fans
The African proverb "it takes a village to raise a child" can be applied to the charitable endeavors singer Clay Aiken's path inspires his fans to support, as well as the daily interaction within the various Cyberspace communities of the CA fandom.
Because of Clay, we have supported a myriad of causes -- The Bubel/Aiken Foundation, UNICEF, The Way We Make a Difference (ticket donations for the less advantaged), Ronald McDonald House of Charities, Jerry Lewis MDA Labor Day Telethon, Beads for Life, Gulu Walk, US Marines Toys for Tots, autism awareness, to name a few.
Throughout the year, fans participate in a variety of projects for TBAF, including the annual holiday Wrapping for Inclusion campaigns, GoodSearch (a penny for each Internet perusal), the recycling of printer cartridges through Empties4Cash, making cents count with Penny Lane and Change for Change Boxes, Ebay and silent auctions, donations for such special events as Clay's Valentine's Day appearance on Jimmy Kimmel Live, and on and on.
TBAF Leads Six Degrees Drive
Currently, the fund-raising focus for TBAF is Six Degrees, a drive created by actor Kevin Bacon, who Tuesday spoke about the project and participating charities on the syndicated Ellen DeGeneres Show. "We're all connected on this planet, and what we do affects each other," he said. "The Internet is a powerful tool through which we can exponentially spread the act of giving. Be a celebrity for your cause."
To donate, click on the orange button on TBAF's Charity Badge linked here and at other sites around the Net. Donations go directly to TBAF and are tax deductible. Click on the image at right to donate or use this link, which can be emailed to others to do the same: TBAF Charity Badge.
TBAF's campaign is presently in second place, having raised more than $20,000 with over 700 donations as of Thursday afternoon. Six Degrees will match up to $10,000 for the top six charities in the fundraiser scheduled to end at 11:59 p.m. March 31.


Clickable 'Champions of Change' Poster
'Champions of Change Gala' Set
Many fans are planning to be in Raleigh for TBAF Champions of Change Gala on March 31. The sold-out event will feature a special performance by Clay and the announcement of the Champions of Change honorees, individuals and groups who have made extraordinary contributions to the cause of inclusion.
The honorees include State Farm Insurance; Beta Alpha Volunteers; Jim Johnson, Jason McElwain's basketball coach; and 12-year-old Jonathan Bunzey. You can read about all the honorees here.
Since the gala is scheduled on the final day of the Six Degrees campaign, an update on that fundraiser will also be announced.
Still in construction, a site that promises to play an important role is awAikening.org, dedicated to the singer's philanthropic causes and the fundraising activities and awareness campaigns of his fans.
Aspiegirl Creates Special Montage
A picture is worth a thousand words, especially with Clay singing the lovely "Everything I Have" cut from his latest album, A Thousand Different Ways. Despite cable problems with red lights, blinking lights, and periods of no lights Monday night, Aspiegirl created a very special montage for this blog's theme.
You can view Everything I Have on the player below or at YouTube. A Sendspace download also is available here.


'Everything I Have' Montage by Aspiegirl
Tour Maze Infuses Village

There's nothing like a Clay Aiken tour to inspire the village atmosphere on the boards -- helping other Internet fans navigate Ticketmaster presale mazes, sharing info about the best travel and hotel rates, planning pre-concert gatherings, opening homes to friends you probably know online only. Such tour arrangements are in full swing for Clay's July-August performances with orchestras across the US.

The closeness of the Clay Cyber community is also there for its members daily no matter the circumstance -- illness, job woes, family concerns. A memorable illustration for me took place two years ago in a hospital cath lab as incoming phone calls from North Dakota, California, and Texas literally blew the minds of my nurses as they relayed messages from fans -- some using their screen names -- while I completed the requisite six hours of lying perfectly still.

Periodic updates from a subsequent stent intervention were provided in the blogs of friends Sally888 and Lisa1068. The village also filled my hospital room with lovely get-well cards and vases of flowers.
Due to the unexpected hospital bills, I had decided not to attend the Jukebox Tour. Another Internet fan, Brightstar, insisted she just happened to have an extra ticket for the Greenville, SC, concert; and there I met her and many friends with whom I "speak" in daily message board posts.

Spreading the CLACK around is a given among CA fans, and I have been on the receiving end more than once. Many on my Christmas list would not have received "All Is Well," which sold out here two hours past midnight, had it not been for Clay friends from Colorado, Pennsylvania, Georgia, and Carolina.

PHOTO INTERMISSION: This clickable interlude features nine graphic artists and photographers, including Amazing_CA, photo by NCguurl, 1; Amazing_CA, photo by Kareh Eh, 2; Claystruck, photos by dc4clay and PermaSwooned, 3; MNmeesh, photos by Ambassador of Love, 4; and ABeautifulMind, 5.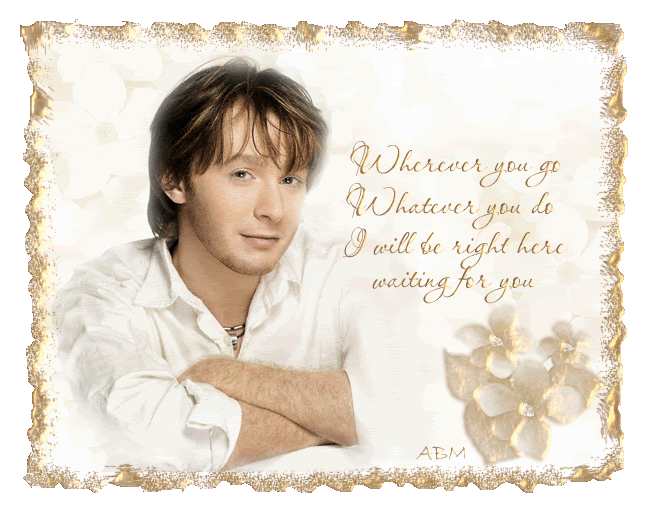 Blogging Takes a Village

That it takes a village to produce a blog is evident in the beautiful interludes here and elsewhere graciously provided by this fandom's talented graphic artists, photographers, videographers, and montage makers. The center graphic in the above interlude signifies the blending of Cotton's diligent record-keeping of the Christmas Tour's "words of the day" and Claystruck's creative hand.

The 200th celebration last week was an amazing collaboration from the outset with Cindilu2's email link for her new "Sunshine" montage leading to the backstory Sally supplied from personal experiences with John Denver. These two friends didn't stop there, though.

The picture link directing readers to "Sunrise" at YouTube didn't work correctly; so, from her workplace, Cindilu diligently searched the Internet until she located the precise code, emailed me the correction, and taught this gal something new about HTML. She also shared an excellent site that some may want to bookmark: Echo HTML Tutorial .
Extra Proofreaders a Plus

Just as I was turning off my computer for a full afternoon of music lessons, Sally, our other partner, called to inform me of a typo in the last paragraph. LOL, I've never had such intense, helpful proofreaders; so I must say collaboration and village life is a definite plus.

Credit Chamption124 and Clayversity's Outreach Department for the kicker headline. I could not improve on the forum's subtitle: Clay cares ... and so do we.

Bringing a journal full circle are the readers, who often share related material just as interesting as the blog entry itself. Many thnx to all who stop by.
Below is a clickable of Clayquebec1's beautiful lead graphic: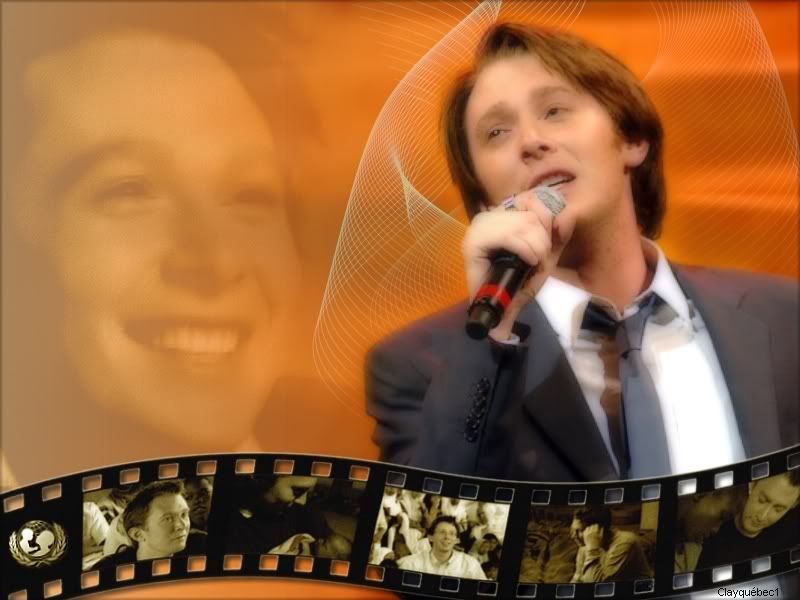 I'm sure every member of the Clay Nation can recount similar experiences. It takes a village, and I'm so glad to be a part of this one.
Have a great week, all!
Caro
RELATED TAGS:
Clay Aiken
,
A Thousand Different Ways
,
Everything I Have
,
The Bubel/Aiken Foundation
,
UNICEF
,
Six Degrees.org
,
Kevin Bacon
,
TBAF Charity Badge
,
awAikening.org
,
Champions of Change Gala
,
Official Fan Club
,
Clay Nation