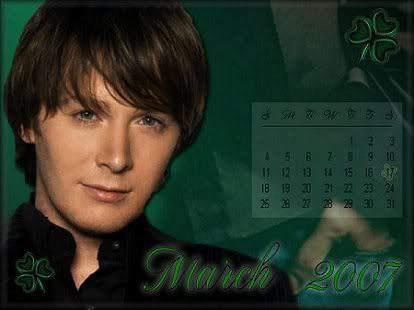 MARK YOUR CALENDAR -- Checking March dates will be a pleasure thanks to this beautiful graphic by Katt45. A clickable version posted below provides a handsome wallpaper for CA fan desktops.
State Coach Battles Cancer
Drama Abounds on ACC Courts
March Madness lived up to its name this weekend, delivering drama of divergent stripes in the final men's and women's basketball games played across the Atlantic Coast Conference.
An uncanny domino win-loss effect helped propel the Carolina men into the top-seeded position for the ACC tournament, which begins in Tampa, FL, Thursday. In an impassioned game still headlining sports pages, Carolina defeated Tobacco Road rival Duke on Sunday for the second time this season but clinched the #1 spot when the league's other closely-positioned teams -- Virginia, Virginia Tech, and Boston College -- were upset in their weekend season finales.
A day that should have ended in a glorious celebration of Coach Roy Williams' 100th victory at his alma mater was stained by a flagrant forearm 14.5 seconds before the final whistle. When I started writing this blog, sophomore Tyler Hansbrough, the recipient of the reckless blow, seemed to be in good shape. However, Monday x-rays indicated he has a small, displaced nose fracture and is being fitted with a custom-made protective mask for this week's ACC tournament.
Intentional or accidental, the culpable Blue Devil was immediately ejected and given a one-game suspension for Duke's ACC tourney opener. Info about the incident is all over the Net, and ESPN columnist Pat Forde entitled his column: Duke's Black Eye.
Basketball sometimes comes off like hockey without a helmet. Unfortunately, this was one of those times.



Coach Kay Yow and her assistant, Stephanie Glance,
after Saturday's semi-final win. -- Photo by Lynn Hey
ACC Cheers for Coach Yow

Even die-hard Carolina fans like me were pulling for Kay Yow, NC State's basketball coach battling Stage 4 breast cancer, as the Lady Wolfpack played the Lady Tar Heels in the ACC women's championship game Sunday. On an emotional mission, the Pack had played their hearts out Saturday, ruining top-ranked Duke's perfect season with a 70-65 semifinal victory.

Though the Pack's effort was valiant, a championship victory was not meant to be. However, Coach Yow and her team are assured of a much improved at-large berth in the NCAA championship seeding this week. The Lady Heels won the ACC tournament, 60-54; and a couple hours later were recognized at the Carolina-Duke men's game halftime in Chapel Hill.

"If I weren't coaching Carolina, I probably would've been pulling for them, too," Tar Heels coach Sylvia Hatchell said. "I knew we had to overcome the emotion and that's what we talked about all day -- matching the emotion of their team."
Beloved Coach Inspires Team
Yow was first diagnosed with breast cancer in 1987. The disease recurred in 2004 and again last November. She left the team in the hands of her assistants for two months of treatments, returning in January to lead the Wolfpack to nine wins in 10 games prior to the semifinal matchup. Yow continues regular chemotherapy treatments, a chemo nurse nearby at all times.
"Some people said, 'I think you should just rest, and next year … ,'" Yow explained in an ESPN story. "But I have Stage 4 cancer. I'm taking major chemo. There is nothing that assures me that next year I could do it any more than I could now. Or it could be less. I have no assurance. If I had a cold or pneumonia, something that rest will cure …
"This is something that I love to do. My doctor agreed that if I felt like it, I could do it. I don't feel it has any negative effect on my cancer. It has a positive effect on my spirit and my emotions and just feeling better. I just love being here on the court. Believe me, it was hard for 16 games not to be here."
In honor of Kay Yow's fight with cancer, several ACC teams are wearing pink shoelaces this season.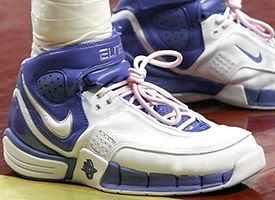 Duke blue and pink. -- WireImage Photo
Team Christens Kay Yow Court

On Feb. 16, the Lady Pack trounced Carolina's Lady Heels, 72-65, providing their coach even more to celebrate on the occasion that NC State University renamed the Reynolds Coliseum court in her honor.
Following Saturday's semi-final game, Coach Yow and Virginia coach Debbie Ryan were presented the 2007 Bob Bradley Spirit and Courage Award by the Atlantic Coast Sports Media Association "in recognition of their outstanding accomplishments as coaches and for their public display of perseverance and leadership in the fight against cancer."
In 30 seasons as head coach at Virginia, Ryan has compiled a 649-276 record and been named ACC Coach of the Year a record seven times. Last year, she celebrated her fifth anniversary of being cancer-free and continues as an active leader in fund-raising events for the University of Virginia Cancer Center.
Yow's 32-year career at NC State has seen her win 657 contests (657-309 record) and more than 700 overall games, including a four-year stint at Elon. She guided the US team to the Olympic gold medal in 1988 and in 2002 was inducted into the Naismith Basketball Hall of Fame.
Hoops for Hope Cheerleader
On Jan. 28, Coach Yow served as inspirational "head cheerleader" for the second annual Hoops for Hope, a breast cancer awareness and fundraising event jointly sponsored by NC State and the Susan G. Komen for the Cure Triangle affiliate. A total of $48,820 was raised for research, nearly 8,000 fans attended the State-Boston College game, and more than 100 breast cancer survivors were honored at halftime.
A native of nearby Gibsonville, Yow, 64, will be feted by YWCA Greensboro at a celebratory dinner and awards evening on March 25. The event will serve as the inaugural event recognizing "Girls and Women In Sports." This year the Outstanding Female in Sports Award will be presented to State's head basketball coach. In succeeding years, the award will be named in her honor.
"I just praise the Lord that I can be here and be a part of this," Yow said. "I'm so grateful that I was able to come back."
PHOTO INTERLUDE: Today's clickable halftime show features the talents of seven visual arts, including Amazing_CA, photo by Scrpkym, #1; Ambassador of Love, photo by Karen Eh and cap by Secretly Loves Clay, #2; Amazing_CA, photos by Invisible926, #3; Ambassador, photo by Fivegoldens, #4; and Amazing_CA, photo by Karen Eh, #5.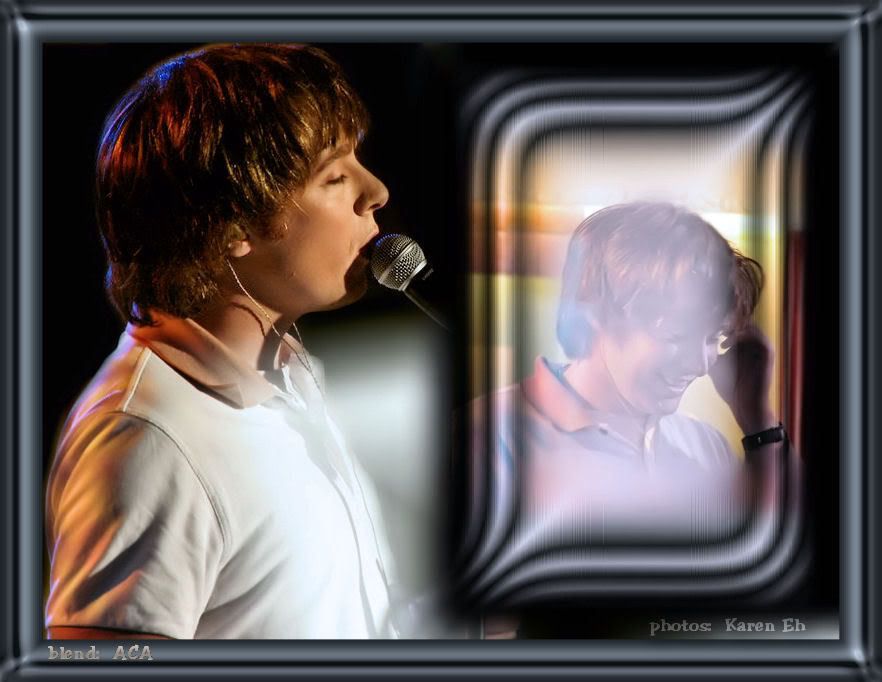 Clay On the Road Again

Since last Friday's announcement about upcoming summer tour dates, fans are keeping a watchful eye or two on the Official Fan Club's opening page:

Clay Aiken Summer 2007 touring plans are close to being confirmed with dates that start in July all across the U.S. Keep your eyes peeled to clayonline.com for show announcements in the coming days, along with on sale and fan club presale information. Get your oil changed, and calculate those frequent flier miles ... the summer tour will be here before you know it!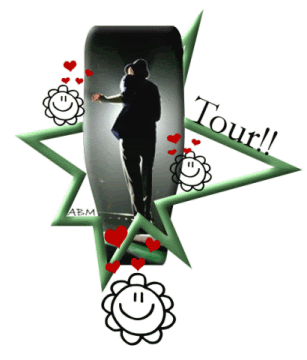 Graphic by A Beautiful Mind
Not surprisingly, CA fans have located two concert dates on their own:
July 20, 2007, Chautauqua, NY, at the Chautauqua Institution. Tickets @ $38 each go on sale April 2.
August 2, 2007, San Diego, CA, with the San Diego Symphony. Tickets go on sale April 2 to the general public and are currently available to symphony subscribers. To subscribe, contact the box office at 619-235-0804. The San Diego web site describes Clay as a "prodigiously talented song stylist."
As you might expect, San Diego's ticket office has been besieged by phone calls from throughout the country. Fans have reported the ticket site is amazed at the enthusiasm of Clay's fans. Weekend meetings were scheduled to discuss how best to handle the deluge.
Vote for 'Lover All Alone'
Clay Aiken's A Thousand Days was the February winner in the "Current Favorite Love Songs" poll, but fans can vote for their singer in two categories this month: "Favorite Song Not on the Radio" (NOTE: Lover All Alone is already nominated) and "Current Favorite Love Song Artist."
Cast your vote daily at Love Songs.
Unexpected Deja Vu Moment
Sunday I played oboe in the Wesley Memorial United Methodist Church performance of Felix Mendelssohn's "Elijah." Before the 9 a.m. pre-concert rehearsal in High Point, a violinist asked if I had taught orchestra at a school beginning with "H."
Just one letter over, I laughingly told her, as I served as orchestra director at Grimlsey High School for several years. Apparently we had crossed paths at western North Carolina All-State auditions and weekends. Latannia Allerbe, who attended Charlotte's Independence High School, is currently working toward a DMA degree at UNC-Greensboro and served as concertmaster for the oratorio orchestra.
What a small world and a sweet reminder of fond memories!
Speaking of which, you can view the rerun of Clay's Valentine's night Jimmy Kimmel Live appearance late 3/6 or very early on 3/7. Check local ABC listings for times.
Below is the clickable version of Katt45's lovely March calendar: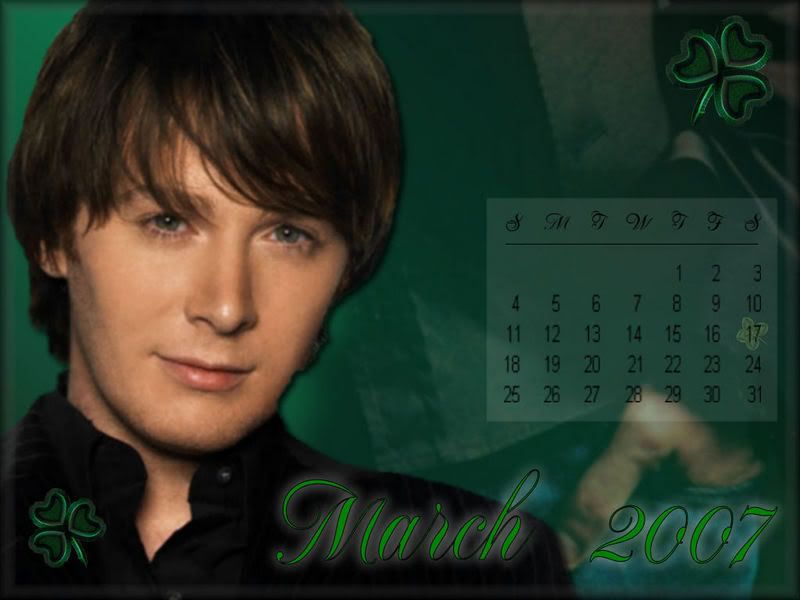 Have a great week, Clay Nation!
Caro
RELATED TAGS: Clay Aiken, A Thousand Different Ways, A Thousand Days, Lover All Alone, March Madness, College Basketball, Atlantic Coast Conference, Carolina Tar Heels, Tyler Hansbrough, Coach Roy Williams, Coach Kay Yow, Stage 4 Breast Cancer, NC State University, Hoops for Hope, Official Fan Club, Jimmy Kimmel Live, Clay Nation