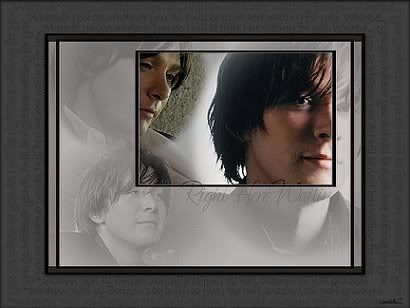 RIGHT HERE WAITING -- A popular song from Clay Aiken's latest CD, "A Thousand Different Ways," served as the inspiration for this memorable graphic by Cindilu2.


Close Friendships Celebrated
For days readers have strongly suggested that one's 200th blog is reason for a major celebration. I checked the archives and noted that #100 was a simple personal remembrance of two dear friends no longer here.
One delighted in Clay's vocals and American Idol successes with me. The other, my college roommate, never knew the man with the golden voice from her home state; but she would have hopped the Clay Train instantly had she heard him sing.
Putting cake, party streamers, and favors aside until the second anniversary of the initial entry on July 7, I propose, instead, that we celebrate the countless communities, close friendships, and special times we share in our support of a singer whose magnificent voice and caring heart affect lives throughout the planet. I thank you for your readership and for your many kind comments throughout the 200 blogs.
Hosaa, a member at Clayversity, once worded it this way: In his short time in the spotlight, Clay Aiken has "united the hearts" of complete strangers. This is more than most people can hope to do in a lifetime.
Uniting hearts, then, is the thesis of this milestone entry.
200 Blog Entries Ago
This journal is here because, two states away, my good friend Sally (Sally888 at the OFC) finally convinced me to start a blog on July 7, 2005. Even with my newspaper background, I had never written a blog; but she was an industrious encourager and facilitator, sending me links for HTML codes, color charts, backgrounds, clipart, etc.
Gingerly, I chose a Carolina blue background, penned a profile, saved some graphics, and took the plunge with a two-line entry entitled "Opening Night." Brevity, not one of my strong points, never had it so good!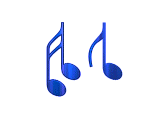 Hello, Clay Nation!
It's opening night, and the curtain is going up. Just this much feels like a four-movement symphony. Much more to come as I study the score ... I mean the blog tutorials.
Have a great day, all!
Caro
Strangers United in Friendship
Though Sally and I have met just once at the Greenville, SC, Jukebox Concert, we talk daily and share experiences, family concerns, interests (everything but basketball, LOL!) as if we were best friends not five minutes apart. As many fans know, this is not unusual with the many close friendships formed on message boards and other websites throughout Clay Cyberspace.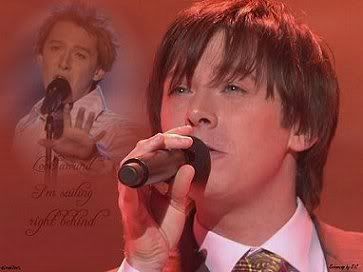 AI5 Finale Graphic by Cindilu2
While debating the best way to honor the bonds we Clay fans have formed, another friend, Cindilu2, a moderator in CV's Paint Shop Pro Forum, emailed me a link to her new montage, "Sunshine," a collection of her graphic designs highlighting the past few years of Clay. You can view all of them, including a clickable of this blog's lead picture, on her website, Forever Clay.
A country away, the person who helped Cindy develop her graphic art skills was Sally -- not just in the tutorials and threads of the PSP Forum, which she formed in June 2005, but also via emails, instant messaging, and whatnot. Sally has also shared her expertise with many other fledgling artists in this manner.
The opening dedication of "Sunshine" recognizes the reason we are all together: For Clay ... in my life you make a difference every day. The closing credit pays homage to a good friend and teacher: Dedicated to Miss Sally who set me on my way.
Following intermission, there's a remarkable second chapter to this story. Meanwhile, you can view "Sunshine" on the YouTube player below. Sendspace downloads include Sunshine, 91 MB and Sunshine, 44 MB.


Sunshine Montage by Cindilu2
Sunshine On My Shoulders
Sunshine on my shoulders makes me happy.
Sunshine in my eyes can make me cry
Sunshine on the water looks so lovely.
Sunshine almost always make me high

If I had a day that I could give you
I'd give to you a day just like today.
If I had a song that I could sing for you.
I'd sing a song to make you feel this way.

[Repeat Chorus]

If I had a tale that I could tell you
I'd tell a tale sure to make you smile.
If I had a wish that I could wish for you.
I'd make a wish for sunshine all the while.

[Repeat Chorus]

Sunshine almost all the time makes me high.
Sunshine almost always.
PHOTO INTERLUDE: This clickable interlude celebrates the CA fandom fun, blessings, and the fact that we are all a bit Irish on St. Patrick's Day this week. PSP Forum graphic designers represented include Ambassador of Love, 1; Cindilu2, 2; ABeautifulMind, 3; Amazing_CA, photo by Karen Eh, 4; and Katt45, 5.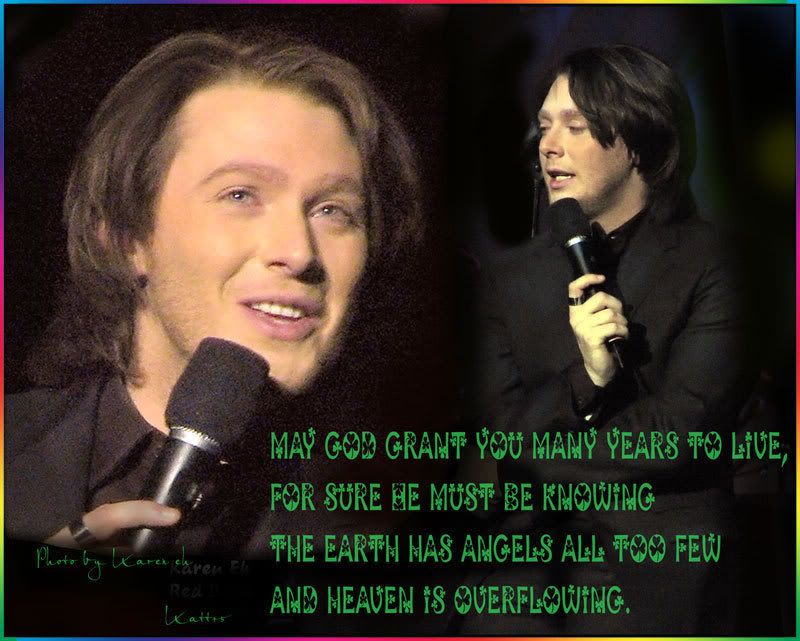 'Sunshine' Holds Special Meaning
What Cindy did not realize when she selected John Denver's song for her montage was the very special meaning it holds for her friend and mentor, Sally. This, then, is the second chapter of the lovely drama surrounding a 200th blog.
As I typed this passage, I was struck by the parallel life goals of these two extraordinary artists, one from Colorado and the other from North Carolina, as well as the passionate devotion of their fans.
In Sally's words, here is the amazing litany of coincidence:
I was climbing on planes and flying to see John's concerts when Clay was still in diapers. I wouldn't even try to guess at the number of times I watched him perform live across the country, but each time I came away loving him even more.
Imagine my surprise and delight in the early 1980's, when he became a student of Frida, my spiritual teacher! Frida lived quietly in a modest house in an unfashionable neighborhood in San Francisco, and John's visits created quite a stir among the neighbors. He came to the Bay Area often … sometimes to perform and for other reasons as well. After John became Frida's student, her home was always one of his stops and the long, black limo with the driver parked on the narrow street outside was hard not to notice.
When they first met, Frida had no idea who John Denver was, and since her musical tastes were more classical with some Peter, Paul and Mary thrown in, his music was foreign to her as well. After their first session, John sent her a boom-box and cassette tapes of all of his albums. She loved his music and remained a JD fan until her death about six years later. Frida gave me the tapes a few months before we lost her.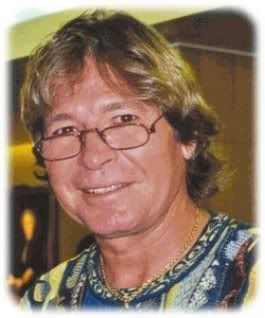 John Denver -- Photo from John-Denver.ORG
Backstage with John Denver
Once when John was coming to San Francisco to perform, he sent her two tickets with backstage passes, and Frida asked me to accompany her. That was a night I'll never forget. This concert was in a smaller theater, with just John and his guitar on the stage. I had to remind myself to breathe as he sang so beautifully ... mostly to Frida!
Backstage, we were led to a sofa; and when John emerged, still a bit damp from his quick post-performance shower, he ignored everyone else and went directly to Frida. Kneeling at her feet and kissing her hand, he thanked her for gracing his concert with her presence. I could see that he loved her as I did, and I loved him even more for that.
"Sunshine" has always been my favorite of John's songs. Written on a spring day in Minnesota when the rain was gently falling, it holds a kind of magic for me … a reminder that life is worth living and special moments always lie ahead. That night backstage I had the opportunity to thank John for "Sunshine" and for all of the magical, healing moments it brings. I was rewarded with a warm hug, a sweet kiss on the cheek, and a lingering look that let me know he found me attractive. *g*
State Honors 'Rocky Mountain High'
Oct. 12 will mark the 10th year since John Denver's untimely death in an airplane crash in northern California. This week Colorado officially designated "Rocky Mountain High" as the second state song.
Like Clay, John was personally dedicated to making a difference in the world with untiring work in numerous areas -- the environment, conservation, world hunger, peace to name a few. The first American artist invited to perform in the former Soviet Union and mainland China, John was presented the Albert Schweitzer Music Award "for a life's work dedicated to music and devoted to humanity."
Upon his induction into the Songwriters' Hall of Fame in 1996, he said, "Music does bring people together. It allows us to experience the same emotions. People everywhere are the same in heart and spirit. Music proves: We are the same."
In his lifetime, John Denver recorded and released some 300 songs, about half of which he had written, and served as the Poet Laureate of Colorado.
If I had a day that I could give you
I'd give to you a day just like today.
If I had a song that I could sing for you.
I'd sing a song to make you feel this way.
Happy #200 ... and Happy St. Patrick's Day from some very good friends who happen to be fans of Clay Aiken and John Denver!
Sally created the graphic for our Irish wish for you: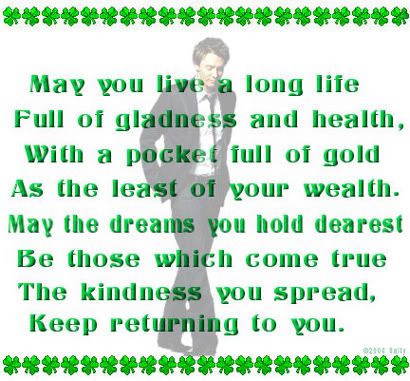 Caro
RELATED TAGS: Clay Aiken, A Thousand Different Ways, Right Here Waiting, Official Fan Club, St. Patrick's Day, Irish Blessing, Forever Clay, John Denver, Sunshine On My Shoulders, Colorado, Rocky Mountain High, Clay Nation