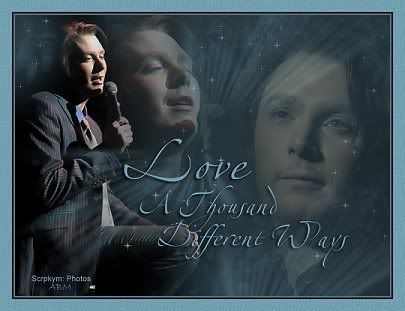 SONG ON CANVAS -- ABeautifulMind's graphic of Scrpkym's photos exquisitely expresses the message of love from Clay Aiken's latest CD in "A Thousand Different Ways."
Carolina Basketball, Clay Aiken
March Passions Front and Center
Since July 2005, I have penned almost 200 blogs about the passions in my life -- family, good friends, music, writing, Carolina basketball, and a very special singer from my home state, Clay Aiken.
I come by most of these penchants naturally. Family and good friends go without saying. With all the musicians in our clan, some of whom have been introduced in this journal -- Mama Mac, Aunt Gladys, Aunt Lill, Mr. Caro, our daughter -- music is probably a notation in our DNA.
I have taught band and orchestra, as well as private lessons, in three states and have played oboe in symphonies/ensembles along the way. Mr. Caro and I met while performing in the Florence, SC, Orchestra.
I am not sure how writing became such an important part of me; but as the newspaper editor of then North Carolina's largest high school and a columnist/reporter for the Wilmington Star-News, I entered college planning to major in journalism. Though I later switched to music education, I have written for newspapers in NC, Texas, and Tennessee.
March Madness an Annual Event


From recent blog entries, readers know the craze consuming me this month is Carolina basketball. As far back as I can remember, I have cheered for the Tar Heels. My father and I listened to games on the radio before we owned a television set. Michael Jordan and I even share the same hometown, Wilmington, NC.
When the 1959 Heels topped Kansas in triple overtime for the NCAA national championship, I retreated to my bedroom and prayed on the Bible before each new bonus period. It worked (LOL!); and to this day when Carolina needs a little extra help, my fellow Tar Heel friend Terri asks if I have the Bible handy.
Texas Alma Mater Wins NCAA
I married a Texan, and we were fortunate enough to attend Texas Western College, now the University of Texas-El Paso, the year the unranked roundball team came out of nowhere to meet and beat Adolph Rupp's #1 Kentucky Wildcats for the NCCA Men's Basketball title.
For the final game in a University of Maryland arena filled with unwelcoming fans waving Confederate flags, Coach Don Haskins started five African-American players, a first for a Division 1 school from the South, breaking an unspoken barrier and forever changing the complexion of sports in America.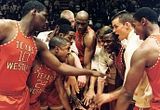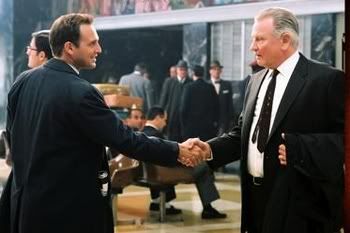 Clickables from 'Glory Road': TWC team rallies; Haskins meets Rupp

The story of Texas Western's momentous championship season is depicted in the 2006 movie Glory Road, in which Josh Graves and Jon Voight portray Haskins and Rupp, respectively. One of the winningest coaches in NCAA history and a member of the Naismith Hall of Fame, Haskins retired in 1999. This season the entire 1966 championship squad is nominated for the Naismith honor.
Carolina Captures ACC Crown
On Sunday, Carolina and NC State University, my brother's alma mater, faced off for the Atlantic Coast Conference tournament title. If we lived in the same city, we would definitely be poster examples for some of the "House Divided" paraphernalia that adorns many NC homes and cars. It took brother Chuck about an hour after the Heels won, 89-80, to call with his congratulations.


Heels Celebrate ACC Victory -- TarHeelBlue Photo
State Coach Sidney Lowe, sporting the same "lucky" red jacket throughout the 10th-seeded Wolfpack's amazing tourney run, has nothing on my friend, who all weekend donned her special Tar Heel sweatshirt for Carolina's games. A former orchestra teacher like me, Terri always saved "sick leave" days so she could be home for ACC and NCAA tournament games.

Depending on the time of Carolina's opening round in NCAA play Thursday, I just may have to follow suit and creatively reschedule some music lessons!
PHOTO INTERLUDE: Highlights of the past four years with Clay Aiken are featured in the graphics of this clickable interlude. They include Jukebox Tour 05, Amazing_CA graphic, photos by dc4clay, #1; Joyful Noise Tour 05, Invisible926 graphic, photos by dc4clay, #2; Christmas Symphony Tour 06, Cindilu2 graphic, photo by Scrpkym, #3; Spring 05 UNICEF trip to Indonesia, Clay'sTouch graphic, #4; and the AI5 Finale performance, Amazing_CA graphic, #5.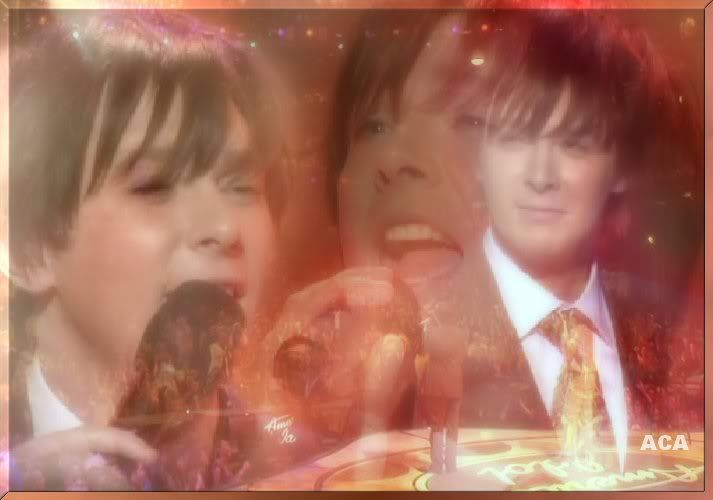 Unique Voice Reels in Fans

What more can I say about my enthusiasm for Clay Aiken, one of our state's greatest gifts to the planet? I fell for Clay's unique voice the first night I heard him sing on American Idol four years ago. As the weeks progressed and we learned more about him, I was there for his charitable heart, intelligence, dedication, and sense of humor, too. Like so many, I came for the voice and stayed for the man.
Fans from all corners of the globe are drawn to this special man who uses his celebrity to make a positive difference in the world. By his actions, he inspires fans and supporters to do the same. The multi-platinum artist has proved he is the consummate entertainer, displaying incomparable vocals and stellar communication skills in subsequent tour and media appearances.
One of my favorite CA bios was posted on the US Department of Health & Human Services website when the singer was appointed to The President's Committee for People with Intellectual Disabilities last fall:
Clay Aiken became an international sensation in the wake of his appearance on the hit television show, 'American Idol.' In spite of his growing stardom, Aiken has remained steadfast in his desire to remain true to the simple values he learned as a child in Raleigh, North Carolina.
"I still live in the town where I grew up," he says. "I like surrounding myself with people I know and love." It is this authenticity that his millions of fans have responded to, an almost supernatural earnestness that feels unconventional in the cynical world of today.
While the accolades that followed his stunningly close second-place finish on the second season of American Idol have validated him in ways that he never could have dreamed of, it is the charitable work that his musical career has enabled him to do that means more to him than anything else these days.
Career Provides Large Classroom
Mr. Aiken created the Bubel/Aiken Foundation in 2003, an organization that promotes and funds educational and recreational programs for children with special needs. "I worked with Mike Bubel, who has autism, when I was going to school at UNCC," says Mr. Aiken. "His mother was very instrumental in encouraging me to get into this business."
The Foundation remains close to the singer's heart at all times. "My music career has allowed me to do the same thing I was doing before—work with kids with disabilities," he says. "It has given me a big stage to talk about the same things I always cared about. I don't get to be as hands-on with the kids anymore, but I do get to work toward enacting change on a much larger scale."
Also important to Mr. Aiken's life as a humanitarian is his work as a goodwill ambassador for UNICEF. Since 2005, the singer has been passionately committed to supporting the organization's education programs. Not only has Mr. Aiken testified before Congress urging the government to allocate more funds for UNICEF's global work for children, he has also traveled to Indonesia and Uganda to see the devastating conditions affecting millions of the world's children first-hand—disease, malnutrition, kidnapping, and war, chief among them.
"You just cannot believe how some of these kids are forced to live," says Mr. Aiken. "It's truly heartbreaking, yet many people don't even know these conditions exist. I am hoping to shed light on some of these problems and so that more resources can be allocated to help make things better."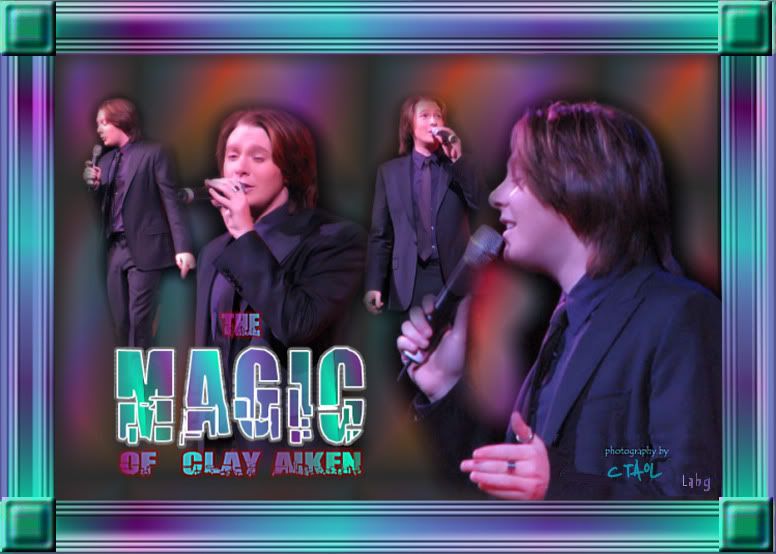 MAGIC OF CLAY by Claystruck,
Photos by Ambassador of Love
The President's Committee resume appeared in October 2006 prior to the release of Clay's new CD:

Mr. Aiken's upcoming album A THOUSAND DIFFERENT WAYS expresses the many different kinds of love in the world, including his deep love for his fellow man, particularly the littlest ones among us. Where did such a driving need to help others come from?"
The need for help!" he answers matter-of-factly. "You know, my mother has always been someone who urged me to help people in need. Maybe that's it. I don't think it's something you can learn. It's just something you do."
Clay Blogs, Opens Thread
So what's next? In a weekend blog at the Official Fan Club, Clay discussed several topics -- his recent appearances on Jimmy Kimmel Live and The Morning Show with Mike & Juliet, a trip to Brazil during which he discovered the drink guarana, TBAF's March 31 gala in Raleigh, a spring UNICEF trip (in which he will be accompanied by his former social studies teacher), hints about the soon-to-be announced summer tour and "some really exciting projects in the works."
What's more, nanoseconds after updating his blog, Clay started his very first message board thread, beating the most diligent observers to the punch. The thread -- He Blogged! He Blogged!!! under Anything Clay > The Man -- currently stands at 102 pages of fan responses to the singer's premiere post: "OMIGOD!!! I can't believe it... he's alive, and he blogged!!"
Fans are busily extrapolating, enjoying our singer's sense of humor, and responding to both communiques. Stay tuned because this Clay Train will soon be off and running at breakneck speed!
Vote for 'Lover All Alone'
A Thousand Days was the February winner in the "Current Favorite Love Songs" poll, but fans can vote for their singer in two categories this month: "Favorite Song Not on the Radio" (Lover All Alone is already on the list) and "Current Favorite Love Song Artist."
Cast your vote daily at Love Songs.
Below is a clickable of ABeautifulMind's opening graphic: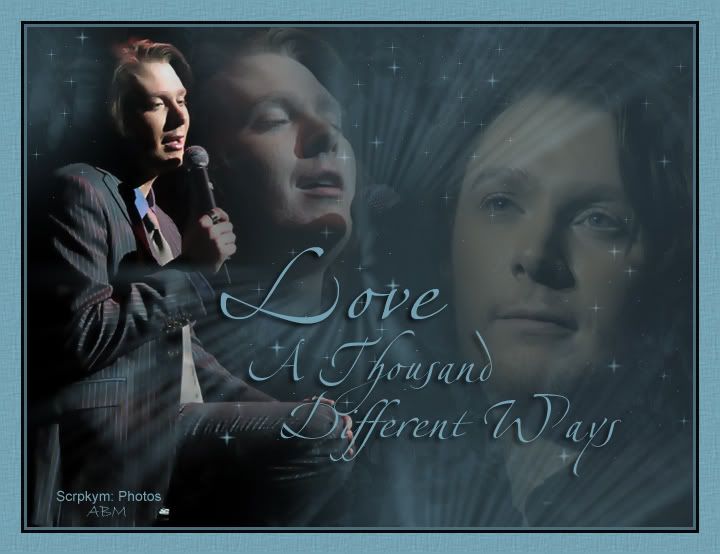 Have a wonderful week, Clay Nation ... and Go, Tar Heels, Go!

Caro
RELATED TAGS:
Clay Aiken
,
A Thousand Different Ways
,
Diane Bubel
,
The Bubel/Aiken Foundation
,
President's Committee for People with Intellectual Disabilities
,
UNICEF
,
Lover All Alone
,
March Madness
,
College Basketball
,
Atlantic Coast Conference
,
Carolina Tar Heels
,
Texas Western College
,
Glory Road
,
NCAA Men's Basketball Tournament
,
Official Fan Club
,
Clay Nation