HAPPENING MONTH -- Greeting March commemorations, memories, and madness, Cindilu2's graphic provides a handsome desktop wallpaper complete with a convenient calendar. A clickable is posted below.
Wildcard Shows Remembered
March Celebrations Plentiful
March is one happening month!

Take your pick -- the "Star-Spangled Banner" was adopted as the US national anthem March 3, 1931; Alexander Graham Bell's first telephone call on March 10, 1876; Julius Caesar was assassinated on March 14, 44 B.C.; Johann Sebastian Bach was born March 21,1685; Patrick Henry's speech was delivered March 23, 1775; and Alaska was sold to the US by Russia on March 30, 1867.
No way around it, many historical events are celebrated in March.
Dates dear to the hearts of Clay Aiken fans are March 4-5, 2003, the Wildcard performance and result shows for American Idol Season 2.

Clay Sings on Wildcard Show


2003 Wildcard Shows Recalled
As most fans can recite, Clay advanced to the round of 32, but was cut from the show on his first try with a performance of Journey's "Open Arms." Finishing third in his semifinal group of eight behind eventual winner Ruben Studdard and third-place finisher Kimberly Locke, Clay was sent home to North Carolina and later invited back to audition for the wildcard slot.
During the wildcard round, the singer's well-received soulful performance of Elton John's "Don't Let the Sun Go Down On Me" propelled him into the Final 12 as the people's choice on March 5, 2003. He was soon considered a favorite to win.
You can view Clay's wildcard performance of DLTSGDOM, uploaded to YouTube by Dustieddy, in the player below:


Clay's crooning style of performing won over millions of viewers, from the very young to "mature" fans who previously paid little attention to current pop music. Ultimately, Ruben won AI2, but that did not stop Clay from becoming a multi-platinum recording artist who uses his celebrity to further humanitarian causes.
Not bad for a Wildcard contestant who came in second!
'Clay Has the Last Laugh'
According to Singapore's Galaxie magazine, the runner-up is the most successful contestant from Season 2. Published last week, the story about Clay's career and his latest CD, A Thousand Different Ways, can be read in the clickable scans below.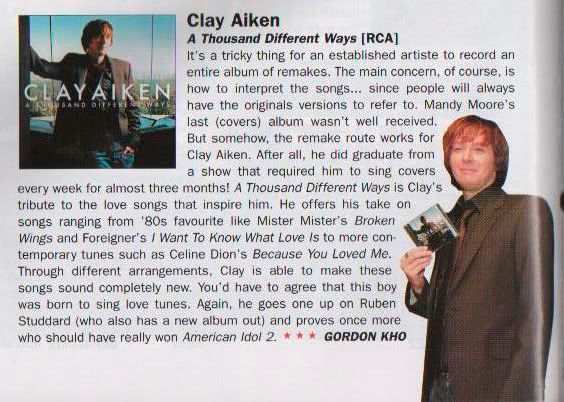 Clickable 'Galaxie' Scans from Singapore
Graphic artists throughout Clay Cyberspace have created a variety of designs with the stunning photo from Galaxie. In addition to the March calendar above, featured in this clickable interlude are handsome perspectives by

Ambassador of Love

, 1;

Claystruck

, 2;

ABeautifulMind

, 3;

DangHesHot

, 4; and

Amazing_CA

, 5.

Women's Accomplishments Honored
March is National Women's History Month. Founded in 1980, the National Women's History Project is an educational nonprofit organization with the mission of recognizing and celebrating the diverse and historic accomplishments of women.
The 2007 commemorative poster portrays the theme "Generations of Women Moving History Forward" and highlights two very important dates to be celebrated this year -- the 50th anniversary of the integration of Central High School in Little Rock, AR, and the 30th anniversary of the National Women's Conference in Houston, TX.

March Observances Varied
Besides women's history, March lauds everything from Music in Our Schools to foot health, frozen foods, furniture, hamburgers and pickles, humorists, noodles, peanuts, the Red Cross, science, and youth art. For a full listing, see March Observances.
An amusing listing, Bizarre and Unique March Holidays, kicks off with National Pig/Peanut Lover's Day on the lst. There's a day for just about everything though, including Old Stuff, 2nd; Be Nasty, 8th; Everything You Do Is Right, 16th; National Goof-Off, 22nd; Chip and Dip, 23rd; and I Am in Control, 30th.
Probably the most well-known celebration of March is St. Patrick's Day on the 17th honoring the patron saint of Ireland, the man who brought Christianity to the Irish in the 400's A.D. St. Patrick's Day is truly a day of celebrating Irish history, ancestry, traditions and customs.
Everyone usually becomes a little bit Irish on St. Pat's Day.
March Madness Blows Into Town
Around the country and particularly in this neck of the woods, the year's third month stands for basketball and the ensuing craziness that has become known as March Madness. Beginning today, my city tipped off a bit of the madness as the Atlantic Coast Conference women's teams began tournament play at the Greensboro Coliseum.
Fresh off the first undefeated regular season in league history, No. 1 Duke heads the ACC class of three Top 10 teams, joining No. 4 North Carolina (27-3) and No. 6 Maryland (26-4). North Carolina State (21-8) completes the foursome with first-round byes and an extra day of rest before beginning tournament play in the quarterfinals Friday.
The men's college basketball tournaments will be decided by next weekend. For the ACC, ours takes place in Tampa, FL. The TV set is just a few feet away, so I'll be watching the Tar Heel games in my cozy den.
Earlier today I completed a few errands -- but not as quickly as I thought I would. Cars of visiting fans, their colorful school flags of allegiance flying, seemed to be everywhere.
Mixed with the weekend's basketball excitement, I have an orchestra rehearsal for Mendelssohn's "Elijah" Saturday morning. Wouldn't you know the most judicious route to the church is right through the middle of March Madness!?!
Cindilu2's March calendar becomes an attractive, useful desktop wallpaper with this 1,280 pixel wide clickable:

Have an awesome weekend, Clay Nation ... and Go, Heels!

Caro

RELATED TAGS: Clay Aiken, A Thousand Different Ways, American Idol 2, 2003 Wildcard Shows, Galaxie Magazine, When I See You Smile, National Women's History Month, March Holidays, March Observances, March Madness, ACC Women's Basketball Tournament, Clay Nation