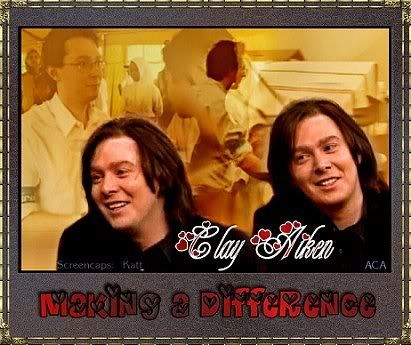 MAKING A DIFFERENCE -- Amazing_CA's graphic of Katt45's screen caps helps set the stage for the Six Degrees fundraising project.
Six Degrees for TBAF
Together We Make a Difference
"Where did the desire to help come from? The need for help! It's just something you do." ~ Clay Aiken
This week, while much of the country is focused on March Madness and extraordinary executions on the basketball court, supporters of The Bubel Aiken Foundation have displayed some pretty amazing moves themselves, propelling the charity to lst place in the ongoing Six Degrees Fundraiser.
Co-founded by Clay Aiken and Diane Bubel in 2003, TBAF is committed to bridging the gap between young people with special needs and the world around them by supporting programs that create awareness, opportunities, and environments for children where inclusion is embraced.
Six Degrees has provided fans a tremendous opportunity to fundraise for TBAF. The six charities with the most donors between Jan. 18 and 11:59 p.m. EST on March 31 will receive a matching grant up to $10,000 from actor Kevin Bacon's Six Degrees.org.
This past Tuesday, after holding down 4th and 5th place for several days, TBAF leaped into 1st Place with a total of 360 donations and $8,369. As this blog "went to press, TBAF total stood at $10,512 with 465 donations. Updates are immediately registered on TBAF Charity Badge in the right sidebar.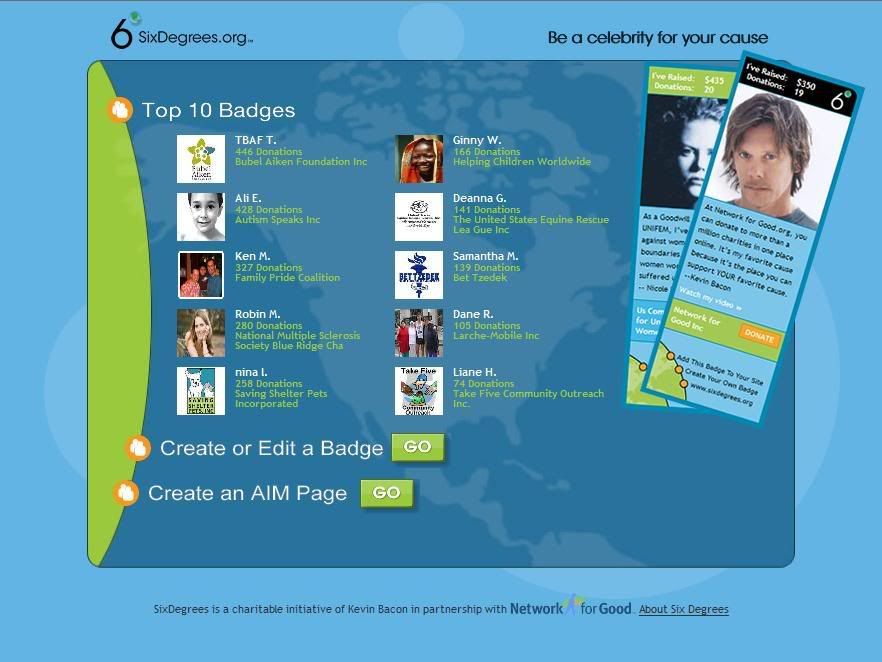 Top 10 Six Degrees Charities (clickable)
Six Degrees of Togetherness

The game "Six Degrees of Kevin Bacon" was invented in 1994 by two students at Albright College in Reading, PA, as a play on the "six degrees of separation" concept. The goal of the game is to link any actor to Bacon through no more than six connections.
Bacon took the concept a giant step farther with the 1/18/07 launching of Six Degrees, a web site that builds on the popularity of the "small world phenomenon" to create a charitable social network and inspire online charity gifts.
Bacon started the network with such entertainment figures as Jane Kaczmarek (Clothes Off Our Back), Nicole Kidman (UNIFEM), Ashley Judd (YouthAIDS), Robert Duvall (ProMujer), among others, and encouraged all to become celebrities for their own causes by joining the Six Degrees movement.
Number of Donors Is Key
With this project, it is important to remember that total number of donations, not the dollar amount, determine placement. The minimum donation amount accepted is $10, and only one donation per person will be counted toward the total. The six winners will receive up to $10,000 in matching funds for their group. If TBAF retains its lead, that will mean a total of $20,000 raised for the organization through this project.
To donate, see the orange button on TBAF's Charity Badge linked here and at other sites around the Net. Donations go directly to TBAF and are tax deductible. Click on the TBAF Charity Badge at right to donate. This link may be shared with others: TBAF Charity Badge.
To help spread the word, display TBAF Charity Badge on your web page or email the link to friends. PDF and WORD flyers are also available for mail attachments or print handouts.
Though still under construction, you can take a sneak peek at the new awAikening site, which is dedicated to the philanthropic causes of Clay Aiken and the fundraising activities and awareness campaigns of his fans. Among the links on this site are TBAF, UNICEF, Eddie the Dawg, The Autism Society, and Gulu Walk.
With little more than three weeks remaining in the Six Degrees campaign, CA fans are spreading the word about the $20,000 goal. Together we can make a difference!
PHOTO INTERLUDE: This clickable postscript features the talents of six visual artists, including Clayquebec1, photo by Invisible926, #1; MNmeesh, #2; Ambassador of Love, #3; Amazing_CA, #4; and MNmeesh, photo by Snix, #5.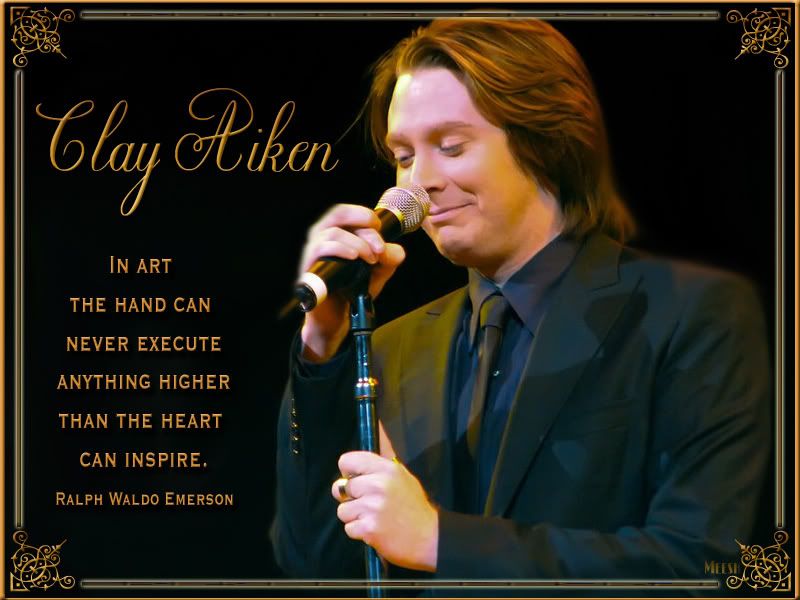 GoodSearch Makes Good Cents!
A very simple way to help raise funds for TBAF doesn't cost a dime and is especially popular with those who want to help but live on fixed or limited incomes. Just use GoodSearch for all your online searching needs. After you designate your charity, GoodSearch will donate one penny for every search.
In 2006, a total of $1,812.40 was raised for TBAF in this manner. To date, $670.61 has been raised via GoodSearch in 2007. Since its inception, 248,360 searches have netted TBAF $2,483.56.
Below is a clickable of Amazing_CA's "Making a Difference" graphic:

Have a great weekend, Clay Nation!

Caro
RELATED TAGS:
Clay Aiken
,
A Thousand Different Ways
,
Diane Bubel
,
The Bubel/Aiken Foundation
,
Six Degrees.org
,
Kevin Bacon
,
TBAF Charity Badge
,
awAikening.org
,
Good Search
,
Clay Nation