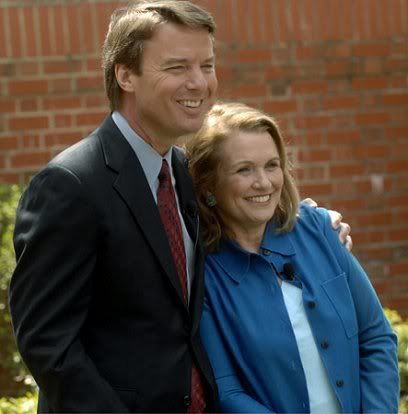 John and Elizabeth Edwards discuss the return of her cancer at a press conference in Chapel Hill Thursday. -- Getty Photo
NC Couple Displays Character
Cancer Enters Presidential Race
Much of the country watched with heartfelt empathy as North Carolina's John and Elizabeth Edwards revealed Thursday that her breast cancer has returned. The extraordinary manner they delivered the message spoke volumes about the couple's courage, confidence, and grace.
The announcement in a noon press conference from the same Chapel Hill, NC, hotel garden in which their wedding reception occurred 30 years ago provided a metaphor of their unconditional love and commitment for each other, their family, and the future of this country.
"The bottom line is her cancer is back," said John Edwards, 2008 Democratic presidential candidate, former senator, and 2004 vice presidential nominee. "Her cancer is treatable, not curable. Elizabeth will have this as long as she's alive."
Setting a powerful example for others, the Edwardses have become symbols for the concept that cancer doesn't have to mean the end of an active life. All over the Internet and airwaves, the "new face" of this dreaded disease has been discussed as chronic, treatable but not curable, with life continuing in an optimistic fashion.
Couple Shares Commitment
Thus, cancer, with its potential for triumph or tragedy, is now part of the 2008 presidential race; and Elizabeth Edwards is one of 10,000 Americans living with the disease.
"We are very optimistic about this because, having been through some struggles together in the past, we know that the key is to keep your head up and keep moving and be strong; and we intend to do exactly that," he said, alluding to the death of their 16-year-old son, Wade, in a car accident in 1996, and his wife's initial cancer diagnosis.
The 57-year-old mother of three, who appeared healthy in the live telecast, said she has no symptoms, though she may get tired from her treatment or her youngest children (Emma Claire, 8, and Jack, 6), who, she laughingly added, are "disappointed I won't lose my hair this time."
After first receiving a diagnosis of invasive breast cancer in the final weeks of the 2004 campaign, Elizabeth underwent several months of chemotherapy and radiation therapy that appeared to defeat the disease. She later wrote a book about her treatment and recovery, Saving Graces, subtitled "finding solace and strength from friends and strangers."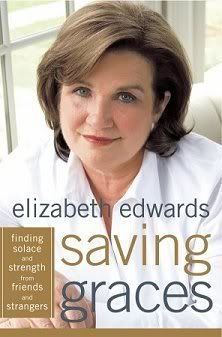 Elizabeth Blesses Broken Rib
The cancer recurrence was discovered after Elizabeth visited her doctor complaining of a pain in her side. She had twisted her back while moving a storage chest, and Monday X-rays revealed a rib fracture on her left side and the suspicious spot on her right rib. "I bless this broken rib and the fortuitous turn of events," she said, demonstrating the same up-beat attitude that characterized Thursday's announcement.
Her oncologist, Dr. Lisa Carey, described the cancer recurrence as a chronic condition that will be treated the remainder of her life. "The survival rate for stage IV breast cancer varies significantly. For some people, none of the treatments we use work, so their survival is short," Carey said. "Other people can live with it for many years."
"We're going to always look for the silver lining," Elizabeth told the media. "It's who we are as people, and we'll continue to do it." She plans to maintain her campaign schedule throughout the country, describing herself as symptom-free.
"I expect to do next week all the things I did last week. And the week after that, and next year at the same time," she said. "I don't expect my life to be significantly different."
PHOTO INTERMISSION: Since Elizabeth Edwards is a huge Clay Aiken fan, I imagine she would enjoy this clickable interlude by these talented visual artists from the CA fandom. Featured in a look back are graphics by ABeautifulMind, 1; Clayquebec1, photo by Fairfield2002, 2; Cindilu2, 3; Amazing_CA, photos by Karen Eh, 4; and Katt45, 5.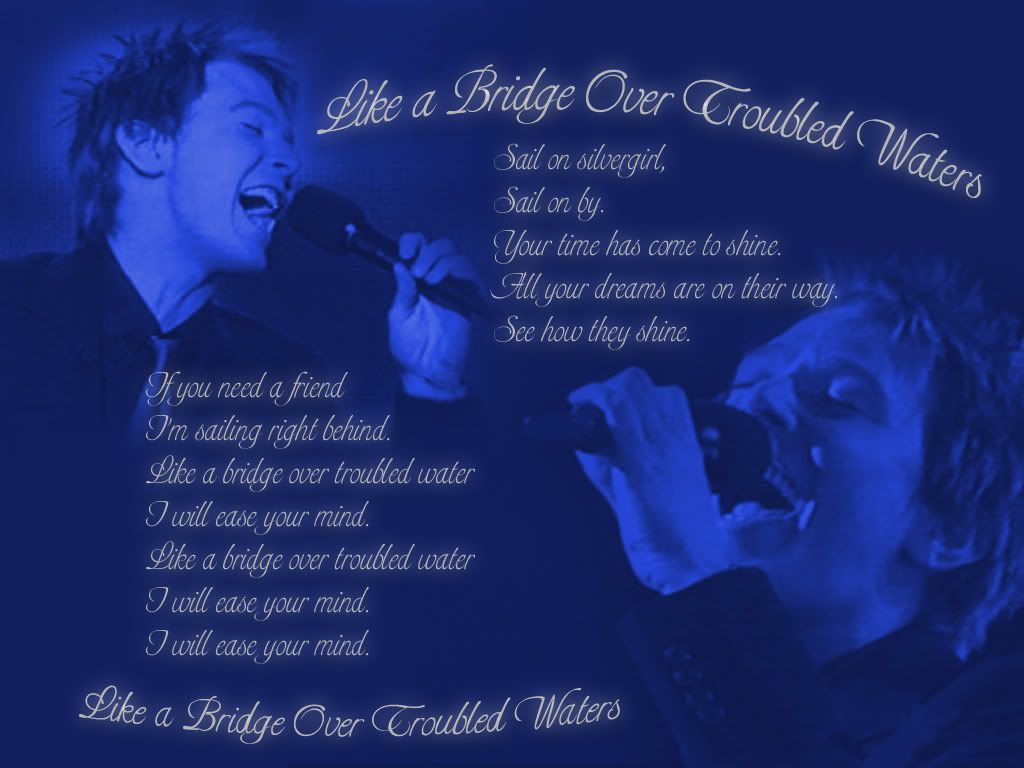 Popular on Campaign Trail
Elizabeth has been a popular figure on the campaign trail and a close adviser to her husband. With a quick wit and a down-to-earth style, she campaigned on her own in 2004, drawing large crowds; and this season she frequently introduces her husband at stops around the country.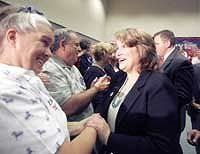 Her strength and generosity are evident when she speaks of the many Americans she has met. "Every event I ever did, someone cried on my shoulder about the state of their life. It is important that the country get this election right."
The campaign continued immediately after the news conference, as the family left on a two-day fundraising trip to New York and California that included a stop in Boston to visit their adult daughter, Cate, 25, a law student at Harvard.
John and Elizabeth Edwards met when they were law students at the University of North Carolina at Chapel Hill. They were married in a small country church near Chapel Hill the Saturday after taking the bar exam.
Supporters Empathize with Couple
Hundreds of messages have been posted at websites across the websites across the Internet. Here are three from CNN's Cafferty File asking if Edwards should run:
Ron, a Republican from St. Louis: Unless you have been through this, and I have, you have no idea how much this shows a person's real character. Here are two people I would like to see in the White House. They are showing unconditional love for each other as well as the country.
Shirley in Atlanta: The country needs him more than ever before. EE has encouraged him to run, and it may be the best thing for her, too. Ask any cancer patient, and they will tell you that keeping busy is vital. Sitting at home worrying does no good, and the campaign trail may help them.
Kerry in Jacksonville, FL: Having survived a stage IV breast cancer, I believe each person and his/her spouse make their own choices. If you have never walked the path of the disease and treatment, then it is unfair to make any comments. I think I lived because I went to work as long as I was physically able.
Thursday's announcement prompted a huge outpouring of sympathy and admiration from people of all political persuasions. Almost anywhere you turn on the Net, the well wishes continue.

On the Gratefulness site, Americans and citizens from other countries are leaving messages and lighting candles that will burn for 48 hours. You can click on an unlit wick to light a candle for ElizE with this link.
John Edwards Expresses Appreciation
In an email to the Edwards base, the former senator expressed gratitude for prayers, good wishes, and continued support:
Although the cancer is no longer curable, it is treatable; and many patients in similar circumstances have lived full, energetic lives. We expect nothing less for Elizabeth. She expects to do all the things next week that she did last week.
Our campaign goes on and it goes on strongly. We are so proud of the campaign we are running -- a campaign based on ideas and reaching out to people. This campaign is not about me or Elizabeth -- it's about all the people we have met these past few years and people like them all across America and the world; people worried about feeding and clothing their kids; people without health care; people facing hardships overseas.
Both of us are committed to this campaign. We're committed to this cause and we're committed to changing this country we love so much.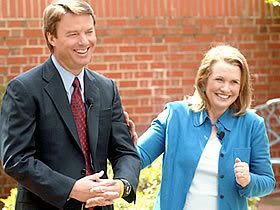 John and Elizabeth Edwards -- Photo by Davis
Cancer Won't Be Her Boss
I expect to live a long time," Elizabeth said during a health care forum in Las Vegas Saturday, reported in the New York Times.
"I expect us to have lots and lots of years together. But if that's not the case, I don't want my legacy to be that I pulled somebody who ought to be president out of the race. It's not fair to me, in a sense."
Saying she hopes to be "heavily involved" in her husband's campaign, she said, "My feeling is, if we gave up what we have committed to as our life's work, wouldn't I be getting ready to die? That's what I'd be doing. This cause is not just John's cause, it's my cause.
If cancer expects to be the boss of me, it's gonna have to earn that. I am denying it control over how I spend the rest of my life."
Whether you agree with their politics or not, you have to admire the passion and courage of John and Elizabeth Edwards. I am sure they join me in a resounding cheer for the Carolina men's and women's basketball teams in NCAA tournament play this weekend: Go, Tar Heels, Go!!!

Have a great weekend, Clay Nation!

Caro
RELATED TAGS: Clay Aiken, John Edwards, Elizabeth Edwards, Cancer, Presidential Race, Saving Graces, Cafferty Files, Gratefulness.Org, Clay Nation