RUNNER-UP BUZZ -- Clay Aiken is among three American Idol finalists who have bested the winners of their season. Graphic by Amazing_CA, photo by Scrpkym.
Media Covers Many Angles
Idol Finale a Hodgepodge
The hodgepodge of Top 10 contestants, former winners, a somewhat random roster of entertainers, literally everything but the kitchen sink, ensured a circus-like atmosphere for Wednesday's American Idol Finale, sadly moving the key purpose of the results show to the back burner.
Following two hours of mishmash, the youngest AI winner in six seasons -- Jordin Sparks, 17, of Glendale, AZ -- was finally announced three minutes into the next program's allotted hour. The new Idol began singing her coronation song, "This Is My Now," at 10:06 p.m. By then, many viewers had already switched to other season finales; and recording devices reportedly missed the crowning moments.
I have long been a card-carrying member of the "Idol Found, Game Over" Club, grateful that AI opened the door for Clay Aiken's amazing career in 2003. Since then, my viewing of succeeding seasons has been haphazard at best.
The media noted the night's mixed bag presentation. Assembled below are links for a few of the many articles appearing throughout print/online news services. In random order, sort of like Wednesday night's show, here is a small sampling.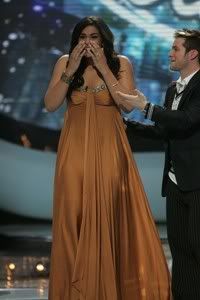 Jordin Sparks Wins Idol -- Fox Photo
IF Gives 'Idol' a C- Grade
Peter Brown of IF Magazine rated the 124-minute show a C- with this lead:
Do they really need to make the finale two hours (plus they ran over!) long? Jordin Sparks deserved to win from the previous night. and she indeed took home the prize of AMERICAN IDOL.
Why we could have gotten through it in a half hour, but to make matters worse they actually gave us a pseudo award's show to boot? How terrible was that Wednesday night? Because we don't have enough awards given out through the course of the year, not to mention the fake awards from MTV and so on.
Oh yeah, Ruben Studdard, what happened to that guy? He looks good at least, but didn't Clay Aiken win that year?
Thumbs up to this online comment with the article:
Clay should have been there last night, but he was on the "Dancing With The Stars" finale instead. Too bad we couldn't clone him.
Is It Better To Lose?
Prior to the show, Paul de Barros, Seattle Times arts writer, made these points in Could Blake win bigger by losing tonight?
Pop singer Clay Aiken has sold more than 4 million albums in the U.S.
Soul singer Jennifer Hudson won a best supporting actress Oscar for "Dreamgirls."
Rock singer/guitarist Chris Daughtry's debut album hit No. 1 and went double platinum (2 million sales).
What do these stars all have in common? They racked up these wins after they were losers on the hit TV show "American Idol."
Ratings Down for AI6 Finale
MSNBC's headline was Ratings down 19 percent for 'Idol' finale:
LOS ANGELES - An estimated 30.7 million Americans tuned in for the season's final "American Idol" with Jordin Sparks winning the prize — a sharp drop from last year's finale, according to preliminary ratings from Nielsen Media Research.
Last year, 36.4 million people watched Taylor Hicks win. And even though Hicks was featured singing during Wednesday's two hour-plus episode, that represents a 19 percent decrease.
AI2 Tops in Viewership
Thanks to the excellent records maintained at Clayversity by EmeraldEyes, this chart of the six AI finales reveals Season 2's last show still holds the viewership record:
AI1 22.5 M
AI2 38 M*
AI3 28.8 M
A14 30.3 M
AI5 36.4 M
AI6 30.7 M
*rounded to the next million
PHOTO INTERLUDE: In this clickable collection, graphic artists have incorporated photos from Clay Aiken's stint on AI2, tours, as well as this week's "Dancing With the Stars" finale skit with Jimmy Kimmel & Co. Visual artists include A Beautiful Mind, photo by Scrpkym, 1; A Beautiful Mind, 2; Ambassador of Love, 3; Ztilb, 4; and Claystruck, 5.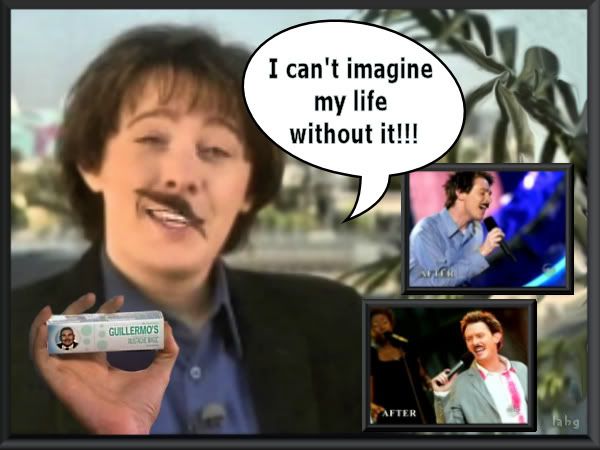 Finale's Four Categories
Maureen Ryan's blog in the Chicago Tribune is titled "American Idol crowns Jordin Sparks, but takes two looong hours to do so."
This finale, she writes, can be divided into four categories: Pimp My Single, Sweating to the Oldies, Golden Idols (the "funny" awards"), and Things Designed to Make Your Head Explode.
No one except his rabid fans will accuse Blake of having the vocal chops of, say, Clay Aiken, but even this old-school rap fanatic had to admit that Blake held his own during their raucous cover of Fresh's classic hip-hop track "The Show."
The comments are just as interesting, like this one from Tom:
This was the first season where I tuned in during the last 5 minutes of the results shows. I couldn't suffer those long and incredibly boring showcases. Next season I'd like to see the results show trimmed to a lean half hour. I'd say 10 minutes but everyone knows FOX would never consider such an idea.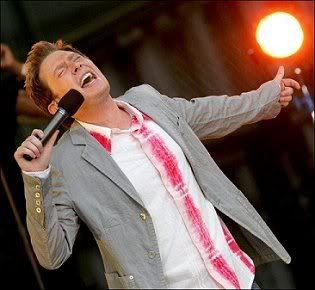 Clay Aiken Bigger Than the Winner -- Getty Image
The Detroit Free Press proclaims 'American Idol' shows signs of becoming flat . Clay's GMA photo accompanied the story.
Another long-standing argument among "Idol" fans and critics is whether the show's lackluster roster reflects the state of pop music these days, or encourages it. On the plus side, among the show's alumni are platinum-selling recording artists, Broadway stars, Grammy-winning singers and an Oscar winner.
But only two of the series' five previous winners have maintained "Idol"-level performing careers (Kelly Clarkson and Carrie Underwood), with other high achievers such as Clay Aiken, Chris Daughtry, and Jennifer Hudson outperforming those who beat them in their competitions.
Vinay Menon of The Toronto Star provides a humorous, minute by minute replay of the evening, from 8 p.m. - 10:06 p.m., in the article: Anticlimactic Idol. Here is an excerpt:
9:18 – Sanjaya takes the stage with Joe Perry. In the morning, billions of Aerosmith CDs will be burned.
9:19 – First appearance by The Crying Girl. I'm no child psychologist, but this kid should probably talk to somebody.
9:21 – Wow, Idol landed Green Day? Sadly, they're not singing "American Idiot," which would've been pretty awesome.
Favorite paragraph of the Orlando Sentinel's article for CA fans has to be this one:
The Idol title offers no guarantees of greatness. Taylor Hicks, last year's winner, hasn't captured the same attention as fourth-place finisher Chris Daughtry. Second-season winner Ruben Studdard hasn't generated the buzz of runner-up Clay Aiken. Victor Fantasia appeared in a weepy TV movie of her life, while also-ran Jennifer Hudson jumped to the big screen and won an Oscar for Dreamgirls.
Davis: Album Sales About 'New Hit Songs'
Emphasizing the importance of "new hit songs" in his speech at the finale, RCA producer Clive Davis definitely grabbed the attention of the Clay Nation:
Now contrary to popular belief, that's really what album sales are all about -- new hit songs. Yes, Simon and Randy and Paula have done an absolutely amazing job, really unprecedented. We in our industry know the job of discovering talent that eventually rises to the top of this phenomenal competition, like Academy Award winner Jennifer Hudson.
So I'm here to thank them and to toast them, but then in turn everyone in American Idol must toast that much too often under appreciated professional songwriters. Those that have greatly enhanced the American Idol album franchise. Right from the very beginning, by writing number one hit songs for Clay Aiken, through "Since U Been Gone" and "Breakaway" for Kelly Clarkson's huge Breakaway album.
Second Place Tops Charts
Runner-ups received top billing in an article at IdolHeadEd.com this week: Second Place Finishers -- Where Are They Now?
Clay's section begins like this:
The transformation from nerd to chic will go down as the ultimate American Idol makeover. That, in addition to his voice, continues to drive many a Claymate crazy even four years later.
On June 10, 2003, Clay released the single "Bridge Over Troubled Water". The B-side was "This Is the Night". This was RIAA certified platinum on July 15, 2003. It debuted at #1 on both the "Billboard Hot 100" and the Hot 100 Single Sales Chart, and was the fastest-selling single since Elton John's "Candle in the Wind 1997" and the best-selling single of 2003. It was also the first CD single to go platinum since 2002.
This is a clickable of Amazing_CA's handsome opening graphic: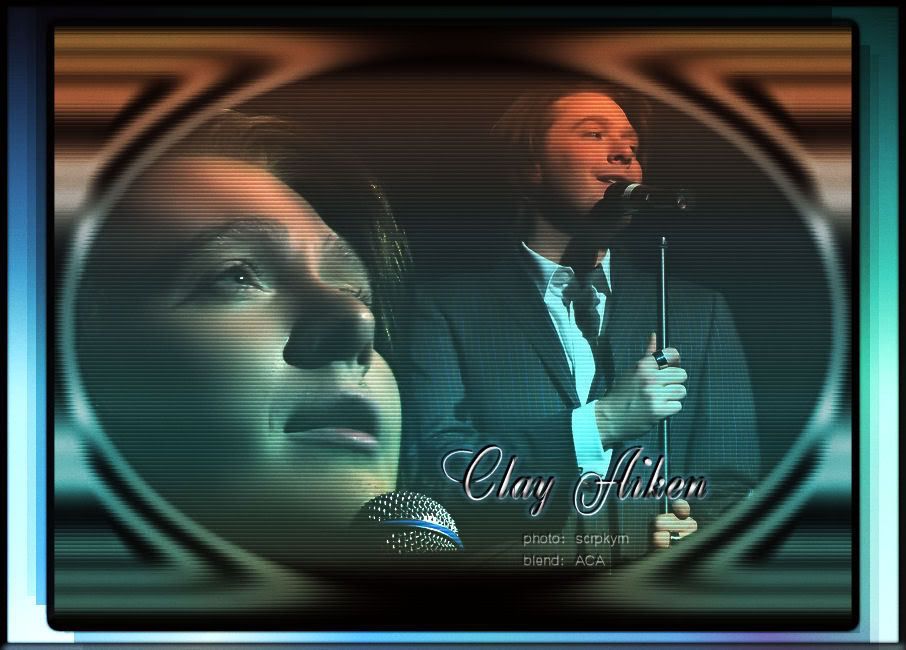 Have a wonderful Memorial Day Weekend, Clay Nation!

Caro

RELATED TAGS: Clay Aiken, A Thousand Different Ways, Summer Symphony Tour, American Idol, Jordin Sparks, Clay Nation