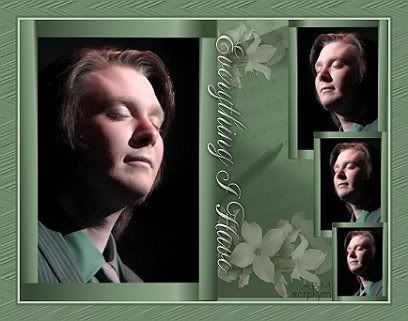 EVERYTHING I HAVE -- This Clay Aiken graphic and song seem an appropriate choice for Memorial Day as Americans honor those who have given the ultimate sacrifice for their country. Design by A Beautiful Mind, photo by Scrpkym.

Clay Mentions Everywhere
Post Idol Buzz Continues
Several mentions of Clay Aiken plus some excellent tips for fledgling songwriters by Desmond Child in The Creator's Tool Box put ASCAP's spring issue of Playback at the top of many reading lists this week.
Desmond Child is a hit machine. He's written or co-written successfully with a diverse array of artists, including Kiss, Ricky Martin, Joan Jett, Aerosmith, Hall and Oates, Iggy Pop, the Baha Men, Clay Aiken and many others. According to the Miami native, making it to the writing elite is as much about industry as it is inspiration.

Anyone planning to give songwriting a whirl will also pick up some helpful information in Child's discussion under such headings as "Start with a title," "Let the lyrics tell the story," "Speak in rhythm," "Learn the studio," "Keep a business attitude," and "Write every day."
Clay and "Invisible" are highlighted in the section on marketing:
KNOW THE MARKET
A good song is useless if it doesn't find its way to the right artist. Child's knowledge of the people in the music business helps him match his material with marquee talent. He cites Clay Aiken's "Invisible" as an example: "You see somebody like Clay on TV and imagine 'Invisible' would be perfect for him, because his image is of the unassuming person. The song lyric goes 'If I were invisible — wait, I already am.'
That says it all for Clay Aiken — even though it's ironic that he's one of the most famous people in America. It works perfectly because it captures the imagination of the audience."
The article by Danny Miles ends with this paragraph:
Songwriting is among the most competitive fields in the world, and therefore, Child says, a writer will only make it to the top by being completely committed to every aspect of the job. "It's not enough to wish for things with the front of your mind," he concludes. You have to wish for them with your whole body and soul."

Striped Shirt Leads 'Idol' Bids
Clay's striped button-down shirt designed by Paul Smith currently leads all bidding in the Kimberly Locke & Idol Friends Charity Auction with a high offer of $2,500. The above clickable scan is from the 5/25 issue of People magazine.
Clothing and accessories worn by favorite American Idol celebrities will continue through June 15, with additional items being added throughout the auction.Proceeds from the auction will benefit Camp Heartland for children infected and affected by HIV/AIDS and Clothes Off Our Back charities including the Children's Defense Fund, Autism Speaks' research division and the emergency relief efforts in Darfur (specifically Friends of the World Food Program, Save the Children, and the U.S. Fund for UNICEF).

'Entertainment Weekly': Ultimate Evolution
A page in the current issue of Entertainment Weekly traces Clay's transformation from "totally geek" in 2003 to recent labels of "totally chic":
Idol hopefuls can only dream of a transformation like this one. Originally awkward and meek, Clay has morphed into a slick singer who favors longer locks, fitted suits, grooming products, contact lenses, and covers of classic love ballads. To quote from the 1987 classic Can't Buy Me Love: He's gone from "totally geek to totally chic."
PHOTO INTERLUDE -- This clickable collection features a variety of creations by six visual artists, including Aikenfan6, 1; A Beautiful Mind, photo by Karen Eh, 2; Amazing_CA, photos by Scrpkym, 3 and 4; and MNmeesh, 5.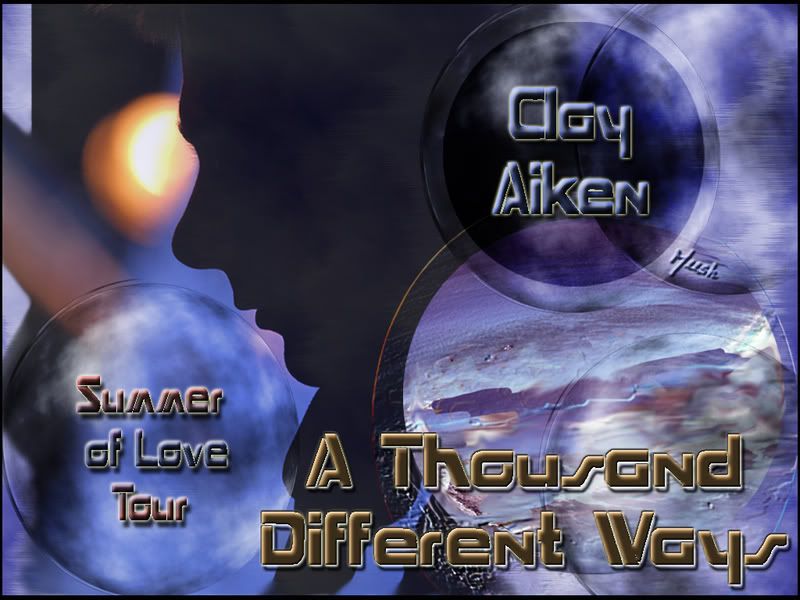 NJU Clayversions Shared
Two of these Not.Just.Us stories were shared on CA message boards, while the third is a blog entry from a young man in the Philippines.
YChrome of Clayversity: When I was at a medical station, one of the RN's asked about my bracelet (Bead for Life). I gave the short story, and she asked how I found out about them so she got the long story that included a plug for Clay and TBAF.
Turns out while she isn't on any of the boards, she said she really enjoys Clay. I gave her a quick rundown on what he has been up to, and she said she had no idea into his depth. All from a set of beads!
Corabeth at the Clackhouse: I just talked to the colleague that I "Clayverted" at the trade show. I had sent her AIW, ATDW and a JBT DVD. She said to me "You've created a monster, I am addicted to his music. His voice is incredible, I just love his voice." She said that she is so stressed and that his voice just makes everything better.
She also said that she thought the JBT looked like great fun. She lives in eastern Massachusetts, so I have been trying to get her to go to Meadowbrook. She asked that I find her tickets!
This Clay discovery appeared in the May 25 entry for the blog Drakes Ragbag:
I'd been puzzled by who sang the revival of Without You (a.k.a. I Can't Live (If living is without you) on the radio. Hearing it lately, I was always set aback by the vocal fluency of the male singer. Until I got a copy of it in my laptop, then was the only time I discovered that the man behind the voice was Clay Aiken.
Clay Aiken? I did not know him. So, the ever dependable Google helped me check him out. Then I found out he was a runner-up in the hit show American Idol Season 2 (Just a runner-up for that voice is a diminution for such skill).
His voice is so great. It's so high yet so chesty. His voice captivates so much that I'm compelled to like his whole persona. Not to mention his altruism for being a UNICEF ambassador of goodwill, he is such an admiration.
Below is a clickable of A Beautiful Mind's handsome opening graphic: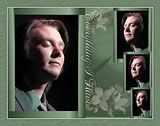 On Memorial Day, we not only commemorate the men and women who gave their lives in military service for this country, but we also honor family members who have died.
Have a very special Memorial Day Weekend, Clay Nation!

Caro
RELATED TAGS:
Clay Aiken
,
A Thousand Different Ways
,
Summer Symphony Tour
,
Everything I Have
,
Without You
,
Desmond Child
,
ASCAP
,
Invisible
,
Measure of a Man
,
Songwriting
,
American Idol
,
Kimberley Locke & Idol Friends Charity Auction
,
Clothes Off Our Back
,
People Magazine
,
Entertainment Weekly
,
Memorial Day
,
Clay Nation