ON TOUR -- Clay Aiken's coast to coast Summer Tour 2007 with symphony orchestras cannot start soon enough for fans. The stunning graphic by A Beautiful Mind recalls the Independent Tour of 2004.
Raleigh Tops with Clay
Nothing Finer Than Carolina
There is no place like home -- just ask Clay Aiken. In fact, the Raleigh Chamber of Commerce should put its multi-platinum singing resident on the payroll.
Since spiraling into the American Idol spotlight four years ago, Clay has talked about his love for Raleigh in concerts and interviews throughout the country. There's no hiding his excitement when the tour bus is heading toward his hometown for a concert.


FAYE WON!
Faye Parker and Dick Hensley won the "Dancing Like the Stars" competition featured in the previous blog entry! The results are posted
here
. Congratulations, Faye -- and way to go, Clay Nation!

This week Clay's love for Raleigh spilled over in a feature story in Go Air Tran, an airways magazine:
After finding fame, this American pop singer has had the opportunity to travel the world, only to realize the city he truly loves is his hometown of Raleigh, North Carolina.
When does being named a "first runner-up" translate into becoming No. 1? Well, for Raleigh, North Carolina, native and pop musician Clay Aiken, it was when he took second place during season two of the reality TV show "American Idol."
While Aiken, now 28, may have seen fellow Southerner Ruben Studdard win the contest by a narrow margin of votes, Aiken's record sales have since shot to first place. His first solo album, Measure of a Man, debuted at No. 1 on the Billboard 200 in 2003, then went double platinum and became the highest-selling debut album for a solo artist in a decade.
To read all the reasons Clay loves his hometown of Raleigh, click on the screen cap below: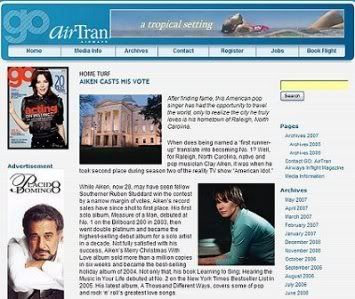 Link to 'Aiken Casts His Vote'
NC Gives Back to 'American Idol'



In a very funny, animated Web cartoon in Raleigh's News&Observer Friday, previous North Carolina finalists gather at Clay's home and decide to provide American Idol 6 a boost.

The cartoon stars Clay, Fantasia, Chris Daughtry, Bucky Covington, and Kellie Pickler with Faye Parker, Raleigh, and Durham in supporting roles.

You can link to "North Carolina Gives Back to American Idol" by clicking on the image below: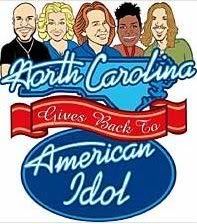 Illustration and animation credits go to Grey Blackwell. Other writers include Adrian Johnson Martin, Matt Ehlers, and Thad Ogburn. Viewers can leave comments and kudos for the N&O staff here.
If you would like to download the cartoon, here is a Sendspace link for NC Gives Back to AI.
PHOTO INTERLUDE: This clickable interlude features graphics combining photos and caps from Clay's National Public Radio interview, the recent UNICEF trip to Afghanistan, as well as promotional shots for A Thousand Different Ways. Visual artists include Amazing_CA, 1, 2, and 4; A Beautiful Mind, 3; and Katt45, 5.

YouTube To Pay Star Users
According to a NewTeeVee article by Om Malik, YouTube has announced plans to pay 20 - 40 star producers in an initial rollout, with even more content creators potentially to be added in the future.
Below are the opening paragraphs, and the story can be read in full at the NTV link:
YouTube is going to start helping some of its indie video content creators make money, starting tomorrow. The company will launch a program that puts the creators of some of the more popular YouTube channels — including Lonelygirl15, LisaNova, HappySlip, renetto, Smosh, and valsartdiary — on the same playing field as large media partners like CBS.
"A select group of content creators will get promotion on the YouTube platform, and we will help them monetize their content," said Jamie Byrne, vice president of marketing at YouTube, in an interview on Thursday.
"This will help erase the the stigma around the user-created content, and, to be honest, these guys are media entities in their own right.
"We want to ensure that these talented people can start making a living off their efforts," said Byrne. "We hope this will inspire others to create their own original content."
Creativity Abounds in CA Fandom
The CA community boasts many creative videographers composing a varied body of work. To be considered for the YouTube venture, they would need mega views, links, responses, and subscriptions.
Below are two contrasting montages by Aspiegirl, one Clay-related and one that is not.
To view "Listen to the Rain" by Evanescence, click on the player below. The montage can also be downloaded at The Ideal Idol


'Listen to the Rain' montage by Aspiegirl
The second, also by Evanescence, is set to "Bring Me to Life." You can link to the montage by clicking on this player. Be warned -- hold on tight!

'Bring Me to Life' montage by Aspiegirl
Candles Communicate Fan Concern
Barb55 kept her 6 a.m. date with a surgeon Tuesday. In response to her request that Clay friends keep her in their prayers, the blogging community has done just that. Many left messages in her journal; several lit candles for her at the Gratefulness site.
In an email Friday morning, Barb's husband Ron reported they are optimistic about the surgery, our friend is resting and will be in touch, and he plans to blog soon.
Ron thanked the Clay Family for keeping Barb in their thoughts and prayers. The couple, who believe in the power of prayer, appreciate the candle page and the community's display of love and concern.
Friends can add a flame at this link: Barb. The candles only last for 48 hours, but they can be relit.
MARK YOUR CALENDAR!
All the best to those dancing Ticketmaster Tangos for the summer tour. Don't forget to clear your calendar, set those recording devices, and make plans to watch Clay on Jimmy Kimmel Live Thursday, May 10.
For some of us, that means setting the alarm clock for very early Friday, May 11; but a Clay-Jimmy reunion is so worth it!
Below is a clickable of A Beautiful Mind's opening graphic:

Have a wonderful weekend, Clay Nation!
Caro
RELATED TAGS:
Clay Aiken
,
A Thousand Different Ways
,
UNICEF
,
Afghanistan
,
Go Air Tran
,
Raleigh, North Carolina
,
American Idol
,
News&Observer
,
Grey Blackwell
,
New Tee Vee
,
YouTube
,
Evanescence
,
Official Fan Club
,
Clay Nation