CLAY-JIMMY REUNION -- This Jimmy Kimmel Live slide show from Thursday night's 'Climmel' appearance features screen caps and animations by Gerwhisp with blends by Ashes2, MNmeesh, and Amazing_CA.
'Climmel Time' a Hit with Fans
When Clay Aiken visits his good friend Jimmy Kimmel on late night TV, anything can happen. Thursday he arrived on horseback, discussed his recent trip to Afghanistan, the "Claymate Cartel," the upcoming Summer Symphny Tour, and the preliminary stages of his new CD.

From Jimmy's monologue and the chat with Clay, the first half with the singer astride a horse, viewers learned some "amazing" facts. In case you missed Thursday's late-night show, here are some teasers until you can download the videos.



When CA is on the show, it's "Clay Aiken Night" -- Christmas, the 4th of July, and the end of school all rolled into one!
Clay is Jimmy's best friend in the whole wide world.
Claymates all came down from the Clayberry Mansion to be in the audience.

Claymates have been camped out at Jimmy Kimmel's studio since Clay's previous appearance on Valenine's Night, having built a little Aikenville in the back parking lot. Just in case he may appear, they never ever leave.

Clay is one of the most intimidating figures in pop music, head of the Claymates, "one of the most dangerous and powerful music cartels in all the world."
Once again, Clay proves he knows how to make an entrance.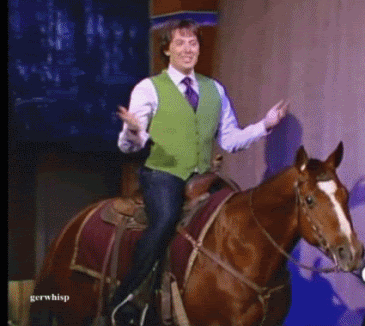 Animation by Gerwhisp
Clay Highlights Afghanistan Trip
Afghanistan was absolutely amazing, and Clay was there as a UNICEF Ambassador for 10 days.

If the Claymates had been given the assignment, they could have found Osama Bin Laden in 20 minutes.

While in Afghanistan, Clay lost 10 pounds, only eating rice and raisins.

When singing in the Third World, you need to know your audience. "If You're Happy and You Know It, Clap Your Hands" works better than "Bridge Over Troubled Water."
Clay doesn't speak "donkey language" as well as a six-year-old Afghanistani boy.
Clay-Kimmel Worlds Collide
Clay's fans are Jimmy's fans, too. Anytime they are together is "Climmel Time," and there is a Climmel pin commemorating this fact.

Jimmy is wildly allergic to horses, and Clay's many food allergies are well-documented.

Clay is in LA meeting with possible producers for his new CD.

He is going to be very busy in the next few months with the Summer Symphony Tour from July 4 through the end of August, hunting down Bin Laden, working on the album, etc.

Clay also knows how to make an exit.


Animation by Gerwhisp
This is a "Climmel Time" that will merit many replays. Here is a link for one such video at ABC Go. Video is also featured in AOL: TV's Top 5 and can be downloaded at Clack Unlimited.
Happy Weekend, Clay Nation!

Caro
RELATED TAGS:
Clay Aiken
,
A Thousand Different Ways
,
Jimmy Kimmel Live
,
UNICEF
,
Afghanistan
,
Summer Symphony Tour
,
Clay Nation