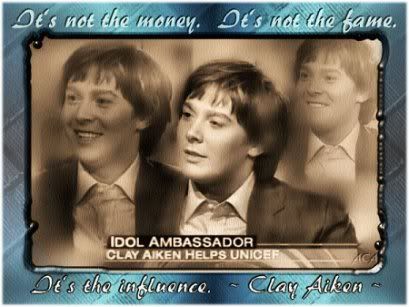 CLAY ON TODAY -- Amazing_CA's handsome graphic features three screen caps from Clay Aiken's surprise Today Show appearance, during which the UNICEF Ambassador discussed his recent trip to Afghanistan.
A Very Special Birthday Gift
Let's Vote Faye Top Dancer!
It's the Season 2 finale of American Idol all over again -- except the voting this time is between Clay Aiken's mother and a Raleigh radio personality following their performance in the "Dancing Like the Stars" competition of the Southern Women's Show this past Sunday.
The two couples -- Faye Parker & Dick Hensley and Mike Morse & Melanie Dale -- are currently tied for top honors, and voting has been extended. DJ Mike is pulling out all the stops at his radio station to secure more nods in his favor. If there's one thing the Clay Nation knows how to do, it's amassing huge numbers of votes.
Clay's fans can give Faye and her partner, a popular ballroom dance instructor, a huge boost by scrolling to the button below their picture and sending $5.00 donations/votes to the North American Andy Transplant Fund website.
Fans Share Dance Videos, Photos
Most of us can't evaluate the dancing of DJ Mike and his partner, owner of A Step to Gold International Ballroom; but, thanks to several enterprising CA fans, many of us have seen video and photos of the fantastic performance Faye and Dick gave Sunday.
Spinning gracefully to Clay's "Perfect Day" from his Measure of a Man album, Faye obviously made her sons proud. Clay and his brother Brett surprised their mother by sitting on the first row behind celebrity judge Mario Lopez. At the end of her dance, they gave their mother an enthusiastic standing ovation.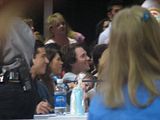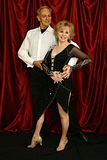 Clickables of Clay and family watching Faye
and her partner compete in "Dancing Like the Stars."
Compliments of Littlec, these Sendspace videos present the Perfect Day Dance, as well as a brief interview with emcee Alison Lawrence during which Faye talked about her family's surprise and said she was dancing for all the senior citizens.
Faye Parker celebrates her birthday this week, and the Clay Nation has the power to present her a very special gift -- first place in the "Dancing Like the Stars" competition!

Happy Birthday, Faye! Hopefully, the Clay Nation's votes are rolling in!

PHOTO INTERLUDE: This clickable interlude encompasses Clay's recent UNICEF trip to Afghanistan, new angles for A Thousand Different Ways promo photos, as well as the 2007 Summer Tour. Graphic artists include Amazing_CA, photo by Karen Eh, 1; ABeautifulMind, 2; Cindilu2, 3; Katt45, 4; and Ambassador of Love, 5.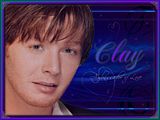 Lab Recalls Stress Test Miscues
Two steps into the realm of radiology Monday morning, I realized my crazy stress test experiences are stored in the memory banks of the nuclear imaging sector at Moses Cone Hospital. As Melinda and I made our way to the all-too-familiar corner where stress tests are administered and high-tech heart images captured, the nucleur technician recited the litany of mishaps that have occurred during my past visits to the lab.
But the third time is going to be the charm, I suggested optimistically. HA -- did I say that?
Longtime readers of this blog may remember my history with the radiology team. In the spring of 2005, the pump that sends the drug Adenosine into the patient's system, chemically raising the heart rate, failed to start. A cardiologist and a bevy of technicians watched in amazement as my cheeks showed no signs of stress, my blood pressure and heart rate remained perfectly normal.
Throughout the four-minute test, they continuously asked, "Are you all right?" ... "Are you sure you don't feel anything?" ... "Do you feel any different?" I assured them I felt perfectly fine and couldn't imagine what the fuss was all about. Of course, that was before I felt the effects of Adenosine.
Overnight repairs were made on the machine, and I returned the next morning to experience the real thing. This test eventually led to my first stent intervention.
Another 'Take 2' Session
The owner of a stent must endure the same stress test the following year to make sure all is functioning according to plan. In the spring of 2006, the camera malfunctioned, the images were unreadable, and another "Take 2" session was scheduled. Eventually, I was gifted with a stent inside the original.
Despite previous adventures, I arrived in radiology Monday, hopeful that all would proceed well on the first take. A blood pressure cuff generally leaps into action every other minute during the test. Just prior to the evaluation, my pressure had registered a desirable 120/70. However, during the all-important four minutes, the cuff continuously aborted its routine check.
Three technicians frantically tried a variety of tactics to secure a reading while the test was in progress. Finally, one asked me to straighten my slightly bent arm. The required rendering occurred 15 seconds before the finish line.
The images of my heart during exertion and at rest have been made. Now it's a waiting game, and I sure hope those stents are still on task.
Real Life Stress Test
Despite Monday's ordeal, the real stress test occurred when I returned home. After a 14-hour fast, I was really looking forward to lunch, but salad preparations were ungraciously interrupted by a phone call from an employee with the Charlotte repair shop to which I recently sent my Toshiba. There had apparently been a mix-up, and the caller informed me I owe the shop extra bucks for shipping the repaired laptop home.
I not only had purchased a pre-paid, round-trip UPS ticket for the computer; but I also have the paper work to prove it. Following a stressful hour of telephone conversations with the Charlotte shop and UPS locations in both cities, the matter was resolved.
In that hour, the Moses Cone team could have gotten one heckuva stress test reading!
Fans Light Candles for Barb55
As many of you know, Barb55, a very dear OFC blogger, had a date with her surgeon Tuesday morning. In her last journal entry, she asked that Clay fans keep her in their prayers.
We started a candle page for her at the Gratefulness site. You can light a flame and leave a message for Barb at this link. Candles burn for 48 hours, after which new flames can be lit.
Before leaving for the hospital, Barb expressed her gratitude to the many who responded in her blog and via the Gratefulness site.
Below is a clickable of Amazing_CA's beautiful opening graphic: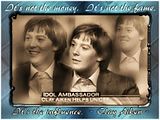 Have a wonderful week, Clay Nation!

Caro
RELATED TAGS:
Clay Aiken
,
A Thousand Different Ways
,
UNICEF
,
Afghanistan
,
Dancing Like the Stars
,
Southern Women's Show
,
North American Andy Transplant Fund
,
Measure of a Man
,
Perfect Day
,
American Idol
,
stress test
,
Adenosine
,
Official Fan Club
,
Clay Nation