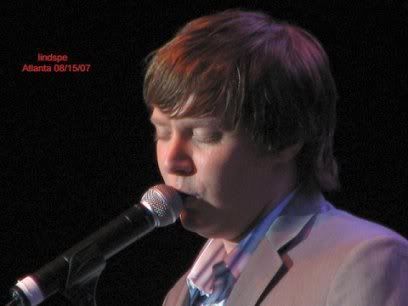 Clay Aiken performs at Chastain Amphitheater. - Photo by Lindspe.
Clay & Company Begin Florida 4-fer
Hotlanta Lives up to Forecast
Hotlanta lived up to its nickname as Clay Aiken & Co. performed with the Atlanta Symphony Orchestra in sweltering triple-digit temperatures with a heat index through the roof at Chastain Park Amphitheater Wednesday night.
Although 4,000 seats were sold, many season subscribers stayed home due to the oppressive weather and an orange air quality code. The estimated 3,000 in attendance, nevertheless, were rewarded with an entertaining evening of beautiful singing and hilarious banter from Clay and the musicians onstage.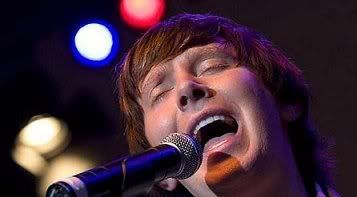 Clay in Chastain spotlight. -- Photo by Allen Sullivan
The Atlanta Journal Constitution's covered the concert in an American Idol blog, Clay Aiken Live! This is an excerpt from Rodney Ho's review:
Sure, the dorky season two runner up still seems to appeal to a certain type of middle-aged woman, but the man truly has incredible pipes and sounded great. Clay doesn't take himself too seriously, joking numerous times about the heat and being quite gabby throughout the concert.
"What's with the humidity?" he said early on. "They didn't give us fans! The only breeze are the bugs flying by our faces. One got stuck to me." A fan handed him a freeze pop. He stuck it on his forehead, then noticed while singing "When I See You Smile" that the pop was sugar free. "You think I'm getting fat?" he cracked.
The accompanying slide show of photos by Allen Sullivan can be viewed at the AJC's Access Atlanta. More pictures are available at Sullivan's site, Photo Shelter.
Clay talked with a teenaged girl whose sign proclaimed she had chosen his concert over a car for her birthday, teased her mother, and then dedicated "Without You" to the teen, changing up lyrics to fit the circumstance: "I can't live, if living is without a car/I can't live if I can't get anywhere."
Another gal received a kiss on the cheek from her favorite singer. Despite the heat, all were entertained. The closing number, "Because You Love Me," was accompanied by a sea of glow sticks.
Ft. Myers a Hoot from the Get-Go
The Ft. Myers concert was Clay Aiken doing what he does best -- sharing his amazing pipes as well as his comedic, improvisational skills. After scrunching around on his stool imitating a videographer's gyrations for "making sure the clack doesn't skip around," the singer borrowed her front row camera and gathered footage of his backup crew.
The fan didn't miss a beat and pulled a backup camera out of her bag to continue filming the show. ["She's got a whole Radio Shack in her purse!"] Here is a Sendspace download of the scene as videoed by Clay and one of this fandom's most revered "clack goddesses": Camera Banter.
This Ft. Myers Slide Show features pictures by photographers LynninNJ, SmartyPantsSuz, FiveGoldens, and Scrpkym. The photo links to a show with a choice between gallery and revolving views.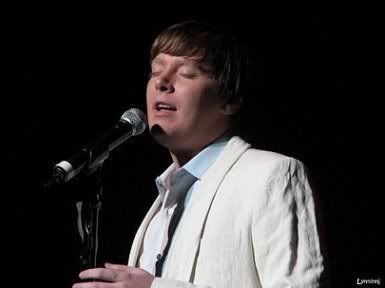 Photo by LynninNJ connects to Ft. Myers Slide Show
The Ft. Myers lighting person must be a Claymate. After several attempts to keep the spotlight on Quiana for her solo, Clay walked across the stage and joined his backup singer on her stool.
According to Wandacleo, among the many humorous shenanigans throughout "When the Lights Go Down" was the appearance of Clay's hand from behind inspiring the audience to bring on the applause. Not that it was needed!
In her recap, SmartyPantsSuz reported that Clay impressed several of the venue's ushers, who said they really enjoyed the show. One woman in particular -- "she's a goner!" -- gladly shared her address so Suz can send her DVD's of other shows. As always, the venue staff was amazed at the enormity of the busline following the concert.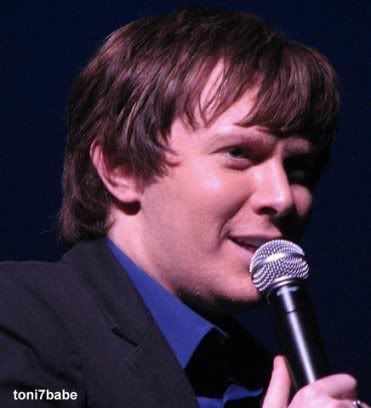 Photo by Toni7babe links to Tampa Slide Show
The Tampa Slide Show above features pictures by photographers

Toni7babe

,

Scrpkym

,

FiveGoldens

, Irishbookgal

, and

Tangerinee. The photo links to a show with a choice between gallery and fading views.
Four Florida Shows Indoors
Though Florida is experiencing the same stifling heat wave as neighboring Georgia, the tour's last four concerts are, thankfully, air-conditioned venues. All begin at 8 p.m. EDT, except Fort Meyers, which was slated 7:30 p.m.
Aug. 16 - Fort Meyers - Mann Performing Arts Center
Aug. 17 - Tampa - Tampa Bay Performing Arts Center
Aug. 18 - West Palm Beach - Kravis Center for the Performing Arts
Aug. 19 - Orlando - Hard Rock Live
PHOTO INTERLUDE: Graphics and photos from the Summer Symphony Tour are featured in this clickable interlude. Visual artists represented include Amazing_CA, photos by Toni7babe, 1; Luvbenmeg, Atlanta photos, 2 and 4; Claystruck, photos by Toni7babe and Shineinnc, 3; and Amazing_CA, photos by Snix, 5.

TBAF 'Fifth Grader' Challenge
The Bubel/Aiken Foundation co-founder will tape an episode for a celebrity edition of "Are You Smarter Than a Fifth Grader?" on Aug. 28. The Fox show, hosted by Jeff Foxworthy, will air at a later date.
In conjunction with Clay's appearance, TBAF is enlisting its supporters to make a pledge for each correct answer the singer gives. Deadline for pledges is Tuesday, Aug. 21. Detailed info about the challenge and the method by which fans can make a pledge is available at TBAF website.
Beyond the amazing exposure the show will bring, the Foundation will receive at least a $25,000 donation from the show. Anything beyond the $25,000 that Clay earns by answering "elementary" questions will also be donated to the Foundation.

He will need to answer six questions to get beyond the minimum. Eleven questions correct means the Foundation will receive a $1 million check from the show.

The Foundation is asking for pledges for each correct answer Clay gives on the show. Whether it's 50 cents or 100 dollars, every amount will help us get closer to our goal of 100 Let's ALL Play camps in 2008.
A news story about the event has been picked up by the Associated Press and is making the rounds at various media sites.
"We're excited about Clay's appearance on the show to fund raise for the Foundation. Fox has given us a great opportunity to move closer to our goal of 100 Let's ALL Play camps in 2008. Clay's appearance will also gain exposure for our goals of full inclusion.
"Of course we're hoping to win the million, but Clay's being part of their hit show will be great for the Foundation either way," said Jerry Aiken, executive director, TBAF.

Clay To Sing for Sedaka Special
On Oct. 26 Clay will join an impressive lineup of performers appearing on Neil Sedaka: 50 Years of Hits at Lincoln Center's Avery Fisher Hall.
Billed as a concert of Sedaka's songs performed by "Neil and many friends," the evening will honor the singer-composer. All of the net proceeds will benefit the Elton John Aids Foundation.
For more information, see Lincoln Center.
Two Songs Approved for New CD
As important as concert recaps are the Meet & Greet reports that participants share with fans on various CA message boards. These are paraphrased highlights from HippoGA's Atlanta session:
Clay could have a new "covers" CD out tomorrow, but an agreement has been reached to let him make the album he wants. His executive producer received word on Wednesday that two songs they submitted have been accepted, and he was very happy about that.
Asked how he and Jimmy Kimmel became such good friends, Clay said he heard the talk show host had made jokes about him. When he was asked to be on the show and was such a good sport about the famous fight scene, they became friends immediately.
Other talk show hosts -- among them Conan O'Brien -- have asked Clay to do a similar scene, while various celebrities have requested that Jimmy Kimmel stage a similar skit. Both have refused.
Of the experience, HippoGA summarized: Great memory! Love the new meet and greet format. Chitchatting with a friend who is interested in what you have to say. I'm still grinning!
Have a wonderful weekend, Clay Nation!
Caro
RELATED TAGS: Clay Aiken, A Thousand Different Ways, Measure of a Man, 2007 Summer Symphony Tour, An Evening with Clay Aiken, Chastain Park Amphitheater, Atlanta Journal Constitution American Idol Blog, Rodney Ho, AJC Access Atlanta, Allen Sullivan, Meet and Greet, The Bubel/Aiken Foundation, Are You Smarter Than a Fifth Grader?, TBAF Challenge, Let's All Play, Neil Sedaka: 50 Years of Hits, Lincoln Center, Official Fan Club, Claymates, Clay Nation