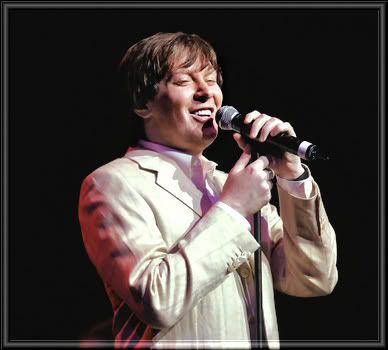 Clay Aiken performs at West Palm's Kravis Center.
Photo by Libby Volgyes, enhanced by Sally
Summer Tour Bows in Orlando
West Palm Lauds Clay Aiken
Throughout the Florida 4-fer, Clay Aiken & Company were greeted by enthusiasm and appreciation from media, symphony musicians, and fans old and new, orchestrating a memorable finale to the Summer Symphony Tour 07.
Reporting from Saturday's concert, next to last of the Florida 4-fer, Leslie Gray Streeter of the Palm Beach Post wrote that Clay is a both a singer and a showman. Below is part of her review, one of the best from the entire tour:
Aiken more than singer -- he's a showman

WEST PALM BEACH — Clay Aiken, whether or not you are a fan of his, is pretty much considered a good singer by most people who have ears.
You also may be aware that he has a gigantic following of fans, mostly female, who might best be described as enthusiastic. But until you have seen Clay Aiken, who has described himself as Opie-like, shake his slack-clad hips and belt out Naughty By Nature's extracurricular cheating classic "OPP" ... well, you just don't know anything about Clay Aiken.

Admittedly most of the crowd at the Kravis Center on Saturday already knew more about him, as many of them are Claymates, the American Idol runner-up's devoted fan base and staunch defenders against criticism of his aforementioned Opie-ness.

But even the uninitiated would have to be blind not to see that Aiken - who has an amazing range and was vocally flawless - is that rare celebrity who is both a singer and a performer, equally, even though, as he pointed out, "I am not cool." [snip]
But because Aiken revels in that, he transcends even the goofy moments into genuine entertainment, like with his cover of Bad English's "When I See You Smile." He is so uncool that he sort of is. And that's a talent.
The remainder of the Post review and comments can be read here.
West Palm Beach Slide Show
The photo below by Fivegoldens links to a slide show of West Palm Beach pictures taken by fans Saturday at the Kravis Center for the Performing Arts. The show, with options for gallery and steam views, also features photos by Scrpkym, Jtgranny, Mad4clay, Toni7babe, Leslie42, and Libby Volgyes.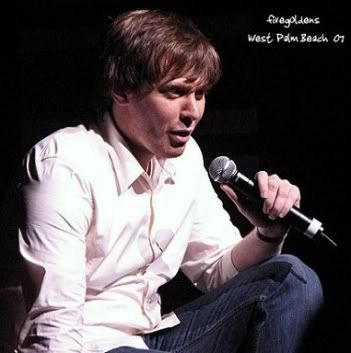 Photo by Fivegoldens links to West Palm Slide Show
Reviewer Somewhat 'Clayverted'
In her blog Sunday morning, Streeter continued writing about Singer Man: CLAY AIKEN: THE AFTERMATH! The entire entry with comments can be read at the above link.
So you're going to be Clayverted!"

More than one Claymate, or hopelessly devoted fan of singer, humanitarian, near-American Idol and cultural phenomenon, decried that by the time Clay's show at the Kravis Center was over, I would be one of them, ready to don the T-shirts, join the Internet groups and plan my vacations around Mr. Aiken's concert schedule.

So now? I'd gladly see him again, because he was great. Do I see me wearing a Clay T-shirt or traveling to see him or joining a huge network of Clay fans ... Uh ... don't kill me, but not really. I'm a fan now, but not one approaching the heights of what I've seen in my week of Claymate exposure. But I get it now, now that I've seen Clay Aiken and found him wonderful.
A Week of Clay in West Palm
During a week of pre-coverage leading up to Saturday's concert, the Palm Beach Post spotlighted four Clay Aiken Fans. To link to all the featured fans and their comments, see "Days of Clay" in the "Recent Entries" sidebar.
Accompanying Sunday's Palm Beach review is a photo gallery of pictures by Libby Volgyes entitled Clay Aiken in Concert. An example is this blog's lead photo.
Following Saturday night's show, James, a 38-year-old male blogger, posted this entry in his My Space blog:
Hi friends...I just came back from watching my first "Clay Aiken" concert here in West Palm Beach...The boy can sing...And he has a sense of humor...He should advertise his concert as more of a "variety" show...I truly think the guy can sing, dance, tell jokes, rap, and actually act cool...I went to the concert expecting to leave bored; however, I was highly impressed...I give it 4 out of 5 stars...
Tampa Slide Show
The Tampa Slide Show begun in the previous entry has expanded to 28 photos from Friday's concert. Photographers represented include Toni7babe, Scrpkym, FiveGoldens, Irishbookgal, and Tangerinee. Toni's photo links to a show with a choice between gallery and fading views.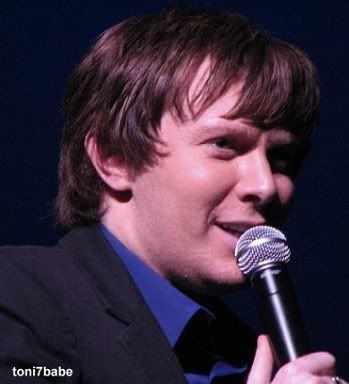 Photo by Toni7babe connects to Tampa Slide Show
Tour Closes at Hard Rock Live
Phenomenal vocals, playful banter, and pensive farewells marked the final bow of Clay & Company's Summer Symphony Tour at Hard Rock Live - Orlando Sunday night. The venue was packed with faithful fans and newcomers alike, while thousands around the globe listened via cellstream to an entertaining but emotional finale.
Here are the opening graphs of Matthew J. Palm's Orlando Sentinel review, Clay Aiken packs surprises into a goofy night of fun:
The show, the final stop of Aiken's current tour, was full of surprises -- most of them surreal. I really never thought I would see hip-hoppy "O.P.P" mixed with Kenny Chesney's "She Thinks my Tractor's Sexy" in a medley backed by violins and cellos. Strangely enough, the more goofy things got, the more the show clicked. [snip]

The night was well-stocked with cover songs, which make up the bulk of Aiken's latest album, A Thousand Different Ways. Some suited him better than others -- the soaring "Without You" (most recently a hit for Mariah Carey) showcased his tremendous upper range.

The complete article and comments can be read at the above link. You can view six photos by OS photogapher Hilda M. Perez at Clay Aiken Concert.
Orlando Slide Show
The Orlando Slide Show features photos from Sunday's closing concert. Photographers represented include Invisible926, ClayGlo, Toni7babe, and Brightstar. Invisible's photo links to a show with a choice between gallery and fading views.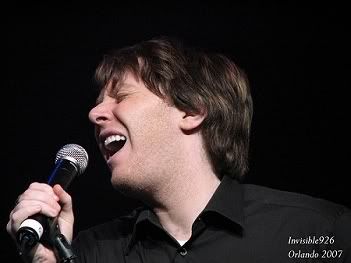 Photo by Invisible926 links to Orlando Slide Show
What a ride Singer Man has taken his fans on this summer! Have a wonderful week, Clay Nation!
Caro
RELATED TAGS:
Clay Aiken
,
A Thousand Different Ways
,
Measure of a Man
,
2007 Summer Symphony Tour
,
An Evening with Clay Aiken
,
Kravis Center for the Performing Arts
,
Hard Rock Live Orlando
,
Palm Beach Post
,
Leslie Gray Streeter
,
Libby Volgyes
,
Orlando Sentinetl
,
Matthew J. Palm
,
Hilda M. Perez
,
Official Fan Club
,
Claymates
,
Clay Nation