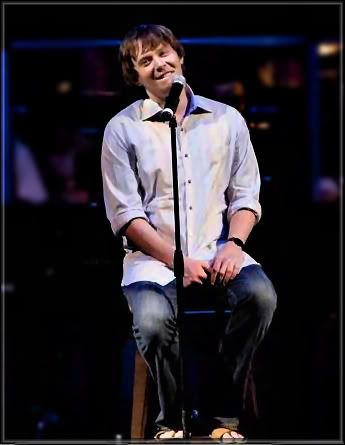 Clay Aiken finishes song at Cary's Koka Booth Amphitheather.
Photo by Jonathan Stotts, enhanced by Sally
Via Global Aiken Network
Fans Share NC-TN Concerts
What a special "hometown" concert weekend the Clay Nation just experienced -- either firsthand by those present at the three venues or the thousands who participated vicariously via technologically beamed Internet reports, cellcerts, and pictorial, video, and audio clack around the globe.
Clay Aiken & Co. this weekend presented three concerts in North Carolina and Tennessee, close enough that many fans attended all three. Beginning Friday in Cary, the outskirts of Raleigh, Clay and his musicians also performed with symphony orchestras in Asheville and in Knoxville.
Articles, reviews, and photo galleries from the NC-TN concerts are still prevalent in the media. In addition, special connections with new CA fans headline posts throughout Clay Cyberspace.

'A Miracle in Cary'
Excerpts from Monday's Beavers on Idol article by Pamela Matthews are shared here. For the complete story, see Clay Aiken: A Miracle in Cary. The photo was taken by Pink Cocoa.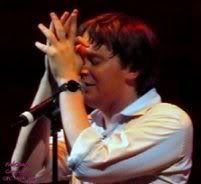 Something amazing happened last Friday night ... something intangible, ethereal, a thing of true beauty.

Hand in hand with his back-up singers, struggling a bit to choke back emotion, Clay's performance moved his audience inside the venue and out along Internet bandwidths. The essence of the lyric and the solidarity of the moment were carried into hearts across the nation and even into other countries, as fans listened on collective cellcerts, read immediate reports and later that evening watched video of the event.

As the last chord of the song was played and the rousing ovation began, Clay clasped his hands above the mic stand, closed his eyes and appeared to be in silent prayer.
Comments are being read and added here.
Wendy Lemus of the The Cary News Tuesday posted a review of Friday's concert entitled Image No Problem for Aiken. This is a paragraph from the "being cool" segment:
Really, Aiken could care less. And that's the point. He knows who he is, who his fans are, and most importantly, he can have a little laugh and not take himself too seriously.

WRAL's Cary Photo Gallery features pictures taken by Jonathan Stotts at Friday's concert. An example is this blog's lead photo.
Cary Slide Show
The Cary Slide Show begun in the previous entry has expanded to 34 photos by six photographers, including Toni7babe, PinkCocoa, Farouche, LynninNJ, Irishbookgal, and KSChristian4Clay.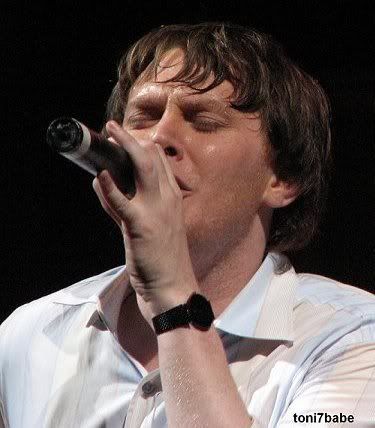 Photo by Toni7babe links to Cary Slide Show
Asheville Paper Provides Photo Gallery
Fans can link to 24 photos of Clay Aiken at Biltmore Estate by clicking on the singer's image midway down the "Web Extra" page of the Citizen-Times online.
Jason Sandford's photos present a concert overview of the singers on stage, Asheville Symphony musicians, and fans from as far away as Vancouver, Washington, and New York. The CTRL key will temporarily bypass a pesky pop-up blockers.
Asheville Slide Show
In addition, the Asheville Slide Show begun in the previous entry now features 34 photos from Saturday night's Summer Tour Concert at Biltmore Estates.
Photographers represented are Fivegoldens, Heavens2, Irishbookgal, NCSUPack88, Invisible926, Scrpkym, and Shineinnc.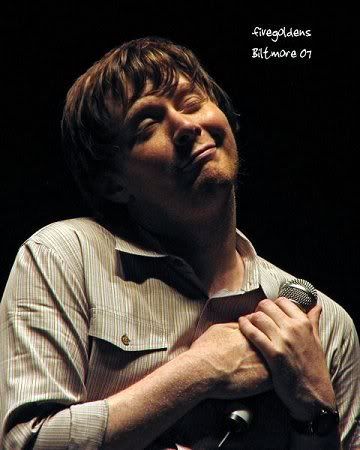 Photo by Fivegoldens links to Asheville Slide Show
Pickle Reviews Knoxville Concert
Singer Clay Aiken opened his Sunday night concert at the Tennessee Theatre by tackling a local legend, and he held his own admirably.
Betsy Pickle, reviewer for the Knoxville News-Sentinel, wrote that Clay and his talented backup singers are "first rate." The entertainer not only has a beautiful voice, but he is also funny, charming, and charismatic. In her opinion, what he needs is good, new material.
The entire review can be read here: With Personality and Charm, Aiken Holds His Own at Tennessee.
The writer's blog, The Pickle Dish, is also devoted to Clay's concert: Aiken for an Argument. In the comments, Ms. Pickle has received quite an education about a "mandated covers album," posts in agreement and disagreement with her opinions, as well as a lecture (or two) about her non-mentions of the beautiful originals "Lover All Alone" and "Measure of a Man" in the concert review.
Knoxville Slide Show
The photo below by Fivegoldens links to a slide show of Knoxville concert pictures taken by fans Sunday at the Tennessee Theatre. The show also features photos by Invisible926, Jtgranny, Luvbenmeg, DianaGreenEyes, and ClayIzzaQT.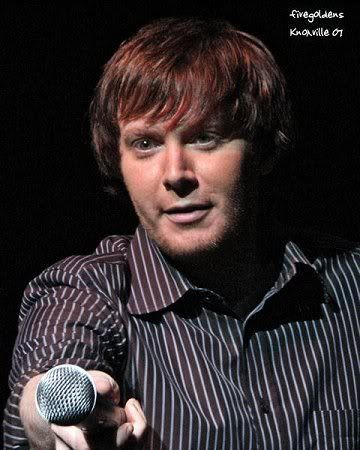 Fivegoldens photo links to Knoxville Slide Show
Fans Treasure Special Connections
Below are stories that don't usually make media reviews and articles. However, these concert connections are gems Clay fans delight in sharing with each other. Special thanks to these fans for allowing me to include several such instances from the Asheville concert.
Dowoper: Clay is winning them over at each show. We had two guys behind us who whined from the moment they sat down, saying they were there for the orchestra, not for Clay. And they sure hoped people didn't stand up and block their view, etc, etc.

They were really were getting on my nerves, but by "The Way You Make Me Feel," they wee standing, clapping, singing along, and having a blast. I heard them laughing out loud big time during much of Clay's banter. They stood the rest of the show and cheered wildly at the end. Yep, one at a time, they fall.

Tdallasw: I was sitting next to two young women from Wilmington (opposite end of NC) who had never been to a Clay concert, weren't very familiar with his shows, and had no idea what to expect. Someone had given them the tickets, and they asked if I thought the show would be any good. I told them, "You have NOOOOO idea what you're in for. He is going to blow you away!"

Suffice it to say, by intermission they were gonners. They couldn't wait to go out and buy ATDW, and they hope to see him again as soon as possible. I love seeing a true "Clayversion" in progress. It made my night.

Libbyc: Clay was definitely smokin' in the Smokies! As diverse a crowd as I've seen. The couple sitting next to us were there for their 34th wedding anniversary. When we asked the gentleman whose idea it was to attend the concert, he said he was the Clay fan and wanted to come.

The man directly behind us said he had never heard anyone sing "Mary Did You Know" as well as Clay and proceeded to sing every Clay song during the concert.

'Welcome to the Club, Honey'

Raleighlady: A woman on our row was a Rod Stewart fan, and this was the first Clay concert she had ever attended. We looked over at her at the end of the concert and saw that she was bawling her eyes out. Just bawling, wiping her eyes with tissue. She literally could.not.stop.crying.

She said it was just wonderful. She followed us all the way out of the venue, still crying. I put my arm around her shoulders and said, "Welcome to the club, honey."

Sunday13: The best concert of the four I've seen this tour. Sitting next to me was a young boy about eight years old who came with his mom. He knew the lyrics to all of Clay's songs and was singing them out loud.

As we were heading out after the concert, a group of teenagers asked one of the security guards, "Is Clay coming out for the touching?" I thought that was hilarious.

Cindydoe: My husband went with me to Asheville, his first Clay pop concert. He saw him at Christmas two years ago.

"Why doesn't anybody know about this?" he said to me. I asked what he meant. He said he had never witnessed anything like this, so many people from all over, the magic of the shows, the special bond we all have with each other and with Clay. By "anybody," he meant the media. I told him that they preferred to make a joke about it. He couldn't believe it and thought the CA concert experience was very special.
This clickable graphic by Amazing_CA features photos taken by Betsy at the Asheville concert: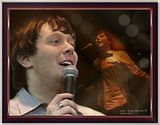 A personal thank you to Margaret5828 who gave me a cellcert from all three NC-TN concerts. It wasn't her fault that I accidentally struck a key during Act 1 of the Asheville show and was soon hearing the operator's recording: "If you'd like to make a call, please hang up and try again ... "All were special gifts, and two out three were heaven.
Remaining Tour Schedule
Aug. 15 - Atlanta, GA - Chastain Park Amphitheater
Aug. 16 - Fort Meyers, FL - Barbara B. Mann Center
Aug. 17 - Tampa, FL - Tampa Bay Performing Arts Center
Aug. 18 - West Palm Beach, FL - Kravis Center for the Performing Arts
Aug. 19 - Orlando, FL - Hard Rock Live

Have a wonderful week, Clay Nation!
Caro
RELATED TAGS:
Clay Aiken
,
A Thousand Different Ways
,
Measure of a Man
,
2007 Summer Symphony Tour
,
An Evening with Clay Aiken
,
Koka Booth Amphitheatre
,
Biltmore Estates
,
Tennessee Theatre
,
Beavers on Idol
,
Asheville Citizen-Times
,
Knoxville News Sentinel
,
WRAL
,
Jonathan Stotts
,
Jason Sandford
,
Betsy Pickle
,
Official Fan Club
,
Claymates
,
Clay Nation