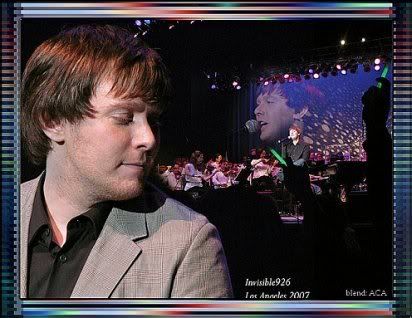 Clay Aiken performs at The Greek -- Graphic by Amazing_CA, photos by Invisible926

An Aiken Family Reunion
Fans Convene for NC, TN Shows
The "family reunion" atmosphere surrounding any Clay Aiken concert is multiplied ten-fold when the singer returns to his hometown of Raleigh. The non-stop party in nearby Cary began in earnest Thursday and continued through a "morning after" breakfast Saturday with most concert-goers hopping into their vehicles and heading to Asheville for Act 2 of Clay's North Carolina homecoming.
For a taste of the "Mecca" happenings, take a look at the Cary schedule of events printed at the awAikening site.
The Summer Symphony Tour's southern leg this weekend includes consecutive concerts Friday - Sunday in Cary (Koka Booth Amphitheatre, 8:30 p.m.), Asheville (Biltmore Estates, 8 p.m.); and Knoxville (Tennessee Theater, 8 p.m.).
Cary Slide Show
Claystruck's graphic, photos by Toni7babe, links to a slide show of Cary pictures from the "Clampton Inn" banner through Friday night's concert. Photographers represented include Toni, PinkCocoa, Farouche, LynninNJ, and Irishbookgal.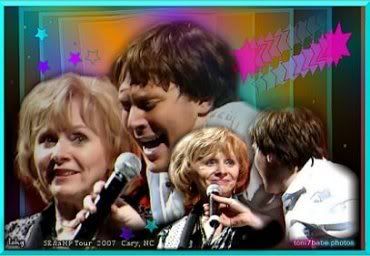 Graphic links to Cary Slide Show
Asheville Slide Show
The photo by Fivegoldens links to a slide show of Asheville pictures from Saturday night's Summer Tour concert at the Biltmore Estates. With a choice of either original or gallery view, the show includes these photographers: Fivegoldens, Heavens2, Irishbookgal, NCSUPack88, Scrpkym, and Invisible926.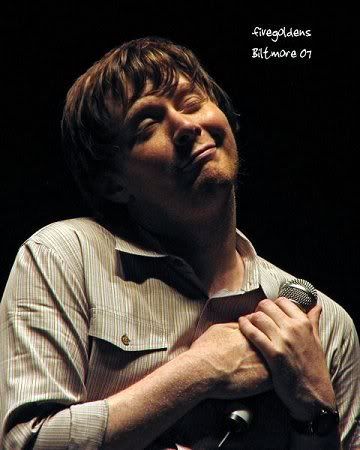 Photo links to Asheville Slide Show
Concerts Promoted by Media
Clay's return to his southern roots has been a popular media topic this week. Below are four articles with highlighted paragraphs and a link to read more:
Fayetteville Observer: 'Idol' Star Comes Home To Sing
Aiken has put together no less than seven tours since his elimination from the show in 2003, as well as three albums — "Measure of a Man" (2003), "Merry Christmas With Love" (2004), and "A Thousand Different Ways" (2006). With sales of 4.6 million in the United States, he is considered the most successful second-place finisher in "American Idol" history.
Aiken was only the fourth artist ever to have his first three albums debut in the Top 5 on the Billboard charts and sell more than 200,000 copies in the first week. "A Thousand Different Ways" debuted at No. 2.
Asheville Citizen-Times: Aiken Hits Asheville
With Aiken backed by members of the Asheville Symphony Orchestra, it sounds like the makings for a night of smooth music. And while Aiken may not rock as hard as the B-52's — who had a huge Biltmore crowd in a frenzy last weekend — he's got a wildly loyal audience and Aiken can work a crowd.
Mountain Xpress: Forming Clay Into Rock
The entertainer's most unique quality, ironically, may be his bid for across-the-board acceptability. Sneer if you must, but when the Top-40 charts are clogged with angsty Avril Lavigne and Amy Lee numbers, a reprise of the feel-good Laverne & Shirley theme song kind of hits the spot.
Uniquely Knoxville: Clay Aiken Performing with a Full Orchestra
No slave to fickle trends or fashion fads, Clay Aiken has once again listened to his heart and has come up with an album that extols the value of love in all of its myriad forms.
The singer's third CD, "A Thousand Different Ways," offers fans 10 cover versions of love songs spanning the last three decades, as well as four brand-new songs that are destined to become Aiken classics in their own right. Aiken performs with a full symphony orchestra at the Tennessee Theatre.
Comments Worth the Read
As always, the comments are worth checking, too. This is one of several recorded at the Mountain Xpress site:

We knew since AI of his terrific voice, but were astounded by the talent this man actually possesses. He's become a multi-faceted entertainer with quick wit and great comedic ability.

And the way he warmly connects and interacts with an audience is impressive, to say the least. However, there is one downfall to attending his concert -- knowing the wonderful evening has concluded and there won't be another concert for you to attend until his next tour.
PHOTO INTERLUDE: This clickable interlude features photos and a graphic from the California 4-fer, including Jtgranny, 1; PermaSwooned, 2; Amazing_CA, photos by Jtgranny, 3; Toni7babe, 4 and 5.

Though all eyes are on North Carolina and Tennessee this weekend, reports of "Clayversions" and Not.Just.Us stories fill California recaps still making the rounds in Clay Cyberspace. Here are a few examples.
Fans Meet Many Newbies
Lovethatguy: At Pala, Gareem and I met two girls who had won tickets to the show from the local radio station -- one of those "we loved him on AI but had no idea what he has done since."

One of them noticed my CV badge; so, of course, we launched into the whole explanation of CV, the Internet, Clay Nation, etc. By the time we said goodbye, Gareem had her e-mail address like a good little Claymate. And they were very pumped up by all we told them. I am positive they had a great time.

A newbie couple sat next to us at Pala, too. They loved the concert! After hearing that Clay was playing at The Greek and Indio next, they said they were going to get tickets to those, too.

At Indio, a newbie couple told Gareem said they came because they saw the billboard while vacationing in Palm Springs. They loved the concert!

A very tall, thirtyish man sat right in front of me at Indio. He brought a lovely older lady with a walker, and it was obvious he was there only for her. By the end of the concert, he was really into it -- loved the Classics Medley for which he stood and danced.
Pitch-Perfect Voice with Wide Range





Ymarie

: In San Diego I sat in front of a middle-aged man there by himself. At intermission he told me he had a master's degree in voice and listened to singers with a very critical ear.

He said Clay has improved so much over the last four years and that he has one of the most pitch-perfect voices he's ever heard. Clay is a natural baritone with a fabulous falsetto range, he said, and it takes a lot of testosterone to sing in the upper head range. It's harder on the voice, but everybody wants to hear those high notes.

He took some grief from his daughter about attending a Clay Aiken concert, but it didn't bother him at all. He likes Clay, and also Michael Buble. He was impressed with Clay's charitable works and his down-to-earth personality.

'Best Show Ever' at Pala



PermaSwooned

: The line to get to the Pala concert area, even with three doors open, stretched all the way across the lobby, restaurant, shop areas, and almost the whole width of the casino.

There was a guy behind me that kept shaking his head in disbelief. He said he was from the area and had attended every single show they had ever had at Pala. He kept saying he had never seen anything even close to that kind of crowd before. He said his "casino host" had told him that they had to pull in extra staff to handle the size of the crowd, and a lot of the various guest services areas were completely overwhelmed.

I saw this same guy after the concert. He just LOVED it! Previously, he really didn't have much of an idea who Clay was, but he raved about what an all-around entertainer he is -- great voice, hilarious banter, terrific interaction with Quiana, Angela, and the audience.

He said it was by far the best show he had ever seen there, and he was going to make sure the casino management knows how great it was and to make sure Clay comes back.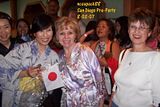 Japanese Fans Meet Faye Parker
Photo by NCSUPack88
MIL Provides Fitting Postscipt

In the Aug. 4 entry, I quoted Spotlightlover's moving description of meeting the Japanese Clay fans in San Diego. These women not only attended the four California concerts, but several are experiencing this weekend's family reunion in Cary.

For me, meeting these women was the most magical moment of the night. No, not because they knew who I was, but because across the vast Pacific Ocean, culture differences, and a language barrier, we have all become a part of this awesome phenomenon. I had shared something with them, not even knowing it; and that made us comrades from half a world away.

I think now, for me, that's what this is really all about. It's no longer just about a skinny kid from North Carolina with an incredible voice who got the chance of a lifetime. It's how his effect on us has brought us together into a big family, and every concert is like a family reunion.

This week I read several paragraphs of the earlier blog to my mother-in-law in Odessa, TX. Her one-sentence response struck me as the perfect postscript: The Clay Nation is doing things that poor old missionaries can't get done.
Below is a clickable of Amazing_CA's opening graphic: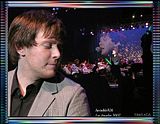 Knoxville Not Meant To Be
My friend Sally's overnight flight from LA to Atlanta was delayed 12 hours. After running around LA with her family for 10 days, including a 65-70 mph 20-mile ride on the back of her son's Harley (wish we had a picture of that!) and an evening whooping it up with Clay fans at The Greek, Sally arrived home Thursday morning totally wiped out.
We won't be traveling to Knoxville. With the heat the way it is, my doctor is relieved I am not making the trip. We are both very disappointed, but that's the way it is. Hopefully, the tickets will be waiting at the Knoxville Hilton desk for Margaret5828, our benefactor, so she can give them to people sitting farther back or in need of seats.
We will enjoy the concert via clack, which has been totally awesome this tour, and perhaps get in line for a set of concert DVD's. For all those Clay fans we were planning to meet, there will be a next time. Y'all have a blast this weekend!
The Short Version
The entry that was to appear as Friday's edition in my three-day blogging cycle would have been a simple graphic followed by the usual "wonderful weekend" salutation -- by far the shortest at this corner in modern times!
Before the Knoxville plans changed, Cindilu2 reworked her July calendar for my "Blog on Vacation" post. It's just too cool not to run, so here is what almost was ...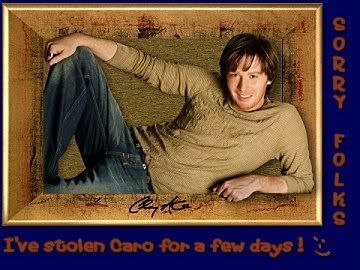 Have a wonderful week, Clay Nation!

Caro
RELATED TAGS:
Clay Aiken
,
A Thousand Different Ways
,
Measure of a Man
,
2007 Summer Symphony Tour
,
An Evening with Clay Aiken
,
awAikening
,
Koka Booth Amphitheatre
,
Biltmore Estates
,
Tennessee Theatre
,
Fayetteville Observer
,
Asheville Citizen-Times
,
Mountain Xpress
,
Uniquely Knoxville
,
Official Fan Club
,
Claymates
,
Clay Nation