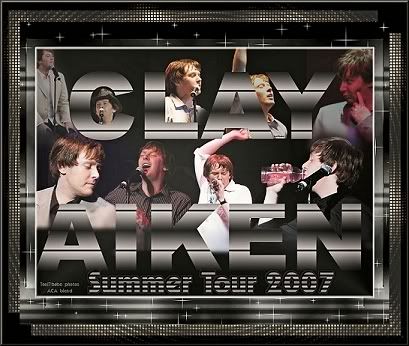 Summer Tour 2007 -- Amazing_CA graphic with photos by Toni7babe
Not.Just.Us Stories Shared
NC Fans Fly Home with Clay
The beautiful "I Want To Know What Love Is" duet that became a memorable threesome in Orlando, the moving rendition of "Measure of a Man" reaching emotional pinnacles, the predictable but unexpected moments of laughter and sadness of a final show are still primary topics in Clay Cyberspace.
The final notes of Clay Aiken's Summer Symphony Tour still spiral throughout the fandom as concert clack is in major upload mode.
Icing on the Florida 4-fer for three North Carolinians arrived seconds before take-off when Singer Man bounded onto their Delta flight home. This is the story of three fans -- Cindydoe, NCClayfan, and MAL -- who politely allowed Clay much-needed space but still managed to express their appreciation for the summer tour.
On Tuesday, Cindydoe and NCClayfan told their tale in back-to-back posts at Clayversity. No doubt many have already read about the incident, which has rightfully claimed a niche in CA fandom lore. Minus the emoticons, here is their commentary:
CINDYDOE: Clay was on our flight home!!!!! EEEEEEEEEEEEEEE!!!!!
As we sat on the plane, NCClayfan had just said to me, "As long as that door is open, there is still hope." Ten seconds later, there he was! Of course, we didn't say anything, but he had to notice the difference in cabin pressure as the three of us gasped for breath at the same time.
I'm sure I'll have a bruise on my arm and leg tomorrow from the two Mary Ann's. He sat four rows behind us and across the aisle with Jamie. He was in the window seat. We did not turn around to stare; and that was hard.
Trio Sends 'Off the Chain' Note
When the stewardess came with drinks, we jokingly and quietly asked her if we could have Clay Aiken's cup. She said, "So that was him? I thought it looked like him!"

We wondered if he would be at baggage check, what should we say to him, if anything. We decided we would get off the plane as usual and give him his privacy. But,we did write a note on our Delta napkin:
Thanks for the tour. It was "Off the Chain!"


We got off the plane and asked the stewardess if she would the note to Clay; she said she would. We got to where he couldn't see us, and peeped though a tiny window and watched as he stood in the door of the plane and read "our" note.

Yes, we are 12 years old!!! That was certainly the icing on our sweet cake of a weekend!!!
NCCLAYFAN: He was on our plane, he was on our plane!!! We breathed the same air for two hours!!!
One ticket to see Clay Aiken -- $100.00
Four days of Clay in Florida -- Over $1000.00
CLAY AIKEN on your return flight home -- PRICELESS!!!!!!!!!!
I was looking out the tiny peep hole giving a play by play, "He's in the doorway. She handed it him. He's reading it!"
After Clay read the note, he looked up, and I am pretty sure I saw a smile. He held the note in his hand as he went over to claim his bag that was on a rolling cart beside the plane. As he headed to the awaiting car, he still held our note in his hand.
PHOTO INTERLUDE: This clickable interlude features tour memories by seven visual artists, including Amazing_CA, photo by PinkCocoa, 1; Ambassador of Love, photo by Snix, 2; Claysmelody, photo by Toni7babe, 3; Ambassador, photo by Toni7babe, 4; and Amazing_CA, photo by Shamrock, 5.

Throughout the past two months, fans have shared countless "Clayversion" and Not.Just.Us. stories in concert recaps. Here are five from the Atlanta and Florida shows.
Goose Bumps in Any Language
PLATINUM: In the Orlando handshake line, I was standing next to a woman who was just looking out over the lake at the lights and I said to her, "It's pretty, isn't it?" She responded that she didn't understand English.

Her husband speaks English and translated for me. He told me that they were from Venezuela and came to the US specifically to see Clay. His wife downloads all of his videos off the Internet and watches him on YouTube, too.

Through her husband, the wife told me she loves Clay and thinks he is beautiful. I asked what she thought of the concert, and she grabbed at her arm in an up and down motion. This must be the universal sign for goose bumps.

She only has "A Thousand Different Ways," so I got her e-mail address and will send her some of the extras I have at home. I can't tell you how thrilled she was to get a handshake!
Couple Blown Away in Tampa
SICLAYFAN: At the Tampa concert I sat next to a couple, the wife being a NJU fan. She liked Clay, had his CD's, but had never seen him live before. She tried for tickets for the IT but when she couldn't get floor seats, she didn't bother going. She had no idea Clay had toured since then.

Her husband pretended to be bored at the beginning, but at the end, he said he would definitely see Clay again. The wife told me her husband had worked for Clear Channel and as a result she had seen many, many concerts, but had never been to anything like this one. She was blown away.

Clay didn't mention his writing the lyrics for "Lover All Alone" before he started to sing, so I informed the husband, who was sitting next to me. He thanked me for telling them when it was over.

PLATINUM: In the long line waiting to get into Hard Rock Love, I was standing in front of a man who was by himself. We started talking, and I learned he was an exchange student from Jamaica who loved Clay on AI and wanted to see him. He thought Clay had a fantastic voice.

ROSEVIOLET: What a great tour. My daughter's sister-in-law, who is 14, went with us to the Atlanta concert. It's been a couple of years since she last saw Clay, and she had moved on. While looking at the book handed out at the venue, she turned to Clay's picture and didn't recognize him. When told that was Clay, she exclaimed, "Whoa! He's hot!"

When she read he was going to sing "Right Here Waiting," she got very excited. Apparently, that is one of her favorite songs. She just loved the Classics Medley.

After the concert we stood in line for the handshake; and after Clay touched her hands, she jumped up and down screaming and said she was never going to wash her hands. It was quite fun to watch.
Best Last-Minute Decision Ever
MUSKIFEST: I had a seat alone in West Palm Beach and ended up next to a cute girl in her 20's. It didn't take me long to find out she was a "Clay Concert Virgin." She said she loved him on AI, had heard some of his music since, saw him on the AI5 finale and thought his voice was great but hadn't really followed his career.

She asked some friends to go with her but they all did a "Sure, thanks, but no thanks" thing. At first she gave up. The day before the concert she suddenly decided to go by herself.

It was so much fun watching her soak it in, murmur "wow" in awe of MOAM and IWTKWLI, clap her hands raw, and basically succumb to the power of Clay!Aiken!Live! During intermission we talked; she knew about Clay's UNICEF and BAF work, and I was overjoyed at that. I explained some of the "inside jokes" happening on stage so she'd have a better context.

She loved the TV Medley and sang along with most parts. The Classics Medley had her guffawing. During "Because You Loved Me," a lady on the other side offered her a glow stick, which she waved along with the audience.

When it was over I asked her what she was going to say to her friends. Her reply? "I'm going to tell them that buying that ticket yesterday was the best last-minute decision I've ever made!"
This is a clickable of Amazing_CA's lead graphic: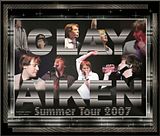 News in a Nutshell
Below are five non-tour related happenings making the news in Clay Land:
In conjunction with Clay's taping of "Are You Smarter Than a Fifth Grader?" on Aug. 28, The Bubel/Aiken Foundation is enlisting supporters to make a pledge for each correct answer the singer gives. At 10:30 p.m. Saturday, the pledge total was $73,108.72.
Deadline for pledges has been extended to Monday Aug. 27. Detailed info about the challenge and the method by which fans can make a pledge is available at TBAF website.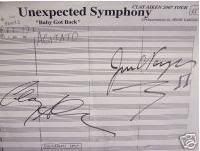 Want to own the original score from the Summer Tour's "Classics Medley"? Then link to the Inclusion Revolution Brigade's BAF-approved Ebay Charity Auction by clicking on the photo above.
The spiral bound score, autographed by Clay and conductor-arranger Jesse Vargas, is displayed in a glass shadow box. Current bid on the "Unexpected Symphony" is $1,125. Bidding continues through the end of August, and all profits go to TBAF.
Other items include a crafted purse signed by Clay, Faye Parker, and Diane Bubel (current bid of $255) and Clay Aiken's 2006 Joyful Noise Christmas Tour baton (currently $127.50).

Crooner's Christmas CD
Clay is featured with nine legendary artists on a special Christmas album at CD Universe, including Elvis, Johnny Mathis, Tony Bennett, Dean Martin, Nat "King" Cole, Perry Como, Frank Sinatra, Bing Crosby, and Andy Williams.
For the sale price of $4.78, this is a CD not to be missed. The first cut is Clay's "What Are You Doing New Year's Eve?"
Fourth Annual Craft Sale for TBAF
What can be better than shopping from home and benefiting TBAF? The foundation-approved online craft sale at Allicat Designs kicked off Aug. 18 will run through Sept. 18.
Among the craft items available are bumper stickers, note cards, waterproof bookmarks, t-shirts, pens, claytoon transfers, magnetic calendars, and Bead for Life earrings. Paypal payments are accepted.
Neil Sedaka, Still Keeping It Together
Clay will be among several guest performers joining singer-songwriter Neil Sedaka when he celebrates his 50th anniversary in the music business at Lincoln Center's Avery Fisher Hall on Oct. 26.
At the above link, you can listen to a National Public Radio Fresh Air interview in which Sedaka talks about his life as a performer and his career-spanning greatest hits compendium, The Definitive Collection.
During the show, he discusses the process by which he appeared as an American Idol guest judge on Season 2 and Clay's subsequent recording of his hit, "Solitaire."
Have a wonderful week, Clay Nation!
Caro
RELATED TAGS:
Clay Aiken
,
A Thousand Different Ways
,
2007 Summer Symphony Tour
,
Measure of a Man
,
I Want To Know What Love Is
,
Right Here Waiting
,
Lover All Alone
,
The Bubel/Aiken Foundation
,
Are You Smarter Than a Fifth Grader?
,
TBAF Challenge
,
Crooner's Christmas CD
,
Fourth Annual Craft Sale
,
National Public Radio
,
Fresh Air
,
Neil Sedaka
,
Handshake Line
,
Official Fan Club
,
Claymates
,
Clay Nation