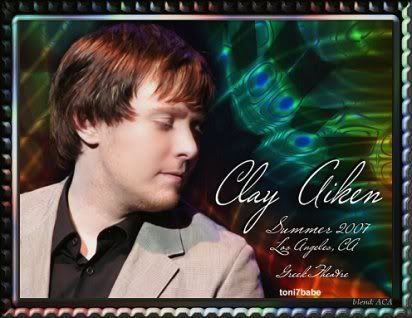 Clay performs at The Greek -- Amazing_CA graphic/Toni7babe photo
Aiken Tour Homeward Bound
CA Concerts Capture New Fans
One of the most exciting aspects of Clay Aiken's Summer Symphony Tour has been the growing number of attendees totally surprised by the quick wit that accompanies the famous pipes, resulting in an unexpected, very entertaining evening and a host of new fans.
These "Clayversion" experiences from the four California concerts -- San Diego, Pala, Los Angeles, and Indio -- were relayed via recaps shared on message boards following the shows.
SmartyPantsSuz: Sitting behind us at the Greek was an older couple (late 60's - early 70's) who had never seen a CA concert, though they knew of him. She was a teacher and was aware of his foundation. Their first interaction with fans was at Louise's when they saw the large group on the patio and asked about them. They talked with some fans and were impressed that folks came from all over and had formed deep friendships because of their appreciation of Clay.

They absolutely LOVED the show! The woman was grinning from ear-to-ear during the Classics Medley and let out a whoop when Clay started in on "She Thinks My Tractor's Sexy." The husband said Clay is very entertaining. I got their address and will be sending them some DVD's. They were beyond excited to be getting something from the Greek.
Suziebird7: A young African-American serviceman in front of me at The Greek was loving the show. At intermission he said (paraphrased), "It's like a symphony show and a stand-up comic and a REALLY GOOD concert all together."
Toni7babe apologetically posted this dark photo at Clayversity Monday night and was promptly greeted with much appreciation, as the Greek concert's demographics are quite evident in the shot.

Once enlarged, the photo shows Mama Faye Parker on the left plus a large contingent of men in the audience with Clay seeking lyrical assistance for "The Way You Make Me Feel."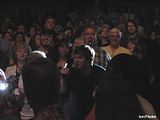 Clickable by Toni7babe
Men Appreciate Clay's Humor
SmartyPantsSuz: At Indio, we had four guys sitting in front of us. One had followed Clay during AI and mentioned that he thought Clay was very talented. During intermission, they said they were enjoying the show, and afterwards, they all said the show was great.
I specifically asked about the Classics Medley. Their eyes lit up and said that was the best of all. One guy said that Clay should sing more songs like those. I told him that was part of the point of that medley, to show that he CAN sing songs like that. They shook my hand and told me it was great to meet a real fan.
While we were gathering some of the set lists and TWYMMF lyrics off the stage, a gentleman came over with more copies. Turns out he was the leader of the "band" (his word). We asked what it was like to work with Clay, and he said Clay is very nice and that he was quite impressed with him. We complimented him on his orchestra, and he said he hoped Clay would come back to perform again.
PHOTO INTERLUDE: Scenes from the California 4-fer are combined with graphic designs from previous concerts in this clickable interlude, including Toni7babe, Greek photo, 1; Amazing_CA, photo by PinkCocoa, 2; Jtgranny, Greek photo, 3; Ambassador of Love, photo by PinkCocoa, 4; and Toni7babe, San Diego photo, 5.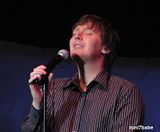 Japanese Fans Clayvert Bus Driver
This story is too good not to share. A former journalist, I always identify Clay Land sources with screen names. In this report, there is no such ID.
At Clayversity, we have been kept abreast of the adventures of the Japanese fans via email reports from their translator to Momof3boys. Apparently in Pala, the group of Japanese women experienced their own "Clayversion." The source we will call Friend of Momo; here is part of what transpired:
I had prepared some clack to watch for the bus rides. The first DVD was JBT 50's & 60's. The driver was singing along and tapping his fingers to the beat, etc. After a while, he said, "Who WAS that? I must have a copy of that!!" We all laughed.

Since we had so many extra tickets, we gave him one. The man had his camera AND video. Imagine that a bus driver took clack. He told us after the concert that he was (and I am quoting him now) "I was so blown away! I had NO idea about Clay! He is an entertainer, a comedian and THAT voice!"
Obviously, the driver is someone who knows and understands music. He told us that he was serious about buying Clay's CDs. He was very disappointed that he could not buy the CD's during intermission.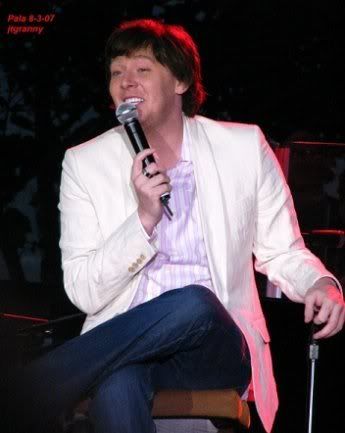 Photo links to 'Clay Aiken, Funny at Pala, Part 1'
Videos by Jojoct, Spotlightlover; photo by Jtgranny
Flat Clay a Hit at Pala
Anyone who has viewed clack from the Pala concert knows about Flat Clay, a life-size cardboard version of the singer with a four-year itinerary that has included countless concert pre-parties.
In the YouTube montage, prepared by GoodBabyBrush with videos by Jojoct and Spotlightlover, Angela points out FC watching the concert from a hotel window. After joking about his cardboard look-alike, Clay and his backup singers hammed up a serenade to his alter ego during "When I See You Smile."
Artquest, keeper of FC, explained in her recap that cardboard Clay is always along for the ride. As she told Clay when quizzed during the concert, they just fold him in half and hit the road.
Due to back problems, Artquest's husband returned to their room during intermission. "The next thing we knew, Flat Clay was dancing in the window. The audience howled, and he danced again throughout TWYMMF."
Saltwaterdog: At Pala, two couples directly in front of my husband and me were newbies. One couple had seen an AI 2 show, but this was their first Clay Aiken concert. They all were interested and enjoying themselves early on in the show, but when Clay spotted the "Flat Clay" cardboard cutout in an upper hotel window, they were hooked.
During "When I See You Smile" Clay sang to the image as if it were his true love. Quiana and Angela joined in with gestures to support him. At that point, the folks in front of us joined in the fun as if they were longtime Claymates. They laughed at Clay's jokes and snuggled during the sweet songs. One of the men even kept a close eye out on "Flat Clay" all evening.

'Thumbs Up' at the Venues

Message boards had heard there might be music industry representatives at the concerts, and security guards are always popular gages for a show's success. Employees at most venues have reported they have never seen anything like the fan bus lines that follow most Clay Aiken shows.

Hatsumi included this exchange in her Greek recap: Two industry types were sitting behind us with their girlfriends. One couple had gone backstage right before the concert to meet Clay, and his girlfriend kept remarking how genuinely nice he is.

After some banter, Industry Type #1 said to Industry Type #2, "Isn't it amazing what's in this guy's head?" At the end of the show, Industry Type #2 said that he needs a big album so he can take his act to Las Vegas along with Quiana and Angela. It was so nice to hear their respect for Clay as a performer.
Rcknrllmom: My daughter overheard a comment from one of the security men who worked the Indio concert. The Japanese women asked him what he thought about the show, and he answered with one word -- "KILLER!!!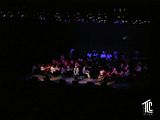 Clickable scene at The Greek by TLC
Excellent Reviews Cap California Shows
Not-to-be-missed media reports from the "CA 4-fer" include Dave Chung's Billboard Mobile Beat Review and a review of the Fantasy Springs Concert (Indio) in the Desert Local News by Leslie Andrews.
Dave Chung's very long and very complimentary review is well worth the read. This is a capsule from the last paragraph:
In what was probably the most relaxing concert I've ever attended with the most respectful crowd I've ever been a part of (I am positive not a single expletive was spoken all night), Clay Aiken put on a great show vocally and in terms of entertainment for the audience in attendance.

Not only is Aiken a powerful vocalist who has developed his own identity and following that has gone well past him being a "guy from American Idol," but he puts on a hilarious show that is filled with more laughs that you'd ever expect from a ballad-filled evening.

After describing the "knock-out show" attended by fans from all over the world, Desert Local News even included a paragraph about Clay's humanitarian work:

In September 2006 Aiken was appointed to the Presidential Committee for People with Intellectual Disabilities. He also is an ambassador of the Ronald McDonald House and is also a dedicated advocate for education and for children's causes.
Concert pictures are posted with both reviews. Here is the link for the Indio pix. Fans can add to -- and read -- comments at both sites.
Southern Leg Begins in Carolina

Friday the summer tour heads homeward for Clay & Co., opening the southern segment in Cary, followed by consecutive concerts in Asheville and Knoxville (TN).

Symphony Tour Schedule

Aug. 10 - Cary, NC - Koka Booth Amphitheater
Aug. 11 - Asheville, NC - Biltmore Estates
Aug. 12 - Knoxville, TN - Tennessee Theater
Aug. 15 - Atlanta, GA - Chastain Park Amphitheater
Aug. 16 - Fort Meyers, FL - Barbara B. Mann Center
Aug. 17 - Tampa, FL - Tampa Bay Performing Arts Center
Aug. 18 - West Palm Beach, FL - Kravis Center for the Performing Arts
Aug. 19 - Orlando, FL - Hard Rock Live

Knoxville Not Meant To Be
My friend Sally's overnight flight from LA to Atlanta was delayed 12 hours. After running around LA with her family for 10 days -- including a 20-mile, 65-70 mph ride on the back of her son's Harley, not to mention whooping it up with Clay fans at The Greek -- Sally arrived home totally wiped out. We won't be traveling to Knoxville. With the heat the way it is, my doctor is relieved I am not making the trip.
We are both disappointed, but that's the way it is. Hopefully, the tickets will be waiting for Margaret5828, our benefactor, when she arrives at the Hilton-Knoxville Sunday so she can give them to people sitting farther back or in need of seats. We will enjoy the concert via clack, which has been totally awesome this tour, and perhaps get in line for a set of concert DVD's.
For all those Clay fans we were planning to meet, there will be a next time. Y'all have a blast this weekend! converting her "To Do" list to "Done" or she will miss Sunday's show at the Tennessee Theatre.
Below is a clickable of Amazing_CA's lead graphic: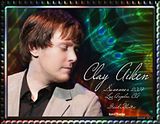 Have a wonderful week, Clay Nation!
Caro
RELATED TAGS:
Clay Aiken
,
A Thousand Different Ways
,
Measure of a Man
,
2007 Summer Symphony Tour
,
An Evening with Clay Aiken
,
Embarcadero Marina Park South
,
Palomar Starlight Theatre
,
The Greek Theatre
,
Fantasy Springs Casino
,
Flat Clay
,
Dave Chung
,
Billboard Mobile Beat Review
,
Desert Local News
,
Leslie Andrews
,
Official Fan Club
,
Clay Nation