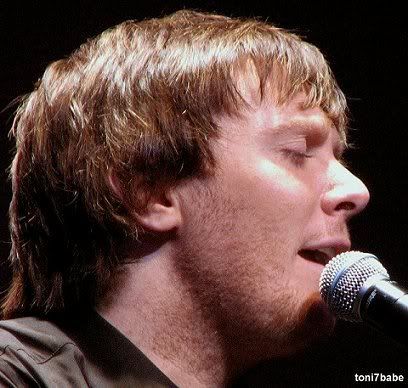 Clay Aiken performs in Newark -- Photo by Toni7babe
CA in CA Week
Tour Bus Rolls Toward Pacific
"CA in CA Week" blasts off Thursday as Clay Aiken & Co. launch the California leg of his Summer Tour 2007. Not only residents of the Golden State, but also fans from throughout the US and many foreign countries are wending their way toward southern California.
Pre-party planning is at an all-time high along Clay Cyberspace in preparation for these concerts. Mapquest has probably registered considerable traffic as many fans blueprint driving directions for the "California 4-fer."
Below are pictures of the concert venues, show schedules, and links when available: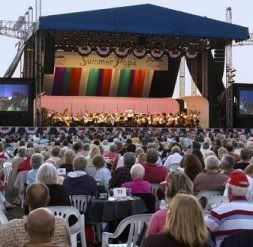 Embarcadero Marina Park South
7:30 p.m. PDT, 8-2-07
San Diego, CA.
San Diego Pops Orchestra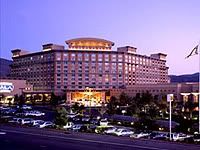 Palomar Starlight Theatre
7:30 p.m. PDT 8-3-07
Pala, CA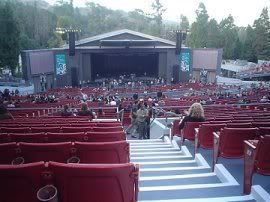 The Greek Theatre
8 p.m. PDT, 8-4-07
Los Angeles, CA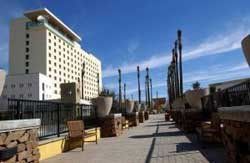 Fantasy Springs Casino
8-5-07
Indio, CA
Aiken, Bennett, Goo Goos, Lonely Boys Aid GFRF
In June, Nederlander Concerts created a series of concerts and special offers at The Greek Theatre benefiting the Griffith Park Recovery Fund (GPRF), which supports the reforestation efforts needed after more than 800 acres were scorched in the May fires in California.

Multi-platinum recording artist Clay Aiken has donated autographed merchandise which will be available during a silent auction prior to his performance.
Items range from a limited-edition poster to an autographed book, t-shirt, CDs, and much more and will be available for bids in The Greek Theatre plaza beginning at 7 p.m. In addition, the winner of this exclusive package will receive hospitatily passes to The Greek Theatre's VIP Deck after the show.
For more information, see Vinyl Word.

Knoxville Tune-Ups Completed
At the end of June, BOD and HEART were hip to share their successful experiences from a cath lab procedure: Bod, Heart Submit Final Report.
Following the doctor's "thumbs up" appraisal, plans began in earnest to attend Clay Aiken's Knoxville, TN, concert. At the top of the TO DO list was a similar tune-up for the resident vehicle, an Olds station wagon (WAG), which in her hey day hauled cellos, basses, and orchestra kids all over the Carolinas and Tennessee.
BOD and HEART have been patiently waiting to compare tune-up notes with WAG ...

HEART: All right, WAG, give us the scoop. How did your procedure go?
WAG: First of all, I haven't had to wake up that early since leaving the school system. Did y'all know I had to be at Automotive Connections by 8:45 a.m.?
BOD: Girl, who do you think drove you to the shop?
WAG: I must say it was kind of neat having a bunch of guys checking out my parts all day long.
HEART: So what went down? Were you hooked up to a monitor in a freezing lab the way we were? Did you watch picture shows of your insides?
WAG: Just that little bit of Clay Aiken music during the drive to the shop put me in a fog, but I'll see if I can remember what those guys did to me. I can tell you right now this place was definitely not cold!
BOD: You have our undivided attention.
WAG Recounts Check-Up
WAG: It's been a while since I've had what you guys call a physical, but I've sure had one now. Those boys know me inside and out -- tune-up, belts checked/replaced, new filters, new front brake pads, new front tires, oil change, fluid levels checked. Remember, I was in a semi-Aiken Fog, so I may not remember everything.
HEART: What about the state inspection?

WAG: Oh, yeah, I've been quality checked with an A-1 rating.
BOD: Sounds a little like our latest stent check-up.WAG: There is one thing though. You probably shouldn't tell FLUTIE this, but one of my hoses had twisted on its side and was only being held in place by tension. The minute that cute Chris touched it, the hose disintegrated. Do you realize this could have happened anytime?
HEART: Lawd Jesus, be still, me!!! We could have completely missed that gig Saturday or -- heaven forbid -- the Newark cellcert!
BOD: Don't worry, we won't breathe a word to FLUTIE, who would probably flutter off into a corner. We'd like her to be agreeable to future gigs.
PHOTO INTERLUDE: The graphics and photos of these visual artists recall manyl of the first 11 concerts. Featured are Amazing_CA, photo by Huskerfalcon, 1; Ambassador of Love, photos by HeatherW, 2; Claystruck, photos by LynninNJ, 3; Ambassador of Love, photos by LynninNJ, 4; and Amazing_CA, photos by Toni7babe, 5.

Monday a Busy Day All Around
WAG: So did you guys sit in the waiting room while I was in the car clinic?
BOD: LOL, heck no, we started down Caro's TO DO list -- delivered the gig books to the drop-off, then hit the stores for shoes, clothes, music, you name it.
HEART: Don't forget, we stopped by AAA to pick up maps and a Knoxville tour guide.
WAG: That doesn't sound like much.
BOD: Girlfriend, you have obviously never been shopping with Caro's sister. You had it easy lying around all day with guys waiting on you hand and foot.
HEART: We must have spent 2-3 hours in shoe stores. If that girl ever needs to augment her flute teaching and performances, she could flat sell shoes.
BOD: Your procedure took so long that we ate lunch -- heart-healthy chicken on a stick and Lebanese salad.
'Plus' Upgrade Smart Move
WAG: Do y'all remember that time we drove to Nashville and needed AAA in the worst way?

HEART: I think that was the first time Caro had a car break down on the highway. She was approaching Cookeville, planning to stop for gas, when you, dear WAG, stopped just two miles from the exit.
BOD: Thank goodness, her BIL had convinced her to upgrade her AAA membership from "Basic" to "Plus"!
WAG: The tow truck arrived; Caro and I were hauled almost 100 miles, the max for "plus," to a service station on the western side of Nashville.
HEART: Next morning the mechanic called and told her the only problem was she was out of gas.
WAG: She had tried to tell them, but they were bound and determined to tow us to Nashville.
Unending Road Sagas
BOD: Caro and road trips are something else. Do you remember that year she and Suggs took students to the Southeastern Honors Orchestra Festival in Knoxville?
HEART: Yep, after stopping for dinner, Suggs and the kids in the van headed east towards Greensboro. Without blinking an eye, WAG, you took I-40 West.
WAG: Habit -- Nashville was home for 17 years, and Caro didn't even realize she was going in the wrong way for a good 20 miles. It's not easy to turn around on an interstate.
HEART: With Caro behind the wheel, life is always interesting. This trip is bound to add to her road legacy.
BOD: This summer we've had two major tune-ups -- yours literally in the nick of time, WAG, and ours just prior to the new fiscal year.
HEART: After our excursions Monday, we can guarantee the Knoxville TO DO list is looking good.
WAG: Knoxville, here we come -- SOON!!!
Cindilu2 Creates August Choices
To assist Clay fans -- including this blog's current ghost writers -- keep up with the new month, Cindilu2 has created two August calendars from summer tour photos. Special thnx to the talented graphic artist and the photographers represented, NoFancyclothes, 1, and Scrpkym, 2.

Below is a clickable of Toni7babe's opening photo: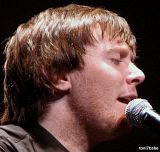 Have a wonderful week, Clay Nation!
Caro
RELATED TAGS: Clay Aiken, A Thousand Different Ways, Measure of a Man, 2007 Summer Symphony Tour, An Evening with Clay Aiken, Embarcadero Marina Park South, San Diego Pops Orchestra, Palomar Starlight Theatre, The Greek Theatre, Fantasy Springs Casino, Automotive Connections, AAA, calendar, cellcert, Official Fan Club, Clay Nation