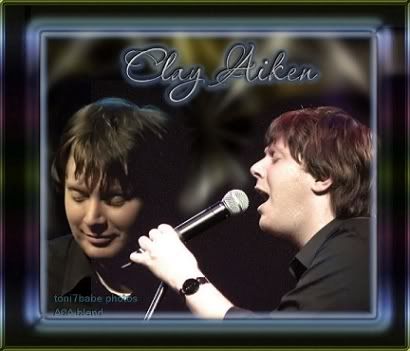 Clay Aiken performs during the Summer Symphony Tour. -- Graphic by Amazing_CA, photo by Toni7babe
WORK Virus a Possible Remedy
'The Aiken Fog' Thumps Routine
Some days it doesn't pay to get out of bed. I have recently had two mornings that I hope never come across the meaning of "repeat."
The first was a couple of weeks ago when my auto pilot morning routine hit snags start to finish. The coffee purists can all go "ewwww" right now, but I readily admit I perk a full pot and nuke a cup daily until I have to repeat the process. This works fine for me, and I enjoy a cup of java every morning.
That particular morning I had about a half cup remaining, so I nuked it while perking the new brew. I left the kitchen to continue my morning ritual -- medicine, shower, etc. -- only to return to find I had never turned on the coffee maker and, horror of horrors, the liquid in the microwave had gotten so hot that it had exploded! The cup was unharmed, but what a mess I had. By necessity, I now have a clean microwave oven.
When the coffee completed its "second" nine-minute perk, I was more than ready to fire up my laptop and read the latest on the Clay Aiken message boards and in the blogs.
TAF Strikes Again
I hadn't thought my malady might be a continuation of The Aiken Fog (TAF) until chaos struck again. Last night I prepared a dinner of chicken with some frozen vegetables, corn and an oriental medley to which I had added a little tarragon vinaigrette, also a good seasoning for the chicken for anyone taking ntoes.
This morning after pouring my "leftover" coffee into my favorite cup, I departed while the microwave worked its two-minute magic.
When I returned to the kithchen, the first thing I spotted were the bags of corn and oriental medley, which had spent the night outside the freezer on my kitchen counter. So much for my grocery store savings last Thursday of two at a reduced price!
Opening the microwave door, I then discovered that I had left a spoon in the cup. Fortunately, the spoon was merely warm. However, to be safe, down the drain went the coffee; and I started the process all over again without the spoon.
My maiden name is McDonald, and we Scottish folk despise wasting anything. The Aiken Fog has no qualms, however, and makes its appearance known when you least expect it.
I'm pretty sure TAF is a result of all the handsome tour photos and graphics Clay fans are still posting in blogs and message board posts. Guess I'll share some fog material in the interlude.
PHOTO INTERLUDE: Below are clickables of graphics and photos by nine visual artists, including Amazing_CA, photo by KarenEh, 1; Ambassador of Love, photo by LynninNJ, 2; Cindilu2, photos by Cameocat and Tangerine, 3; Amazing_CA, photo by Jeriluvsclay, 4; and Amazing_CA, photo by Toni7babe, 5.

This morning my brother emailed me the following alert, so, as a service to all who are reading, I thought I would pass these remedies along as well.
DANGEROUS VIRUS ALERT
I just want you to be aware there is a dangerous virus being passed around electronically, orally, and by hand. This virus is called Worm Overload Recreational Killer (WORK). If you receive WORK from any of your colleagues, your boss, or anyone else via any means DO NOT TOUCH IT. This virus will wipe out your private life completely.
If you should come into contact with WORK, put your jacket on and take two good friends to the nearest grocery store. Purchase the antidote known as Work Isolating Neutralizer Extract (WINE) or Bothersome Employer Elimination Rebooter (BEER). Take the antidote repeatedly until WORK has been completely eliminated from your system.
You should forward this warning to five friends. If you do not have five friends, you have already been infected and WORK is controlling your life.
Fall music lessons begin for my home students today, after which I may need some "work isolating neutralizer extract." I wonder if that's also a cure for The Aiken Fog.
FOOTNOTE: Music lessons began right on time with a freshly vacuumed carpet and much-needed piano dusting. A little earlier, however, TAF followed me into the shower as I nonchalantly begain shampooing my hair with a brand new bottle of conditioner.
Since I'm probably not going to find a cure, I obviously need treatment or an intervention so that this fog affliction is not quite so apparent!
Below is a clickable for Amazing_CA's lead graphic: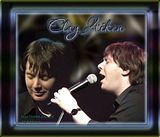 Have a great week, Clay Nation!
Caro
RELATED TAGS: Clay Aiken, A Thousand Different Ways, 2007 Summer Symphony Tour, The Aiken Fog, music lessons, Clay Nation